Skin Removal Surgery Cost
Last Updated on September 12, 2023 | Written by CPA Alec Pow
First Published on October 16, 2021 | Content Reviewed by

CFA Alexander Popivker
Massive weight loss as a result of bariatric surgery or through diet and exercise is an important achievement: overall health improves, perception of one's body and life in general, changes, and new personal or social possibilities may arise.
However, traces of previous overweight remain, like folds of skin around the abdomen, on the thighs or arms, flabby breasts, empty contents, drooping buttocks. The skin loses its elasticity due to the fact that it has been extremely stretched for a long time, failing to retract enough after losing weight.
In addition, excess skin can cause problems when getting dressed, limit mobility, and cause poor hygiene. Dermatitis and infections are common due to rubbing and prolonged contact between skin folds. Last but not least, the cosmetic problem comes into play: patients who have lost a lot of weight want the way they look to reflect the positive image they have of themselves.
In all these situations the only solution to remove excess skin is body reshaping by cosmetic surgery.
How much does excess skin removal surgery cost?
The price of skin removal surgery will vary depending on the type of procedure and location. Factors such as your surgeon and where you live in relation to the medical facility have an effect on the final price as well. In some cases people want only one area addressed while others may be looking to get rid of all their skin issues. It is difficult to give an exact price having to take into consideration so many factors, but costs are anywhere between a few thousand and tens of thousands of dollars. Our table below might be helpful in getting an estimate on how much would cost to remove the skin excess from different areas.
| Type of Skin Removal Procedure | Average Cost (without insurance) |
| --- | --- |
| Body Contouring | $6,000 to $33,000 |
| Abdominoplasty (Tummy Tuck) | $6,000 to $12,000 |
| Breast Augmentation | $5,000 to $9,000 |
| Body Lift | $12,000 to $23,000 |
| Breast Reduction | $5,000 to $9,000 |
| Breast Lift | $5,000 to $9,000 |
| Thigh Lift | $6,000 to $12,000 |
| Buttock Lift | $5,000 to $12,000 |
| Upper Arm Lift | $4,000 to $12,000 |
While most insurance companies will not cover any cosmetic procedures, some may pay for skin-related surgeries. If you're considering surgery to improve your appearance and it's not necessary due to health concerns or they are problems that can be treated without having surgery then expect to pay the bill yourself. However, if these operations are intended as corrective measures then speak with an agent about getting insurance coverage.
The cost of surgery will vary depending on a number of factors, but according to a Mlive.com article patients should be expecting $15,000 to $17,000 for abdominal and lower body surgeries. Patients who opt for arms or upper-bodied procedures can expect their surgical fee plus hospitalization costs at around $7,000 to $9,000.
According to a New York Times article, the price to remove the excess skin from your upper arms, abdomen, and thighs can end up being around $20,000.
Excess skin removal surgery details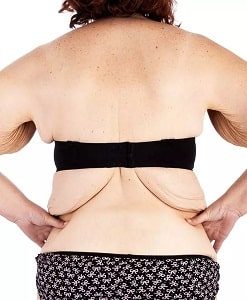 Most reshaping operations involve incisions in the less visible parts of the areas to be treated, removal of excess skin with or without liposuction of the remaining fat, and careful suturing of the incisions to minimize the scars.
Multiple operations, in stages or in combination, may be required for a complete result. The treatment schedule is strictly personalized and is established together with the patient, following the discussion to highlight the areas that cause the most discomfort.
Postoperatively, patients remain under medical supervision for 24-48 hours as needed. The pain is fought with painkillers and rapid mobilization is needed to reduce the risk of thrombosis. A corset will be worn to limit swelling and bruising, and the incisions will be covered with waterproof patches to allow showering, starting the next day after the operation.
The incisions are healed in 2-3 weeks, and the appearance of the scars will gradually disappear up to one year after the surgical treatment.
Resumption of physical activities that do not require effort depends on the type of operation performed, from the next day in case of mastopexy, arm lift, or liposuction, up to a week in case of abdominoplasty or lower body lift. Each type of intervention has its own particularities regarding recovery, which will be detailed at the preoperative consultation.
The results are visible almost immediately, but you will be able to appreciate the final result only after a few months. The new look will be maintained in the long run if your weight remains constant and you will have a healthy lifestyle.
What are the extra costs?
Hospitals and surgery centers will often send out bills months after the procedure is performed. These include anesthesiologist fees, hospital facility charges (e.g., beds as well as separate surgeon invoices for their work on you), up to hundreds of dollars per hour. Be sure you know have this information and are prepared financially before undergoing any kind of surgical procedure so that any excess costs can be paid.
Important things to consider
In order to improve your chances of a successful surgery, it's important that you know the risks. Risks can include infection or blood clots for example. Even though these things aren't common in the general population they do happen from time to time with medical procedures like this one. It's also possible that anesthesia will have complications on its own and there might be scars left behind.
The doctor may require you to meet certain criteria before they even consider the surgery, such as maintaining a stable weight for up to 12 months.
How can I save money?
Even though the vast majority of health insurance companies will not cover this procedure, there are some hospitals in which you can find discounts and payment plans. Make sure to ask your doctor if they offer any such services before going through with anything.
https://www.thepricer.org/wp-content/uploads/2021/10/excess-skin-removal-cost.jpg
380
610
Alec Pow
https://www.thepricer.org/wp-content/uploads/2023/04/thepricerlogobig.png
Alec Pow
2021-10-16 23:34:50
2023-09-12 22:27:16
Skin Removal Surgery Cost