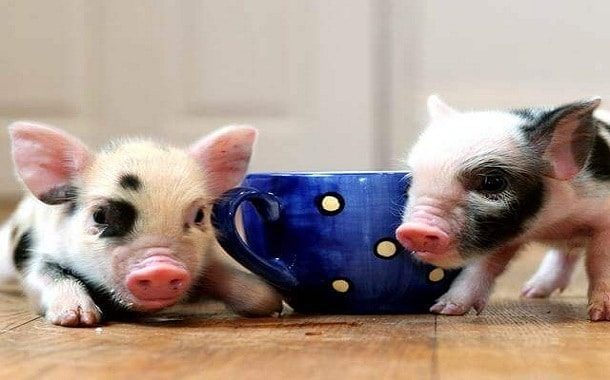 You might have already heard of potbellied or miniature pigs. Also known as teacup pigs, they are considerably smaller than regular pigs and end up weighing no more than 50 to 150 pounds when they reach maturity. These pets usually live for around 20 years. All teacup pigs are small during their youth, but some of them end up reaching similar sizes as normal pigs.
How much is a teacup pig?
Many breeders have miniature pigs for sale. They call them micro, mini, or nano pigs and some of them even offer you a guarantee that the pet won't grow past a certain size, but you shouldn't trust them unless they are professional breeders with many positive reviews. Some sellers take pictures of newborn piglets and advertise them as being older, to give the impression that the piglets are tiny and have stopped growing. Depending on where you buy your potbellied pig from, you will spend anywhere from $500 to $1,800. If you want to be sure the piglet has stopped growing, put a deposit on it and wait a week or two before buying it and taking it home. It will be enough time to notice any changes in size.
Here's Another Small Size Pet You Might Like, The Finger Monkey
There are nonprofit organizations that can recommend professional breeders. Reputable teacup pig breeders will charge you at least $600, but you will usually get vaccination records, registration, neutering of the pet, and other services once you buy it. You can also ask the breeder to potty-train the pet but this might cost you a little extra. There are a few shelters and rescue groups that also sell these types of pigs. You will spend less on a pet bought from a shelter or rescue group. If the shelter is registered as a nonprofit organization, it will usually charge you just a small adoption fee. Buyers that didn't neuter or spay their pigs reported that the pets had behavioral problems and bad odor, which means that it is indicated to neuter or spay this kind of pet before taking it into your home. You will spend around $250 to $500 on neutering or spaying a teacup pig. If the seller doesn't take care of vaccination, registration, and neutering or spaying, then you should do it yourself, so be sure to take the extra costs into account.
You should expect extra costs after buying
Food and general care of the teacup pig will cost you around $15 to $75 per month depending on the age and size of the pig.
For People That Want a Normal Pet, Here's The Cost of Loving Cats
To make sure your pet piglet will be healthy, you should also take it to periodical medical checkups and vaccinate it at least once per year. Medical expenses will cost you around $100 to $250 each year. The most common medical problems a mini pig will have are leg related, the hoof being particularly fragile, so be sure to have that in mind.
Breeders shouldn't be picked only based on their prices. Ask for references and check for negative reviews to avoid getting scammed.
Should the average working Joe get a teacup pig?
If you never owned a pet before, then you should probably start with a dog or a cat, because they will be much easier to socialize with. If you're an animal lover and an experienced pet owner and really want a potbellied pig, then remember to vaccinate and neuter or spay it first. It is surely a great ice breaker at any party.
https://www.thepricer.org/wp-content/uploads/2016/09/teacup-pig-size-compared-to-an-actual-cup.jpg
380
610
Alec Pow
https://www.thepricer.org/wp-content/uploads/2023/04/thepricerlogobig.png
Alec Pow
2016-09-26 04:00:39
2020-08-15 21:29:17
Teacup Pigs Cost