Treatment for severe acne has long been done using antibiotics such as tetracyclines or erythromycin. Along with this, people tried treatment consisting of high doses of vitamin A with an effect in reducing sebum secretion, but due to side effects, this therapy was abandoned.
Isotretinoin is a retinoid, derived from vitamin A, which is found in small amounts in the human body. It is used in the treatment of severe acne. It is rarely used as a chemotherapeutic medication to prevent and treat various types of skin cancer. It is marketed as Accutane, Amnesty, Claravis, Decutan, Isotane, Sotret, Oratane, Roaccutane, and as a topical treatment under the name of Isotrex or Isotrexin.
The development of isotretinoin (1982), a derivative of retinoic acid, by Hoffman-La Roche was a major step in the treatment of acne.
Currently, isotretinoin is used to treat acne in situations in which other medications have failed. Although small doses have been found to be more effective, the doses recommended by La Roche are still used.
How Much Does Accutane Cost?
It must be said that in 2009, the manufacturer of Accutane discontinued production, generic options being the only ones available now.
Regardless of the prescription-based medication, the price of Accutane is influenced by many factors like the quantity/dosage prescribed and the options you want as there are many generic options available, the pharmacy you choose to buy from, your health insurance policy, and when you buy it.
If you don't have health insurance be prepared to spend anywhere between $160 and $270 for 30 capsules, regardless of the brand or dosage. You should budget around $320 to $460 per month, with a dosage of two capsules per day. In order to see the results, an average patient would need to undergo six months of treatment.
Take into consideration that these prices are not included the initial and follow-up visits to supervise your progress. The average cost per visit is around $135.
As there are many generic options available, the table below will give you an insight into the price estimates for some of them.
Type
Price per package
Accutane is no longer available and has been discontinued by the manufacturer
Amnesteem (generic)

10 mg: $180 for 30 capsules or $500 for 90
20 mg: $180 for 30 capsules or $485 for 90
40 mg: $200 for 30 capsules or $545 for 90

---

Claravis (generic)

10 mg: $180 for 30 capsules or $500 for 90
20 mg: $180 for 30 capsules or $495 for 90
30 mg: $275 for 30 capsules or $755 for 90
40 mg: $180 for 30 capsules or $555 for 90

---

Zenatane (generic)

10 mg: $180 for 30 capsules or $500 for 90
20 mg: $180 for 30 capsules or $495 for 90
30 mg: $275 for 30 capsules or $490 for 90
40 mg: $200 for 30 capsules or $565 for 90

---

Myorisan (generic)

10 mg: $180 for 30 capsules or $500 for 90
20 mg: $180 for 30 capsules or $495 for 90
30 mg: $275 for 30 capsules or $490 for 90
40 mg: $180 for 30 capsules or $575 for 90
Regarding health insurance coverage for the treatment with this medication, the costs are usually covered if the acne is considered to be cystic or severe or if it was not treated with any other type of medication. Though, this doesn't happen every time, as each health insurance company has its own policies. In order to make sure that the costs for Accutane are covered by your health insurance, check the company's online medication cost database or talk directly with your local pharmacy or health insurance company. Before approving this type of medication, many health insurance companies will have requirements to be met.
You might also like our articles about the cost of general acne treatment, milia removal, or sebaceous cyst removal.
According to reviewers from Realself.com, the average cost of Accutane is $660, but more than 91% of them said that it is worth the price.
Accutane details
Accutane therapy in acne, in addition to inducing the disappearance of lesions, prevents the formation of scars and, in the vast majority of cases, leads to a definitive cure of acne lesions. Optimal use of Accutane therapy involves close physician-patient collaboration, periodic clinical evaluation, and laboratory testing to adjust doses to the clinical form of acne, patient age, and tolerance to treatment.
It is available under many trade names in the form of 5mg, 10mg, 20mg, 30mg, and even 40mg capsules.
The dosage of isotretinoin is dependent on the patient's weight and the severity of the acne. Doses from 0.5 mg/kg body weight/day to 2 mg/kg body weight/day with a duration of treatment of 4-6 months are used.
In case of recurrent acne, a second treatment will be performed 2 months after stopping the first treatment. Efficacy seems to be related to its accumulation in the body.
Important things to consider

The exact system of action of isotretinoin is not yet known. But like other retinoids, it alters DNA transcription. There is a decrease in the secretion of the sebaceous glands and a reduction in the potential for the formation of comedomas. The effectiveness in severe cases of nodular acne is due to this effect.
Administered orally, isotretinoin is best absorbed after a high-fat meal due to its lipophilicity. Studies have shown almost double plasma concentrations when given after a lipid meal. It is 99.9% bound to plasma proteins, especially albumin.
Women receiving Accutane should use two methods of contraception throughout treatment and one month after stopping treatment, while male patients may procreate during treatment.
Isotretinoin medications are available by prescription because treatment requires regular medical checkups. You will only receive them with a prescription from your doctor.
Side effects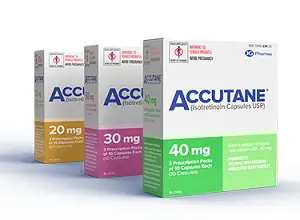 More and more studies have shown the effectiveness of low doses and the decrease and even absence of side effects.
High doses cause a number of side effects similar to vitamin A overdose. These include the worsening of acne, photosensitivity, nosebleeds, dry skin, lips and eyes, hyperlipidemia, headaches, myalgia, and alopecia. Studies have shown an increased risk of depression in patients treated with isotretinoin.
Uncommon cases of elevated blood glucose, fatigue, night vision impairment, menstrual disorders, pancreatitis, hepatitis, and psychosis have been reported.
Effects such as alopecia, arthralgia, decreased acuity at night, and inflammatory bowel disease seem to persist even after stopping therapy.
In men, erectile dysfunction has been reported.
Some side effects should not be overlooked. If there are persistent headaches, blurred vision, dizziness, abdominal pain, vomiting, speech or breathing difficulties, severe physical weakness, diarrhea, rectal bleeding, yellowing of the skin, or urine staining, it is recommended to notify the dermatologist.
https://www.thepricer.org/wp-content/uploads/2021/11/isotretinoin-accutane-cost.jpg
380
610
Alec Pow
https://www.thepricer.org/wp-content/uploads/2023/04/thepricerlogobig.png
Alec Pow
2021-11-10 08:47:27
2022-12-12 08:39:08
The Cost of Accutane