How Much do Concrete Steps Cost?
Last Updated on May 30, 2023 | Written by CPA Alec Pow
First Published on July 13, 2021 | Content Reviewed by

CFA Alexander Popivker
Concrete stairs are often used in the exterior portion of your house. They are ideal for location, directly exposed to harsh weather. Concrete is solid enough to bear all the harsh and heavy structures. Visiting public places, you may notice that all the stairs are made up of concrete. This is because the construction engineer knows that concrete is the best choice for more exposed places.
How much do concrete steps cost?
On average, concrete steps can cost between $400 to $800 per four to five feet long step. The cost of concrete steps can vary depending on a few factors. Usually, it will greatly depend on the size of the stairs, the material you choose, and the contractor you hire. Concrete is a cheaper material but takes more time to install, which is why the cost will ultimately increase.
The overall cost of materials can include lumber framing, plywood, and poured concrete. If you want to add more style, you can use precast steps. Precast steps can cost between $200 to $1000. The price of precast steps depends on the material and riser. You may have to pay more for three riser precast steps. There will be a huge price difference between one riser precast step and three riser precast steps.
It is estimated that you may have to pay $2,000 to replace concrete steps. Shipping charges may apply to the products you have to buy.
You might also like our articles about the cost to remove concrete, to have concrete delivered, or to build a concrete driveway.
Angie's List, in one of the articles, has come up with a quote range between $300 and $600 for the repair, but as much as $1,200 to $2,000 for a full replacement.
What are the extra costs?
Above mentioned costs are overall expenses you may have to bear for concrete steps. You may face some other charges if you have to remove or replace concrete steps. If this were the case, you can experience 20 to 30 percent extra charges.
If you want to add some style to your concrete staircase, you may have an extra cost to consider, which will depend on the structure, style, and material you choose. Contractor charges are also included in the above-mentioned charges list.
For repair, you can hire a contractor, which you will usually pay hourly, usually somewhere between $100 to $300. For the whole reparation, you may have to pay $500 to $800 to your contractor aside from material costs. The expenses for anything from repair to installation are highly dependent on your location and type of material.
Shipping charges vary due to many factors. They are higher on products that are heavier, difficult to handle, or need more force to carry. Other factors to increase or decrease shipping charges are location and distance.
How to install precast concrete steps?
Installation of concrete steps is a whole process that takes more time and cost. It is a step-by-step process. In the first step, the groundwork is done. About 8  to 20-inch steps are installed into the ground. This installation depends on the area where you are building your home.
In the next step, a rectangular box of wood will be created to shape the stairs. Pinewood is best to use for this purpose. This step is necessary before installing concrete to maintain the shape of the stairs.
In the third step, all the necessary details are added and concrete is installed. After adding a smooth structure of concrete, the wooden box is removed when the concrete is dry. The installation process can take up to two days and the stairs can take up to 24 hours to dry up completely.
Repairing Guidelines for concrete steps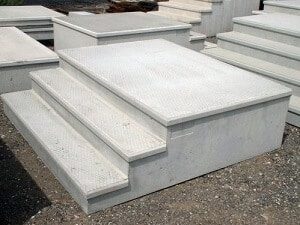 Repairing of concrete steps depends on the condition, size, and the number of steps. The types of repairs could be filling out caracks, repairing edges, and leveling uneven slabs.
If your stairs are in good condition then repairing is the best option, as there will be less consumption of material and hours on repairing rather than replacing them with new stairs. You may have to pay $100 to $300 depending on the pro you hire. For the whole reparation, you may be required to pay $500 to $800 to your contractor aside from any material costs.
If the steps are in very poor condition, replace them, as it will be easier and more effective in this case. Make this decision wisely with an expert's advice. For example, if you are going to replace your main doorsteps, you can expect to pay $900 for three steps. This cost can vary depending on the size of your front door stairs. But if you will go with repairing rather than replacement, you will have to pay less.
Tips to save money
Always hire a licensed mason for the protection of your property and a guaranty of expertise by the company.
To save money, you can pair step repair with another concrete project.
As there are many options of materials on the market, choose one which best fits your budget and seems like the best choice. For example, if you decide to go with stone as a money-saving material, you will have to understand that it will be indeed cheaper, but at the same time, it will be a weaker choice as compared to concrete. You may have to spend more in concrete steps once, but you will avoid repairing costs again and again which may increase costs later.
Always talk about your budget and priorities with your landscapers to receive the best advice, as they can guide you in choosing a material that fits best your area of construction and the overall budget as there are variations in costs which you will have to consider. Materials are also getting changed along with the rapid growth of technology. So, seeking professional help before starting a project is always helpful.
You can easily find professional help online. There are many online platforms, giving professional advice for free. You can discuss everything about your project from material to design and costs.
If the stairs are in poor condition and you want to repair them, there is a big no for that. It is highly recommended to replace really damaged stairs as it is going to be a huge waste of time and money if you are going to repair them. . DOing so will only make you spend more than you get.
https://www.thepricer.org/wp-content/uploads/2021/07/concrete-steps-cost.jpg
380
610
Alec Pow
https://www.thepricer.org/wp-content/uploads/2023/04/thepricerlogobig.png
Alec Pow
2021-07-13 06:07:25
2023-05-30 14:03:31
How Much do Concrete Steps Cost?