Last Updated on November 5, 2021 | Written by CPA Alec Pow
First Published on November 5, 2021 | Content Reviewed by

CFA Alexander Popivker
Renal dialysis is a treatment that filters and purifies the blood, with the help of a device specially designed for this purpose.
Normally, the kidneys filter the blood, eliminating the products of catabolism (residual products that the body no longer needs) and excess water/fluid from the body. These "wastes" or residual elements are transported to the bladder to be eliminated during urination.
Dialysis fulfills the function of the kidneys if they can no longer work – if kidney failure has occurred, and according to experts, the last stage of kidney failure occurs when the kidneys function at only 10%-15% of their normal capacity.
How Much Does Dialysis Cost?
Health insurance policies are covering the costs of dialysis treatment. So, if you have health insurance, you will have to pay only for coinsurance and deductibles. For instance, a patient with Medicover health insurance would have to pay $160 for deductibles and 20% of the total amount for coinsurance. Though, there are Medicare patients with secondary health insurance that covers the whole cost or part of it. According to a Health Affairs article, the monthly costs for an average U.S. patient are $120 for the dialysis-related drugs and around $12 for dialysis.
If you don't have health insurance, expect to pay more than $550 for a single hemodialysis treatment and more than $73,000 per year for the typical three treatments per week. Depending on the medical prescription, vitamins and injectable drugs can add hundreds of dollars to the final price. For example, patients going to one of the many DaVita dialysis centers from the U.S. would have to pay around $500 for the dialysis treatment, without medications. On the other hand, a dialysis center from Ohio charges more than $1,450 but is open to negotiations with self-pay patients.
You might also like our articles about the cost of a kidney, pelvic ultrasound, or wound VAC.
In case of an emergency, the cost for un unscheduled dialysis treatment at a hospital would be much higher. For instance, the price of a single treatment at the Baptist Memorial Health Care from Memphis is around $10,000.
The costs of peritoneal dialysis are lower than the expenses for hemodialysis as this procedure consists of only the medical supplies necessary to perform this procedure at home. U.S. Renal Data System claims that the annual costs for peritoneal dialysis are around $53,500, while the costs for hemodialysis are around $72,500.
The majority of the patients suffering from an end-stage renal disease are eligible for Medicare health care insurance. Even so, it should be noted that patients, in general, have to wait at least four months before the coverage starts. On the other hand, if you are insured through an employer group health plan, then this would be the absolute payer for 30 months. Medicare Part B policy is necessary to take advantage of the dialysis benefits and its monthly price is $110 or more.
Dialysis details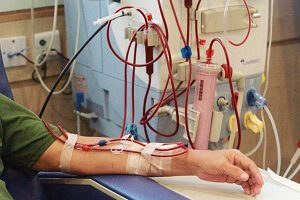 During hemodialysis, a dialysis machine will filter out waste products, salts, and fluid from the patient's kidneys when they are no longer healthy enough to function properly. Hemodialysis is a method that can treat advanced kidney failure and can also help patients have active lives, despite having kidneys that can no longer function.
Renal dialysis is, therefore, a treatment that fulfills certain functions that healthy kidneys would perform. It is needed when a patient's kidneys can no longer support the body's needs.
Hemodialysis is performed either at the patient's home or in a hospital or dialysis center. Most patients have three dialysis sessions per week, and each session lasts between 3 and 5 hours.
During dialysis sessions, the patient lies down or sits in a chair, while the blood flows through a filter that acts like an artificial kidney to cleanse the blood of toxins. During this time, the patient may watch television, read, sleep, or talk to other patients.
What are the extra costs?
In order to perform peritoneal dialysis, the patients must undergo surgery for inserting a catheter into the abdomen. Also, for hemodialysis, surgery is needed to create vascular access. Costs for these surgeries would be anywhere between $1,100 and more than $8,000, according to U.S. Renal Data System.
According to the American Association of Kidney Patients, in order to perform hemodialysis at home, you need wiring and special plumbing, that costs anywhere between $1,300 and $2,100.
Patients who need dialysis must respect a special diet that is kept under check by a dietician. A primer on dialysis and diet is offered by the National Kidney and Urologic Diseases Clearinghouse. However, most hospitals and clinics have dieticians available, that can help with the initial consultation, which might cost anywhere between $110 and $210.
Important things to consider
A primary care physician may be able to refer a person with kidney problems to an experienced nephrologist, who specializes in disorders and diseases of the kidneys. Nephrology doctors must complete additional training specifically for this area before they can become certified by ABCI (American Board Of Internal Medicine).
How can I save money?
In many cases, hospitals and states provide free dialysis to uninsured patients. The National Association of Public Hospitals provides a directory by zip code where members can find out if they have any available beds or not for those who cannot afford them.
There are a bunch of different resources available to help pay for dialysis, including state kidney programs and the National Kidney Foundation. The American Kidney Fund may offer grants that can be used towards these costs as well.
https://www.thepricer.org/wp-content/uploads/2021/11/dialysis-treatment-cost.jpg
380
610
Alec Pow
https://www.thepricer.org/wp-content/uploads/2023/04/thepricerlogobig.png
Alec Pow
2021-11-05 22:37:48
2021-11-05 22:37:48
The Cost of Dialysis