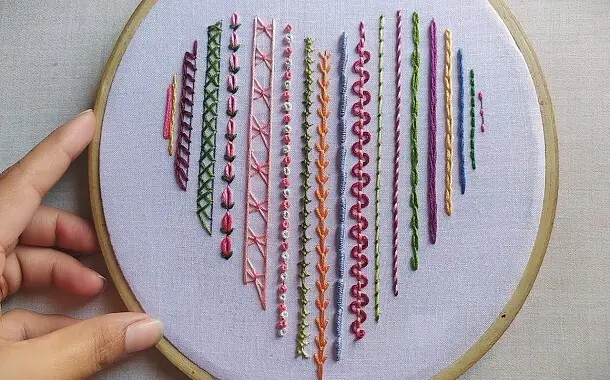 We often like to say that embroidery is like a story woven on fabric, because it speaks through colorful threads about people, emotions, passions, about the beautiful things in our lives. After all, the purpose of embroidery, whether we are talking about hand embroidery or machine embroidery, is to beautify, to add value to an object, to personalize something that you care about.
But embroidery is more than an ancient technical process of joining threads; embroidery has become an art of decorating a fabric or material with the help of a needle and thread, a pattern or design being actually sewn onto a material. The materials and threads used in traditional embroidery used for thousands of years vary from region to region and can be linen, natural silk, gold, or wool. It is true that nowadays embroidery threads are made of cotton or rayon, but silk, linen, or wool are still used.
Also, to make the embroideries spectacular, decorative elements such as pearls, shells, beads, and precious and semi-precious stones are used.
How Much Does Embroidery Cost?
The cost of embroidery is affected by several factors such as the place where you are living, the design you want, the complexity of the job, the professional performing the job, and the item being embroidered. On average, be prepared to pay anywhere between $5 and $18 per small piece like a small flower to a blouse. Usually, this includes anywhere between 1,000 and 5,000 stitches and does not include the item.
If you want more stitches for a certain piece, you will have to pay much more. For instance, the cost for larger logos that take up more space, like a jacket back, would be anywhere between $35 and $50 per piece. Again, without including the item.
In general, a professional will charge you by the number of stitches they have to use, and obviously, the larger the job, the more you will have to get out of your pocket. It is recommended to budget $1 to $4 per 1,000 stitches. Also, some retailers may charge by the letter, and in this case, you should be prepared to pay anywhere between $2 and $5 per letter, with the majority of the stores requiring a minimum payment before they start the job.
For example, the Embroidery Authority charges around $10 for one to five items, each with up to 10,000 stitches. Though, the more items you buy at once, the less you have to pay. For example, if you buy more than 500 items, then the cost would drop to $5 per item.
An embroidery company may also charge you a flat rate/job. If using this method, the professional may present an example and he/she would charge for it. For instance, this may be something simple like a T-shirt with a company logo name in the corner. The cost of a T-shirt with embroidery would be anywhere between $18 and $25, while the cost of a hat with embroidery would be anywhere between $15 and $28, depending on the material it is made from.
In the table below you will find the average costs of embroidery for different items (including the item).
Type of Item
Average Price of Embroidery PLUS Item
T-shirts
$15 to $22
Backpack
– Name-brand (Nike, Under Armour): $50 to $85
– Value: $18 to $25
Blanket
$30 to $45
Dress Shirts
$32 to $50
Golf Towel
$15 to $35
Hats
Baseball Style: $13 to $25
Nike: $30 to $45
Under Armour: $35 to $45
Hooded Sweatshirt (Hoodie)
$40 to $65
Jacket
– Eddie Bauer: $90 to $125
Fleece: $45 to $60
Hooded Soft Shell: $75 to $100
Nylon: $65 to $80
Polo
Knit: $25 to $45
Nike: $50 to $65
Simple: $20 to $30
Under Armour: $55 to $75
Sweaters
$40 to $65
Apron
$20 to $30
Note: These price estimates are available for a simple company name or logo embroidered on the item, and the prices can decrease per item if you were to buy in bulk.
You might also like our articles about the cost of a gypsy dress, a blazer, or a jersey T-shirt framing.
As we already mentioned above, the cost estimates should include, if it is not indicated otherwise, only the embroidery. Though, this table includes both the embroidery services and the item. In general, when you make an acquisition online with an online seller, they will include everything in their prices.
Which are the additional costs?
Embroideries done may hand are much more expensive than those made by a machine. Be prepared to pay ten to fifteen times more than the prices mentioned above.
Usually, a setup fee will be applied, regardless of how small or large the job may be. Expect to pay less than $25 for this fee. Though some say that these setup fees are waived on some occasions, these costs will be tied up into the overall cost. Also, the complexity of the item will affect the setup price.
If you need more than one color on your item, you will have to pay extra for other colors. The majority of the companies will charge per color, using the price estimates mentioned above. For instance, if you need two colors and each of these needs 5,000 stitches, then you will have to pay for 5,000 stitches two times, as well as the setup fee.
Also, if the company must design the logo for you, you will have to pay a design fee. The complexity of the job will greatly affect the price. Designing a graphic will be more expensive than a simple font.
Depending on the job size, embroidery jobs will take anywhere between three and five days, or even more. Expect to pay a rush fee if you want to have the job quickened.
In case you don't meet the minimum order requirement for an online order you will have to pay the delivery fees as well. However, it will depend on the store.
Important things to consider
The most used embroidery thread is polyester (various thicknesses) because it withstands many washes, often more than the product, viscose, matte polyester, wool, or cotton.
To make manual embroidery on a piece of clothing or any other object you need the right materials: needles, threads, hoops, patterns, and embroidery patterns.
Embroidery is a method suitable for both smooth and irregular surfaces, and the visual impact of the embroidered logo is special, the design elements being distinguished by nobility and refinement.
How can I save money?
The more you buy, the less you have to pay. Most companies will offer a discount if you buy in bulk.
Try to find multiple price offers from a minimum of three professionals, both in person and online, and see how much each of them charges.
https://www.thepricer.org/wp-content/uploads/2022/12/embroidery-cost.jpg
380
610
Alec Pow
https://www.thepricer.org/wp-content/uploads/2023/04/thepricerlogobig.png
Alec Pow
2022-12-12 06:30:29
2022-12-08 07:40:11
The Cost of Embroidery