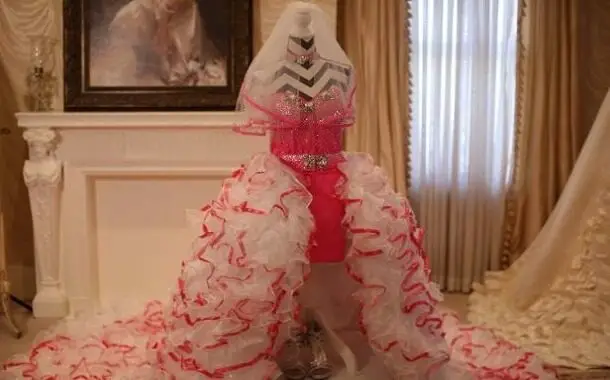 Gypsy wedding dresses are known for their over-the-top designs and elaborate looks. The gowns are usually made to achieve an element of surprise, having a massive look that is bound to impress.
How much does a gypsy wedding dress cost?
For a quality Gypsy wedding dress, you should expect to pay somewhere from just under $5,000 to more than $25,000, on average. From what we were able to find online and in physical shops, most dresses will have a price anywhere between $6,000 and $19,000.
You should know that this cost can go over this range with ease when working with a celebrity designer, need personalizations, or premium materials.
There's no set-in-stone way of knowing how much a gypsy gown should cost – there are just too many variables involved in getting these dresses made for them to have any real consistency between brands or designers.
You might also like our articles about the cost of a tiara, wedding shoes, or wedding dress.
The designer of the dresses seen on TLC's show, My Big Fat Gypsy Wedding, Sondra Celli had pre-owned wedding gowns for sale online starting at $15,000 and up. If you were to buy a new one however it could easily double or triple in price depending on the model you go for, with prices going as high as $40,000 to $65,000+.
A gypsy wedding dress can be very expensive, with some girls spending more than $80,000 on a single gown, at least according to TLC. In addition to the initial price of the dress itself, many brides of the traveler gypsy community spend upwards of $1,000 in accessories and alterations before their big day arrives.
The average gypsy bride will spend about $5,000 to $9,000 on her dress, as per the Daily Mail. They typically weigh around 80 pounds and are made with intricately detailed embroidery and jewels or beads of all shapes and sizes.
Any additional expenses to consider?
For those who want a more lavish ensemble for their special day, there are many optional add-ons that can be purchased such as matching accessories like veils, shawls, or bolero jackets just to name a few. These extras will usually range in price from $25 to $125, but custom modifications might cost considerably more.
Accessories like heels, jewelry, and hair supplies are an integral part of the overall wedding day experience. It is important that they be budgeted for when planning a wedding because they can cost up to $300 or more. You will also have to prepare for expenses like a custom bouquet, especially if you want it to match the color of your dress.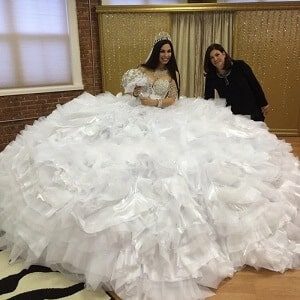 Rush orders can add hundreds to your order, depending on the wedding gown maker. Most dresses have necklines and bodices that you may be able to customize in accordance with your measurements. This addition will affect the total price of purchase as well so it's important to consider this expense in your budget.
The gypsy wedding gown is a symbol of the bride's independence. The low-cut style or thigh-high split are just some ways she can express her personality, but in any case, it should be white and adorned with crystals for good luck. Many gowns will have over 50,000 crystals and close to 100 feet of fabric.
Swarovski jewels and vibrant colors set these dresses apart from traditional wedding gowns. These self-proclaimed "gownzilla" costumes have a larger, more voluminous skirt area as well as flashy embellishments like Swarovski crystals to make them stand out among the crowd.
A dress can weigh up to 100 pounds by the time all of its fabric, beads, and crystals are added. Some ladies have had their dresses weighed at a weight-lifting gym just for fun.
When buying online or in person, it is important to ask the time needed for production as this will affect when your dress arrives. Most gypsy wedding dresses have a longer production time due to their intricacies and customized designs that require more work.
There are many different parts to a gypsy wedding dress, but most of the time it will have at least 24 net underskirts. The train can be up to 20 feet long and very tight-fitting with sharp accessories. If you're unsure about whether or not this is something that would look good on your body type before making an expensive investment, make sure to try one out for yourself first.
Any way to spend less?
At the time of this writing, for instance, we were able to find a second-hand Sondra Celli gypsy wedding dress on PreOwnedWeddingDresses.com with a $40,000 retail value selling in less than 16 hours at just under $15k. We recommend considering purchasing used dresses like these if you are looking to score something that is both fashionable and affordable.
https://www.thepricer.org/wp-content/uploads/2021/06/gypsy-wedding-dress-cost.jpeg
380
610
Alec Pow
https://www.thepricer.org/wp-content/uploads/2023/04/thepricerlogobig.png
Alec Pow
2021-06-15 12:02:40
2022-03-18 17:27:22
Gypsy Wedding Dress Cost