Last Updated on July 27, 2022 | Written by CPA Alec Pow
First Published on July 27, 2022 | Content Reviewed by

CFA Alexander Popivker
The fern is one of the oldest plants on Earth. Its existence dates back over 100 million years. Originally from the tropics of South America and India, the fern is a plant that grows spontaneously in forests but easily adapts to the environment of the apartment.
You can find it in nurseries, directly in pots, or grow it if you want to plant your own ferns at home, whether they are in the garden or in pots. You need to know that the fern loves water, so in the warm season, it must be watered constantly, so that its soil is always moist. On the other hand, in winter you can water it less often.
How Much Do Ferns Cost?
The cost of a fern depends on some factors such as the size of the plant, the time of the season, and the geographical location. The average cost of a potted or simple hanging fern is anywhere between $8 and $35.
Expect to pay up to $2,300 or even more for a large plant, which can reach five to six feet wide. For example, at the time this article was written there was an ad for a 25-year-old staghorn at the price of $2,600.
For instance, a six-inch staghorn fern costs around $30, while for a 2.5-quart southern wood fern you will have to pay around $25. A small four-inch Boston fern, which is another common fern, can be bought for almost $15.
Ferns that you can plant in your own yard will cost anywhere between $8 and $40, depending on the type. For instance, you will have to pay $8 to $12 for a Hardy Ostrich Fern which grows up to eight feet tall.
On the Sugar Creek Gardens website, you can find different types of ferns, from Lady Ferns to Ghost Ferns, with prices starting at $10 and going up to $20.
You can also purchase ferns online from the Plant Delights website. They offer a large variety of ferns, from Fan Dance Fern to Perennial Maidenhair Fern at prices starting at $12 and going up to $20.
In the table below you will find the average costs of different types of ferns.
| | |
| --- | --- |
| Type of Fern | Average Price |
| Fiddlehead Fern | $15 per small plant |
| Boston Fern | $25 for 10-inch |
| Leather Leaf Fern | $13 for 12-inch |
| Giant Ostrich Fern | $15 per plant |
| Silver Lady Fern | $8 for 4-inch |
| Red Stem | $20 per plant |
| Mexican Male Fern | $25 |
Types of ferns
Apartment fern – grows in the form of a bush, the leaves are translucent, light green, long, arched, with jagged edges, it is also suitable for hanging baskets or pots.
The Fern-Coast – is one of the easy-to-care ferns, it develops very quickly a trunk with numerous light green leaves, placed at a short distance from each other, thus giving the impression of very large leaves.
You might also like our articles about the cost of bamboo plants, aloe vera plants, or winter indoor plants.
Pteris – the name means wing, due to the appearance of the leaves resembling feathers, native to India and Japan, this type includes about 200 species, which have in common the appearance of a bush, the leaves are arched with shades of light green with silver or pale yellow or marbled stripes.
Shrub Fern – creates a tropical atmosphere, is native to Australia, grows beautifully in the garden, yard, greenhouse, or terrace, prefers shady places, and in winter must be protected from frost.
The Australian Sword Fern – is a fern that lives in the tropical forests of Australia, it is cultivated due to its special decorative aspect, but also for the benefits it brings by cleaning and purifying the room air of harmful substances.
What are the additional costs?
If you want to hire a professional landscaper to plant the ferns in your yard, you should expect to pay another $12 to $25 per plant.
As these plants have the tendency to hang, most opt to hang them outside or from the ceiling. In this situation, you will have to budget around $10 for hanging supplies like a hook or a chain.
You will also have to purchase fertilizer and separate pots to make sure the plant lives healthy for a long period of time.
Important things to consider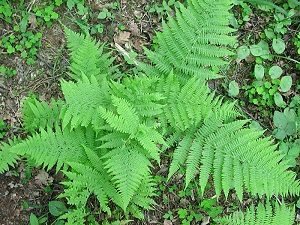 If you want to put the fern in pots, you must know that it is one of the most valuable houseplants, and this is due to its ability to clean the air. You need to help the fern feel in its element using a humidifier if the air is too dry, or simply put pots of water in various places.
In addition, the fern is a medicinal plant, and this is because fern rhizomes contain active substances that come from phloroglucinol. Rhizome substances are toxic to many species of worms and tapeworms, paralyzing the muscles of these organisms, according to some studies.
For starters, buy wide pots so that the root has enough place to grow. Use soil composed of leaf soil, peat, and sand. It would be good to use fertilizers, once every few months, so that the fern grows nicely.
Ferns can turn your garden into a place full of greenery and give a very bohemian air. In addition, it purifies the air and provides oxygen and freshness. You have to be careful, however, at the place where you plant them, and that's because the ferns don't want too much sun and prefer shady places. So, they should be planted somewhere in a corner or near a wall, to protect them from the sun's rays.
The benefits of ferns
Ferns are considered the best houseplants for air purification. Due to the fact that it is always green, the fern improves humidity and fights against toxins in the air.
It is beneficial for people who suffer from respiratory problems, allergies, or have very dry skin.
Regarding the medicinal benefits of the plant, it is used for rheumatism, lungs, blood, and digestion, helping against intestinal parasites, but also for gynecological problems, according to specialists.
How can I save money?
Look for ferns at the local nurseries in your area. It would be better to see the plants in person than to buy them online. Plus, it will help you save money on shipping.
Take into consideration looking for coupons that are available in the majority of newspapers or official websites, when you buy a fern from a local nursery. This is a good way to save a considerable amount.
https://www.thepricer.org/wp-content/uploads/2022/07/fern-cost.jpg
380
610
Alec Pow
https://www.thepricer.org/wp-content/uploads/2023/04/thepricerlogobig.png
Alec Pow
2022-07-27 08:33:44
2022-07-27 08:33:58
The Cost of Ferns