Growing zucchini in your garden is a relatively easy task and will allow you to enjoy an almost endless supply of this tasty vegetable. If you're not up for the growing process, it can be found at most grocery stores depending on the time of year. The costs also fluctuate based on which store you go to, the size of the vegetable, as well as the season.
How much does zucchini cost?
Usually, a pound of zucchini will usually cost $1 to $3, which will come down to around $2 per individual vegetable at most local grocery stores. This will depend on the factors we already talked about.  While doing our research, we went to a few grocery stores and looked at the prices, all of which are included in the table below:
| Store | Price |
| --- | --- |
| Meijer | $1.49/lb |
| Kroger | $1.49 – $2.29/lb |
| Safeway | $3.99 each |
| Organic Summer Yellow Zucchini | $3.29/lb ($0.99 each) |
| Whole Foods | $3.29/lb ($1.40 each) |
| Walmart | $2.99 each |
As an example, a coop pricing website called FoodCoop.com, notes that the average price you should expect is around $2 per pound.
Zucchini details
Zucchini can often be found at grocery stores in little foam trays. They are typically packaged so that they stay fresh and don't dry out. You may also find them stacked neatly on shelves right by other vegetables or sitting out ready to pick from. On average, a zucchini matures at eight inches and can be picked any time after; however, some of these squashes grow large enough to reach three feet in size.
You might also like our articles about the cost of pomegranates, onions, or spaghetti squash.
Zucchini is a great vegetable to incorporate into your diet because it has low calories, but high levels of nutrients! For instance, 100 grams contains 15 calories and plenty of vitamin C – an antioxidant. Zucchini also provides potassium, folate, omega-3 fatty acids, vitamin A and manganese.
Important things to consider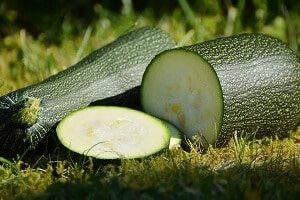 For every pound of zucchini you buy, it will yield 3 1/2 cups worth of vegetable
The zucchini's skin should also feel firm and free of cuts or bruises when examined up close. Zucchini bread made from leftovers can make for a great dish any time of year.
Zucchini is a vegetable that can be used in many dishes. When choosing one at the grocery store, try to find ones with slightly prickly skin and shiny surfaces.
Fresh zucchini is a summertime favorite that can be stored for up to one week in your fridge. It should not be sealed, but loosely tied so it does not dry out and shrink away. If you want to have it frozen, start by patting it dry with paper towels first before slicing it into 1/4-inch slices crosswise. Place each piece inside a freezer storage bag designed for food preservation.
From a culinary perspective, zucchini is considered to be a vegetable because it can be used in salads and soups. However, botanically speaking it is referred to as fruit due to the berry known as "pepo" which comes from the swollen ovary of an actual flower that grows on this plant called Zucchinis.
Is there any way to spend less?
You can save a lot of money by buying zucchini during the peak seasons. Always look for special coupons and discounts at stores close to you, or ask neighbors who have gardens if they are growing it themselves for the best prices.
https://www.thepricer.org/wp-content/uploads/2021/08/zucchini-cost.jpg
380
610
Alec Pow
https://www.thepricer.org/wp-content/uploads/2023/04/thepricerlogobig.png
Alec Pow
2021-08-03 12:32:30
2021-08-03 12:32:30
The Cost of Zucchini