The Cost to Install a Chandelier
Last Updated on March 10, 2022 | Written by CPA Alec Pow
First Published on March 10, 2022 | Content Reviewed by

CFA Alexander Popivker
Chandeliers are the perfect items to add some class, drama, and beauty to your home. You can install a chandelier to either give your master bedroom a more sophisticated touch, glamorize the dining room or give your own style to the foyer. Replacing an older light fixture with a stylish chandelier will increase the value and looks of your home quickly and inexpensively.
If you only have to install a new chandelier to replace an older one, then you could do this job yourself if you have the necessary knowledge. Things will be completely different if you want to install a chandelier in a place where there was never one. In this case, you will almost certainly need the help of an electrician, especially if you need any wiring added or if the wiring is old and needs any updating.
So how much does it cost to install a chandelier?
The expected cost of a chandelier installation will depend on a few factors like the condition of the wiring, the difficulty of the installation, the size and weight of the chandelier, the height of the ceiling, labor rates, and whether you will need a support system for the chandelier.
When replacing an old light fixture, you should expect the cost of the labor alone to be anywhere between $100 and $300, with the actual cost of the chandelier considerably increasing this price. If you want to install a new chandelier in a place where the wiring isn't available, the costs of the labor alone will be anywhere between $200 and more than $2,000, depending on what needs to be done.
You should be prepared to spend more if you have very high ceilings and a heavy chandelier while mounting a small chandelier on a normal size ceiling will usually be on the lower end of the price range.
DIY or Hiring a Professional
Installing a chandelier could be a fun DIY project, especially if you're a handy individual and you're only replacing an older light fixture with a smaller size chandelier. This job shouldn't take more than 4 hours to complete on your own. One thing you should remember is that most average electrical boxes will only hold a weight of around 50 pounds and most of the chandeliers weigh considerably more than that. If you want to install a chandelier that is heavier than 50 pounds, then you should also install an additional support system.
You might also like our articles about the cost of GFCI outlet installation, knob and tube wiring replacement, or ceiling fan installation.
You should get the help of an electrician if:
You're not really a handy guy.
The chandelier will need to be installed on the support and you don't know how to do that.
The chandelier is either too large or too heavy or both, you're not sure you can handle it safely and you don't have someone to help you.
You have old wiring in your home, you don't consider it reliable, and would like to update it.
You're adding a chandelier in a part of the house where there were no other light fixtures.
You should usually leave any electrical work to actually licensed electricians to avoid any accidents, but if you're simply trying to replace an old chandelier with a new one, then you can try to do it yourself or ask for a handyman's help. A handyman should also have the necessary knowledge to install an additional support system as well. Just make sure you only employ the help of reputable, insured, licensed people, to keep accidents to a minimum and to make sure you're not the one paying if something were to happen.
Choosing the Electrician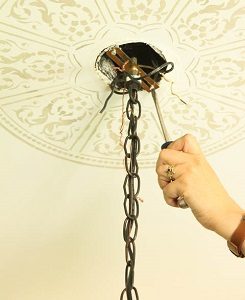 Simple research will probably reveal tens of electricians close to where you live, but how do you know who is the best to work with? Here are a few simple tips to follow:
The first thing to look at is price. Get multiple quotes before settling for someone, compare the numbers and try to eliminate the weirdly high or weirdly low offers.
Try to ensure you're hiring a licensed individual or company. It's not wrong to ask for a licensing number and request a copy of their licensing document so you can verify the info they provide with your state's licensing board or labor department.
Try to go through as much background research as possible with any electrician you think would be a good hire. You can even ask for references and then check them. Also, check the company rating on rating websites like the BBB.
Ask whether the electrician is able to get all the needed permits for the job.
An electrician with liability insurance is always better than one without this insurance. This way you know you are protected if anything were to go wrong.
Always choose an electrician with extensive experience installing chandeliers. Chandeliers tend to be delicate, and they are more difficult to install than traditional light fixtures. You want to hire an electrician who knows how to properly handle and install a chandelier.
https://www.thepricer.org/wp-content/uploads/2022/03/cost-to-install-a-chandelier.jpg
380
610
Alec Pow
https://www.thepricer.org/wp-content/uploads/2023/04/thepricerlogobig.png
Alec Pow
2022-03-10 12:20:14
2022-03-10 12:20:14
The Cost to Install a Chandelier