What is The Stretch Zone Monthly Cost?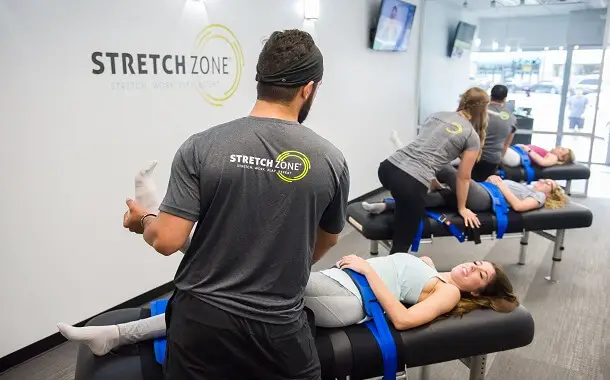 You will need to stretch regardless of whether you're planning to climb a rock wall, play a sport, or just spend some time sitting on a chair in your office.
Stretch Zone is one of the very few professional stretching services that are able to help people improve their overall well-being, as well as their flexibility, mobility, and posture. With their cutting-edge technology and professional practitioners, they offer personalized stretching sessions created specifically for each individual's needs.
According to current and past customers, Stretch Zone is worth its price, especially for people that need to increase their range of motion and want to reduce muscle tension, if they don't have the knowledge or skills to do this themselves. With the help of their proprietary strap system, Stretch Zone will stabilize the pelvis and then isolate the muscle you will be trying to stretch.
But what is the monthly cost of Stretch Zone? This article was made to go over the prices of different packages and memberships provided by Stretch Zone, as well as the pros and cons of the program.
What is The Stretch Zone Monthly Cost?
A single session at Strech Zone costs somewhere between $45 and $100, depending on the location. Depending on the number of sessions you need, you could also receive a discounted rate on the Stretch Zone prices, as most locations offer packages of multiple sessions.
For example, if you were to need 10 sessions, then a 10-session package will cost anywhere between $350 and $600, depending on the location and the available promotion, taking the price per session to $35 to $60. On the lower end, the sessions will last about 30 minutes, while on the higher end of the price range, you will enjoy a 60-minute session.
According to an article from CNN, you will spend around $35 per visit if you get discounted packages at Stretch Zone while dropping in at any of their locations will cost about $75 per visit.
If you know for sure that you need multiple Stretch Zone sessions each month, then you can also go for a monthly membership. With one of these memberships, you can enjoy unlimited practitioner-assisted stretching sessions, access to exclusive events, as well as discounts on some other services they offer. The Stretch Zone monthly cost is anywhere between $99 and $299, depending on the length of the plan and the location you choose.
During each individual session, a certified assisted-stretching practitioner will do a quick assessment to see your range of motion. This will help them create personalized stretching therapy.
Who founded Stretch Zone?
Jorden Gold founded Stretch Zone in 2004, after helping his grandfather improve his life quality through one-on-one stretching. Some articles on the internet talk about Stretch Zone being one of the fastest-growing fitness franchises, currently having over 200 locations all across the US.
Most locations also offer a free session so that you understand what Stretch Zone offers you. A lot of customers say that just one free consultation is enough to get hooked on their services.
What Does The Stretch Zone Do?
Stretch Zone is meant to provide stretching techniques with the help of their proprietary tables, positioning, isolating, and stabilizing muscles. They offer the needed ergonomics through stabilization straps so that stretch therapists can do their as well as possible.
Stretch Zone stabilization straps can be used, for example, to keep the pelvis in a fixed position, while you perform hamstring stretching or manipulation techniques.
This is to ensure a better range of motion, without the risk of getting lumbar flexion.
This means that the client will get the best stretch therapy possible, with just minimal strain on the therapist doing the hard lifting.
Of course, Stretch Zone isn't the only company to offer massage bed straps and stabilization straps, as this is nothing new or groundbreaking.
There are quite a few chiropractors, massage therapists, as well as physiotherapists that isolate the pelvic region, the hips, or the back of their patients with the help of straps in their treatment rooms.
What sets this company apart is its use of advanced stretching and mobilization techniques, as well as proprioceptive neuromuscular facilitation (PNF) techniques.
What Additional Services Do They Offer?
Along with stretching, you can also get lifestyle coaching, nutrition counseling, and massage therapy at Stretch Zone. These services will also have prices that would differ based on the location you choose, as well as the length of the sessions and whether you go for a monthly membership, session packages, or individual visits. A couple of examples are 60-minute nutrition consultations that can cost around $80, or 30-minute massage sessions that would only cost around $50.
Should you leave a tip?

It's not uncommon for people using the Stretch Zone services to leave a tip of around 10% to 20% if they like the services they receive.
If you're not satisfied with the services, talk to the general manager of the location you're going to, as this isn't something very common.
Should you warm up before going to Stretch Zone?
Warm-ups are used as a way of increasing your core body temperature and general blood flow. This makes the warmed-up muscles more flexible and more elastic.
If you skip warm-up before physical activity, you risk tearing or pulling of a muscle or a strain.
You might also like our articles about the cost of CrossFit membership, Energized Health Program, or HOTWORX.
Stretch Zone sessions don't involve warm-ups. Instead, these sessions will start with a quick assessment both verbal and physical, used by the practitioner to learn about your lifestyle, fitness goals, as well as your current flexibility and mobility situation.
Then, throughout the session, using static and dynamic stretching techniques, as well as PNF, the stretching practitioner will try to manipulate your joints.
What should you wear to the stretch zone?
As with any other physical activity, going for the sessions dressed in sports attire is recommended. This includes anything from shorts, t-shirts, and leggings, as well as other sports clothing pieces.
Casual clothes will also work, as well as yoga pants, trackies, and anything else that is comfortable enough. Jeans should be avoided, as they will greatly reduce your range of motion.
What should you expect from Stretch Zone?
A Stretch Zone session will involve personalized assisted stretching, which is a whole lot more effective than traditional stretching using static methods.
According to available data, finishing an eight-week assisted stretching program will greatly improve your functional performance, reducing age-relating losses in ROM.
Who Is Stretch Zone Good For?
Stretch Zone is usually recommended for people that need to restore their range of motion and improve their general mobility. It is also recommended for people that have upper cross syndrome (UCS), neck pain, or lower back pain related to a prolonged sitting position or constant inactivity. If you have a job that forces you to sit at a desk for multiple hours each day, this can lead to tension and stiffness.
This system is also recommended for people that need to reduce aches or pains related to a workout at the gym, reduce their stress and anxiety levels, or improve their flexibility.
Below, you will find a list of some of the people that would need to use Stretch Zone:
Bus drivers, truck drivers, taxi drivers, or Uber/Bolt contractors
Receptionists and clerks
Computer programmers
Consultants
Financial and insurance workers
Accountants
Lawyers
Management positions
Cons of Stretch Zone

Some customers complain about the recruitment and in-house training of the Stretch Zone staff. In short, Stretch Zone doesn't try to employ physical trainers or physiotherapists.
They use fitness enthusiasts that have to finish an in-house certification course.
Of course, you aren't required a formal education in physiology or anatomy to stretch a client's lower back or hamstrings, but even so, Stretch Zone practitioners are far from being properly qualified to treat pain or stiffness caused by health issues.
Stretch Zone has a lot of members that are elderly, overweight, and most likely untrained, which means that they have all kinds of mobility issues.
Is Stretch Zone safe?
Yes, Stretch Zone is considered safe for people that have issues with their range of motions that they need to fix, as long as they are somewhat physically active.
It is also safe to use by people that don't have enough time for stretching and spend most of their day behind their work desks.
If you have musculoskeletal injuries on the other hand. this might not be the help you should go for.
And of course, if you have very serious medical problems, you should go to your PT and not a place like Stretch Zone.
Conclusion
Stretch Zone studios are among the best places where you can get stretching sessions to improve your flexibility and try to fix chronic pain or other mild medical issues.
Keep in mind that most Stretch Zone employees are not chiropractors or physiotherapists, but professionals that have obtained a Stretch Zone certificate.
Even so, this is still a place that can help you in a safe and friendly environment, after a long day's work.
https://www.thepricer.org/wp-content/uploads/2023/04/Stretch-Zone-monthly-cost.jpg
380
610
Alec Pow
https://www.thepricer.org/wp-content/uploads/2023/04/thepricerlogobig.png
Alec Pow
2023-04-28 07:26:13
2023-04-28 06:13:18
What is The Stretch Zone Monthly Cost?