How Much Does Stretch Lab Cost?
StretchLab is an interesting up-and-coming assisted flexibility training and stretching franchise that has about 300 studios all around the US. Among the most popular locations are those in NYC, Sioux Falls, and Grand Rapids.
It promises to improve your range of motion and reduce muscle pain with the help of active-assisted stretching. Stretch Lab uses techniques like PNF, which is proprioceptive neuromuscular facilitation, to increase the range of motion. It is perfect for general fitness enthusiasts, rehabilitation patients, older adults, and even athletes.
As for the Stretch Lab reviews, these are rather mixed when it comes to employment practices and overall services, even though the general rating of Stretch Lab's Facebook page is 4 out of 5 stars, based on over 100 reviews.
While some people are concerned about unethical billing practices, saying that the company can steal credits and is known to impose a $1,000 training reimbursement fee for employees if they quit before the first 180 days, the services themselves are said to be affordable, convenient, and fast.
To figure out whether StretchLab is worth it for you, you should consider whether you need frequent stretching for one reason or another but lack the skills to do this. If so, then this program is probably worth every penny.
StretchLab Flexologists assess your posture and mobility with the help of MAPS scans. Then, based on the results, they will create percussive therapy treatments and full-body stretches using the popular Hypervolt massage gun.
So this gets us to the interesting part of the article: How much does Stretch Lab cost? How much does StretchLab membership cost? And of course, is the price of Stretch Lab worth it? Let's find out.
How Much Does Stretch Lab Cost?
The cost of StretchLab is anywhere between $89 for two 25-minute sessions to $329 for four 50-minute sessions. These prices will differ depending on the length of the session and the type of membership.
What's the Price for a First StretchLab Session?
You should expect a price between $29 for a 25-minute session and $49 for a 50-minute session when it comes to your first StretchLab session. Using these introductory classes with smaller prices future customers can try the services and enjoy the Stretch Lab experience before committing to a membership at full price.
Although there are two types of sessions offered at the initial session rate, the 25-minute one and the 50-minute one, you cannot buy two initial sessions and will have to choose one of them.
How Much Does StretchLab Monthly Membership Cost?
The cost of StretchLab monthly membership is between $89 per month for 2 25 minute session credits, to $329 per month for four 50-minute credits. The actual price you will pay will depend on the frequency of the sessions you choose and the actual type of sessions. Four 25-minute sessions per month cost about $189, for example.
| StretchLab Membership Cost | Cost |
| --- | --- |
| 2 sessions (25 minutes) | $89 |
| 4 sessions (25 minutes) | $189 |
| 4 sessions (50 minutes) | $289 |
| 8 sessions (25 minutes) | $299 |
| 8 sessions (50 minutes) | $539 |
How much is the StretchLab family plan membership?
The cost of a StretchLab family plan membership starts from around $299 for 8 25-minute sessions and includes anywhere between 9 and 12 sessions. Its final price will depend on the duration and number of sessions. This type of membership enables multiple family members to go to stretching sessions and enjoy the benefits together.
Stretchlab price discounts
As a general rule, Stretch Lab doesn't have an ongoing price discount offer. Still, you might be able to find promotional discounts on discount platforms like CouponBirds or Groupon, for membership packages or discounted individual sessions.
What is the cancellation policy at StretchLab?
It's important to read and understand their terms and conditions, as the cancellation Policy between different StretchLab locations can differ. The official terms of the company state that you will be able to cancel anytime, but you'll likely find all kinds of negative reviews from individuals who had bad experiences when they tried to cancel their memberships.
According to past customers, the company has been known to charge accounts without authorization, even after cancellation requests, and some clients also faced difficulties when looking to get reimbursed. This is why it is very important to go through the cancellation process and adjacent policies thoroughly before you sign up with them.
Is StretchLab covered by health insurance plans?
As StretchLab is a private company as a general rule, its services aren't covered by most health insurance plans. You may still be able to use either your Flexible Spending Account (FSA) or your Health Savings Account (HSA) to cover the Stretch Lab cost.
StretchLab sessions won't usually require a referral from a medical professional to help you use your FSA or HSA card, unlike most medical services. Of course, it would be best to just contact your insurance provider to get a confirmation on whether the StretchLab services can be considered eligible expenses before you use the funds inside your FSA or HSA accounts.
Is Stretch Labs Worth The Cost?
Yes, most individuals find StretchLab worth its cost. It provides enhanced performance, improved range of motion, and effective joint and muscle pain reduction. With regular sessions, you will also be able to enhance posture and alleviate stress, which caters to different groups of office workers, athletes, and people looking for a solid alternative to massages.
However, be aware that there have been mixed reviews, with some people experiencing billing issues and negative encounters with customer service.
Should I tip at StretchLab?
Yes, it's common courtesy to tip when going to StretchLab. This is especially the case if you are satisfied with the services you're getting and see improved flexibility or muscle tension as a result of your sessions. If your session was far from your expectations and none of your concerns were addressed, then, of course, there is no obligation to tip.
Are there cheaper alternatives to the one-on-one StretchLab sessions?
There are at least 5 alternatives to Stretch Lab, offering personalized stretching sessions and the resulting benefits.
Stretch Zone: The Stretch Zone locations use practitioner-assisted stretching as a method of enhancing your physical performance and range of motion with most sessions lasting just 30 minutes.
StretchU: StretchU offers sessions of 20, 40, and 60 minutes, in which it promotes proactive wellness and health practices and offers full-body assisted stretching.
Stretch*d: Stretch*d is a studio based in New York, which offers personalized stretch sessions that focus more on relieving face and upper body tightness. It provides a fusion, luxurious massage experience.
Stretchmed: With the help of Stretchmed you can get 1-on-1 assisted stretching appointments. These help in improving your overall well-being by eliminating chronic pain and increasing mobility. Their sessions have a starting price of just around $59, with several flexible membership options available.
LYMBR: LYMBR is a company that offers personalized stretching sessions with durations between 30 and 60 minutes. These focus more on recovery, performance, and relaxation and are a one-on-one stretch type of session with trained Stretch Therapists.
According to experts, when comparing static stretching with StretchLab, Stretch Lab always comes on top, with its use of percussion therapy and PNF techniques. This is also confirmed by a 2016 study published in the Journal of Sport Rehabilitation, done by Landon Lempke and Rebecca Wilkinson.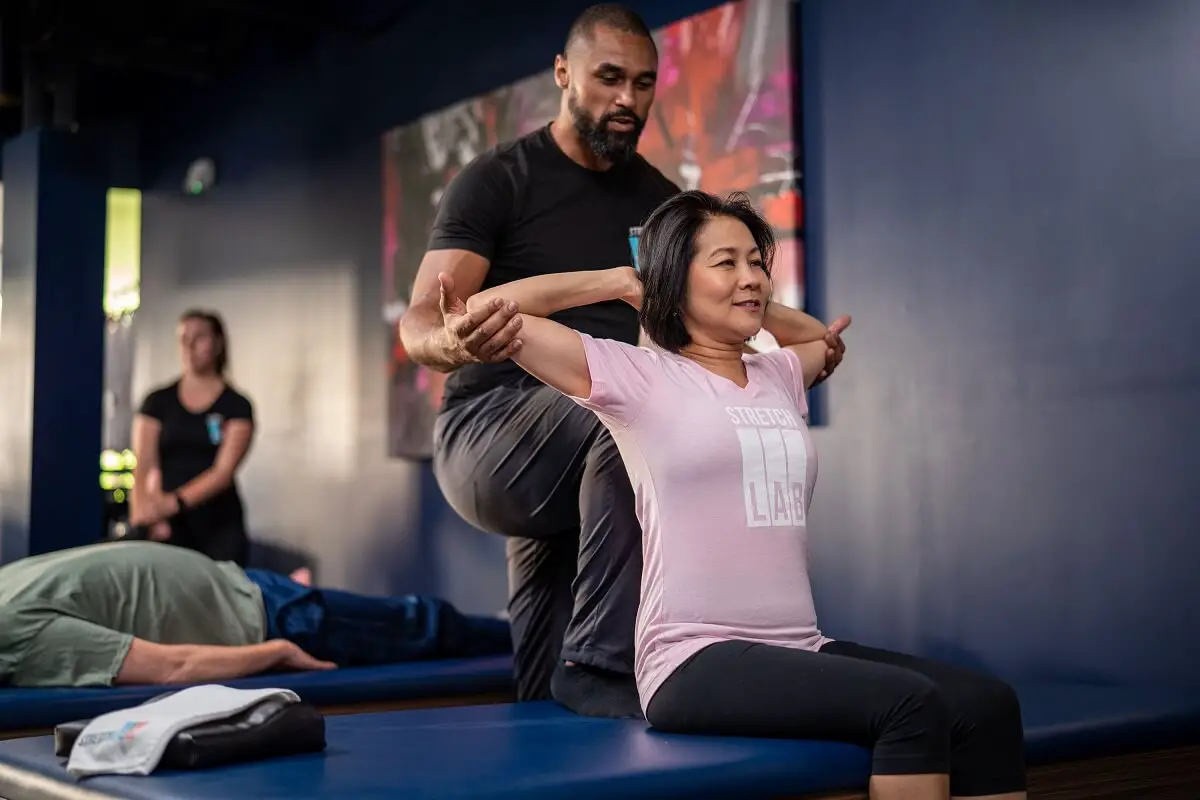 What Is StretchLab?
StretchLab is one of the few assisted-stretching franchise studios out there. They provide group stretches and customized one-on-one assisted stretching sessions, depending on the customers' needs. Xponential Fitness is behind the StretchLab company, which is the largest fitness franchisor of boutique fitness brands. Other brands under their name are PureBarre, Stride, TowHouse, and Cyclebar.
What Do Flexologists Do During a StretchLab Session?
Stretch Lab sessions are focused on active-assisted stretching. This uses a PNF technique, also known as proprioceptive neuromuscular facilitation. According to studies done by Landon Lempke, PNF is proven as a highly effective technique for increasing the range of motion.
Most StretchLab sessions will involve two very popular PNF techniques. These are the contract-relax-antagonist-contract method or CRAC, and the contract-relax method, or CR.
Contract-relax-antagonist-contract method: During the CRAC method, the person lays down and contracts the opposite muscle to the muscle that has to be stretched.
Contract-relax method: CR is a similar method, but works by lengthening and then holding the muscle in one position, while the person lays down and contracts the same muscle to its peak tension.
These are techniques that are tailored to the specific needs of the customer and then administered by trained StretchLab Flexologists, which is why the Stretch Lab experience is beneficial for improving range of motion and flexibility, but also unique in its approach.
In each StretchLab session, you will probably receive one of the two methods along with a static stretch, depending on the skills of your Flexologist and the location you're going to.
Final words

Stretch Lab is one of the great options for professional stretching, with some great overall results, according to the available reviews. You will likely spend between $89 and $549 per month on your membership, depending on the location you're going to, the session type, as well as the number of sessions you need per month.
https://www.thepricer.org/wp-content/uploads/2023/11/stretch-lab-cost.jpg
380
610
Alec Pow
https://www.thepricer.org/wp-content/uploads/2023/04/thepricerlogobig.png
Alec Pow
2023-11-06 06:48:02
2023-10-30 06:19:54
How Much Does Stretch Lab Cost?