Whole House Dehumidifier Cost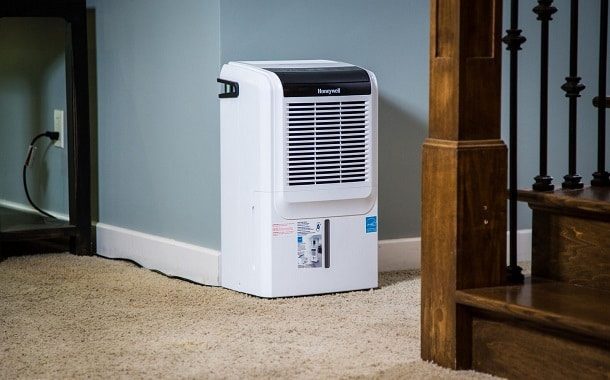 Summary of Home Dehumidifiers
This article will be about the whole house dehumidifiers that are connected to the house's main HVAC ducts. A ducted home dehumidifier is a great option to fix high humidity. They are pretty common in 2 settings:
Houses that do not have central air conditioning
Residences with main A/C when dehumidification and not cooling is needed in spring and fall months
In a normal setup, the system is put near the heating system or air handler. This may mean floor-mounted in a basement or crawlspace or hung from trusses in the attic.
A duct pulls air off the cold air return line and sends it into the dehumidifier. Wetness is condensed out of the air, gathered in a pan, and drained into a flooring drain or out of the attic utilizing a drain line. The dehumidified air is pushed back into the return line to be distributed by the air handler's blower. The whole house dehumidifiers have a pleated filter of 8-12 MERV. The filter needs to be replaced every 1-3 months as part of the seasonal A/C upkeep, depending upon just how much the dehumidifier runs and whether family pets are part of the family.
You might also like our articles about the cost of galvanized pipes replacement, HVAC duct replacement, and dishwasher installation.
Dehumidifiers are differenced by the number of square feet they effectively dehumidify. Nevertheless, your house's building style also has a part in this:
Let's think about 3 houses, each of 2,000 square feet.
House with a Loose Seal: Older houses without any home wrap and drafty windows and doors enable humid air to permeate, so you'll require a bigger dehumidifier. Go for a design ranked  3,000 square feet.
House with a Tight Seal: Newer houses with a tight envelope and doors/windows in exceptional condition do not have air leakages. You'll require a smaller-sized dehumidifier: Go for a system good for 1,500 to 2,000 sq. ft.
House with a Typical Seal: Residence 20-40 years of age with doors and windows in good condition are seen as the average. You should go for a humidifier good for 2,000 sq. ft.
Expenses for dehumidifiers and setup are added below. Price aspects are noted to aid you in precisely approximating what your entire home dehumidifier expense will be. Expenses from other
Product Cost Information
Dehumidifier Market Price Factors
There are 3 elements impacting the rate of a whole-house dehumidifier.
Capacity – The amount of wetness a system can eliminate is determined in pints per 24 hr. Capability starts at about 60 pints for smaller systems. The biggest whole-house dehumidifiers eliminate more than 150 pints daily. Expenses increase with capacity.
Performance – Performance is determined in Pints/Kilowatt-hour, just how much wetness a dehumidifier can eliminate when given a fixed amount of electrical energy. A system with a greater efficiency or performance rating will have the ability to draw out more moisture than a less effective design utilizing the very same quantity of energy. An efficient system will cost more, however, the expense will be made up with time through lower energy costs. Try to find the Energy Star label for a qualified high-efficiency system.
Internal Pump – If the system will be set up below grade, and there's no flooring drain or sump crock, the moisture will need to be pumped up and out. For dehumidifiers with internal pumps, or when a pump needs to be added to the setup, the price will be $150-$500 higher.
Retail Expense Range (Only for the equipment).
Here's a summary of whole home dehumidifier rates for just the unit.
$1,035 – $1,600 for Systems with a capacity of 60-90 pints per 24 hr.
$1,250 – $2,200 for Systems with a capacity of 95-120 pints per 24 hr.
$1,700 – $3,450 for Systems with a capacity of more than 120 pints per 24 hr.
The expense of Setup Tools
These materials and tools might be required for setup or to improve efficiency or convenience:
$120 – $200 for Condensate Pump Set.
$2.00 – $3.50 per foot for Insulated Flex Duct.
$1.50 – $2.50 per foot for Versatile Drain Tube.
$9.00 – $18.00 each for 8-12 MERV pleated filters.
$50 – $315 – Remote Dehumidistat Control designs vary from basic analog dials to digital touchscreen WiFi models.
$30 – $80 for a Hanging kit.
$60 – $125 – Ducting Collar Set if not already included.
$48 – $135 – Dampers for zoned dehumidification, with expense based upon whether the damper is motorized or not.
Authorizations, Evaluation, and Setup Expenses
$0 – $125 – When power is readily available at the setup worksite, no authorization is required. A license is needed when an electrical circuit and circuitry is added to power the humidifier.
Installation Labor Expense
$35 – $50 per hour – Handyman labor rate.
$60 – $115 per hour – A/C service technician labor rate.
A lot of reliable handyman services have a skilled dehumidifier installer. Nevertheless, employing an A/C pro may much better guarantee an installation that makes the most of the advantages of the dehumidifier, along with protecting producer guarantees if needed.
Setup Labor Elements
There are 3 installation labor expense Elements:
Setup Difficulty Level: When the area is hard to gain access to, the task will take longer, and expenses will increase.
Installer Demand: If you prepare the set up for a slow time of the year for HVAC installers, the quotes you get will be more competitive.
The expense of Living: Where you live can affect the rate by as much as 35%. The expense of living is average in important cities of the South, Midwest, and Southwest. It is the highest in big city locations on any of the Coasts. Expenses are lower in smaller towns.
Setup Time
3-5 Hours are required for a 2-person team setting up a whole house ducted dehumidifier.
https://www.thepricer.org/wp-content/uploads/2020/11/whole-house-dehumidifier.jpg
380
610
Alec Pow
https://www.thepricer.org/wp-content/uploads/2023/04/thepricerlogobig.png
Alec Pow
2020-11-26 12:49:38
2021-12-10 06:35:48
Whole House Dehumidifier Cost