Acetylene Tank Refill Cost
Acetylene is a popular natural flammable gas that is colorless and usually used either as fuel, or as an element in multiple types of plastics and other chemicals, or as part of some crucial processes used in different industries.
People usually store this fuel gas in cylinders that they can either rent or buy in full and then refill as they need more.
How much does an acetylene tank refill cost?
The cost of an acetylene tank refill is somewhere between $22 for smaller tanks of about 10 cubic feet in size and $60 or more for storage tanks that are bigger than 3 feet. The price you'll end up paying will depend on several factors including whether or not you also need to buy a new tank, whether you get it filled up, and the actual size of the tank.
Expect these costs for the refill alone, because they don't include the price of the new tank.
So here are the costs you should expect when purchasing acetylene in different tank sizes.

#5 tank – this one fits over 250 cubic feet inside and would cost around $130. It will provide a very long burn time, although it will be more expensive than other tanks of smaller sizes. If you plan to weld frequently, then you might be saving money in time if you're going for this tank.
#4 tank – this is a tank that can fit 145 cubic feet inside and will likely cost around $85. You will get about 2 hours of burn time with these types of tanks, being a very economical choice when it comes to the size of the tank.
#2 tank – a tank that can store 40 cubic feet that you are likely to buy for $60. You will get about one hour of burn time.
There is also the smallest 10 cubic foot tank that costs about $25. It's very unlikely that you will find a smaller tank than this, as this will already last for only a short while. This should only be bought for minimal usage or emergency supplies.
The table below will include the weight of the empty tank and the average price quoted.
| Model | Weight (Pounds) | Price |
| --- | --- | --- |
| Jumbo | 174 | $185 |
| 5 | 114 | $130 |
| 4.5 | 101 | $120 |
| 4 | 72.5 | $85 |
| 60 | 42 | $60 |
| B-40 | 23.5 | $50 |
| MC-10 | 7.5 | $45 |
During a discussion on a popular forum, a user said that they were able to swap their empty container for a full one at their local Tractor Supply Plus for just under $50.
You can also find a pretty helpful acetylene pricing sheet on the Stoody Industrial & Welding supply website, which is one of the more popular welding supply retailers you can find in San Diego, California.
Also read about the costs of water leak fixing, roto rooter plumbing, and locksmith services.
Any additional costs to consider?
You might be charged an environmental fee depending on state regulations and the local seller policy, although this fee shouldn't be more than $10 to $15.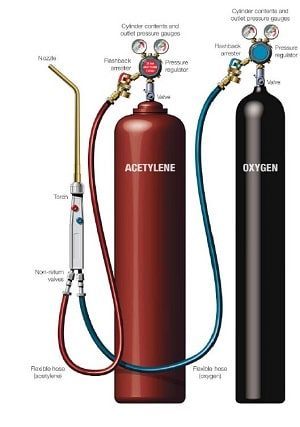 When you buy a tank for the first time, make sure you go over the contract you're signing. You might be surprised to find that a lot of retailers will just rent the tank out for a period of time like a year. This means that if you'll go ahead and sign a rental agreement after you get through the first year, you might be required to pay an annual fee to keep the tank for more time.
Although you shouldn't pay more than $75 per year for this type of rental, this fee will depend on the tank size. And the difference in price based on the size is something you'll also notice when trying to buy a new storage tank. Don't be surprised if you end up paying a few hundred dollars when buying a new container, although this will depend on its dimension, its brand, and the company selling it.
Tips to keep in mind when refilling acetylene
Acetylene is considered extremely flammable, which makes it dangerous in the wrong hands. It can easily become unstable when it gets in contact with oxygen. This means that the slightest leak can cause a lot of damage. This is why it's vital that you not only store the tank properly but also use acetylene and work around it with care.
This gas is mostly found liquified in acetone before being stored in a specially made tank with an absorbent product, as a way of lowering any possible threat. So aside from the small amount of acetone, the cylindrical tubes used to store acetylene also have diatomaceous earth or another absorptive material.
Top Companies to offer acetylene refills
If you need your acetylene tank refilled and you want to go for one of the big national chains, then your best bet would be Tractor Supply, Airgas, Ferguson, or Lowes.
Your acetylene tank can also be refilled at your local welding or plumbing supply stores.
Common acetylene tank dimensions
WQ/ 70 cubic feet/ 7 ″
WS/ 100 cubic feet/ 8.5 ″
MC/ 8 cubic feet/ 4 ″
B/ 35 cubic feet/ 6 ″
# 3/ 70 cubic feet/ 7 ″
# 4/ 100 cubic feet/ 8.5 ″
# 4.5/ 200 cubic feet/ 10 ″
# 5/ 300 cubic feet/ 12 ″
But how can I save money?
If you buy a larger tank, the amount you pay per cubic foot of acetylene will surely get lower. This is why you should consider buying a bigger amount of gas, just like in the case of propane tanks.
Some merchants of acetylene typically offer a lowered cost per cubic foot when a customer leases a storage tank from them. When looking to cut down costs for a leased tank, you should try to work with a dealer that charges by the cubic foot instead of per cylinder size.
Make sure you shop around as prices will vary. Experts often suggest checking out local plumbing or welding supply stores for the best bargains, as big brands of retail stores might have bigger prices.
Stay clear of leasing and try to buy a tank instead. Comparable to renting a vehicle, you can either take into consideration acquiring a somewhat used storage tank on eBay, or Craigslist or if you intend to get it new, you could find one with the help of a neighborhood seller.
https://www.thepricer.org/wp-content/uploads/2020/08/acetylene-tank-refil-cost.jpg
380
610
Alec Pow
https://www.thepricer.org/wp-content/uploads/2023/04/thepricerlogobig.png
Alec Pow
2020-08-05 09:21:59
2023-04-06 22:14:44
Acetylene Tank Refill Cost