Roto Rooter Plumbing Services Cost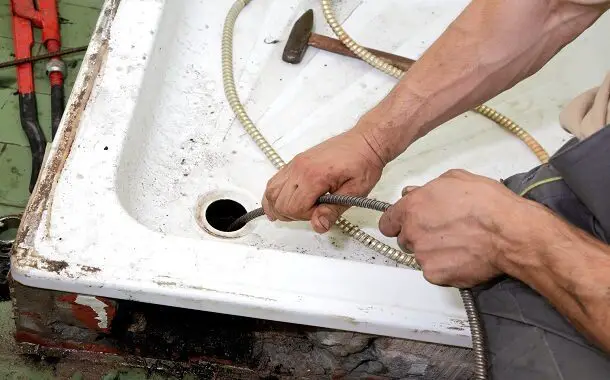 Roto-Rooter is one of the most popular emergency plumbing companies. They offer all kinds of services, including the professional drainage of the clogged sewer of tubs. You can also call Roto-Rooter for other plumbing associated services, like installing your new dishwasher or opening your drains., making them a great 24/7 plumbing solution. They have a lot of reviews all over the internet, most of them being positive with a noticeable part talking about how fast they get to your doorsteps after you call and how professional they are. This brings us to the most important question: How much will you spend on plumbing services performed by Roto-Rooter?
The Price of Drain Cleaning Services

Our research shows that Roto-Rooter is one of the expensive companies out there, with prices well above the average. As opposed to the average plumber that might ask you to see the damage to give you a cost estimate, Roto-Rooter employees will give you a price estimate over the phone after a short explanation of your problem.
But let's see exactly how much did other customers pay Roto-Rooter for normal tasks: Their main service is drain cleaning and most reviews online will talk about this task and its price. We found an average price for drain cleaning at around $50 to $600, or even more, for simple to medium difficulty drain obstructions. Be prepared to spend a little over $200, as this is what most customers have spent. 
If you have any problems with your toilet or any of the flushing system parts, Roto-Rooter plumbers will usually charge around $50 to $300, depending on the time needed to complete the task, but most customers confessed to having spent a little over $170 for the similar services. Although the cost might seem higher than what an average plumber will charge you, it will be well worth the expense, as you will get professional services, bound to last for a long time.
This is The Price of a New House
If you need help to replace damaged pipes, then Roto-Rooter will charge you a lot more. It will depend on the complexity of the job, the length, and depth of the pipes and the price of the new pipe parts, but the final price can be anywhere from $500 to $20,000, if not more. For a live screening from inside the pipes, Roto-Rooter also offers the possibility of video camera inspection. This is an optional service, that will cost anywhere between $100 to $1,000 or more, depending on the time needed to complete all tasks.
For people with plumbing experience that want to try a DIY project, you should know that you'll usually spend around $25 to $100 on a quality sewer snake rental, but that will be the only expense you'll encounter for a simple drain cleaning job.
How to hire Roto-Rooter to fix your plumbing problems
After finding out the average costs, some people have a hard time hiring Roto-Rooter, so let's go through the hiring process. As soon as you give them a call, you will get in contact with one of their Support Staff members that will give you all the information you need regarding their services, general prices and plumbers close to you. They have a phone number available 24/7, and that is 800-768-6911. You can also find valuable information, schedule a house visit or submit a customer review on their official website.
Want to Redo Your Bathroom, You Will Spend This Much on Bath Fitter
After you've arranged for a house visit and talked about the price, you won't have anything else to do than wait for the plumber to ring your doorbell and start working. While talking to Roto-Rooter support staff, schedule a clear date and hour for the visit, to be sure you are at home when the plumber comes. A few questions about the company that has sent them along with an ID to prove they are Roto-Rooter employees should be enough to trust them and let them in.

The best thing about Roto-Rooter is that if you're not satisfied with the end results, you can always submit a complaint and they will usually do everything in their power to get everything fixed. This is something you can't expect the average plumber, especially if they aren't hired by a big brand company. 
Should the average working Joe employ Roto-Rooter for a drain cleaning job?
Roto-Rooter is known to have prices slightly higher than the average plumber, but their work is very professional and is known to last. This makes a few additional bucks in the final price not all that important, considering that a poorly done job might require you to employ someone else to redo it, which would increase the final cost. This being said, if you can't afford the services of Roto-Rooter, then don't postpone the cleaning of your drain, to avoid other associated problems.
https://www.thepricer.org/wp-content/uploads/2017/02/roto-rooter-services-price.jpg
380
610
Alec Pow
https://www.thepricer.org/wp-content/uploads/2022/01/thePricer.png
Alec Pow
2017-02-23 01:44:02
2020-08-15 22:11:02
Roto Rooter Plumbing Services Cost