How Much Does Roto Rooter Cost?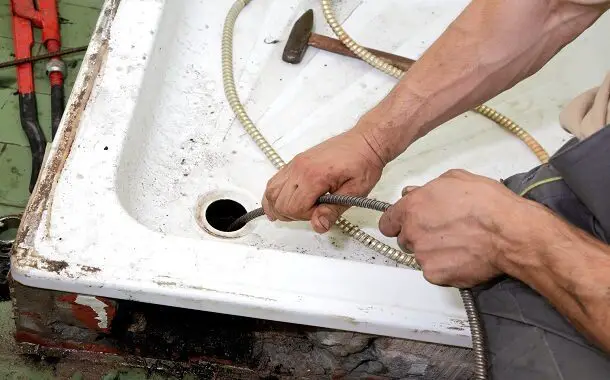 Roto-Rooter is one of the most popular emergency plumbing companies. They offer all kinds of services, including the professional drainage of the clogged sewer of tubs. You can also call Roto-Rooter for other plumbing-related services, like installing your new dishwasher or opening your drains., making them a great 24/7 plumbing solution.
They have a lot of reviews all over the internet, most of them being positive with a noticeable part talking about how fast they get to your doorsteps after you call and how professional they are. This brings us to the most important question: How much will you spend on plumbing services performed by Roto-Rooter?
How Much Does Roto Rooter Cost?
Our research shows that Roto-Rooter is one of the most expensive companies out there, with prices well above the average. As opposed to the average plumber that might ask you to see the damage to give you a cost estimate, Roto-Rooter employees will give you a price estimate over the phone after a short discussion about your problem.
Roto-Rooter costs between $160 and $575 on average when hired for common issues. As most Roto-Rooter locations won't charge to give you an estimate and won't expect additional money in trip fees, you won't be charged additionally for the services you get.
You won't be charged more than $1,000 as long as you don't have a serious problem or emergency work. But $1,000 isn't the maximum you can be charged. You might have to spend anywhere between $4,000 and $22,000 or more for big issues like a flooded basement or a busted sewer drain.
Most of the time, if you're dealing with a particularly expensive case, then your insurance plan might be able to cover at least part of the final bill. Dealing with common issues like line repairs, dripping faucets, or clogged drains, will prompt a fee between $175 and $600.
Their main service is drain cleaning and most reviews online will talk about this task and its price. We found an average price for drain cleaning at around $50 to $600, or even more, for simple to medium-difficulty drain obstructions. Be prepared to spend a little over $200, as this is what most customers have spent.
If you have any problems with your toilet or any of the flushing system parts, Roto Rooter plumbers will usually charge around $50 to $300, depending on the time needed to complete the task, but most customers confessed to having spent a little over $170 for the similar services. Although the cost might seem higher than what an average plumber will charge you, it will be well worth the expense, as you will get professional services, bound to last for a long time.
| | Roto Rooter Prices |
| --- | --- |
| Lowest | $110 |
| Average | $176 – $632.50 |
| Highest | $22,000 |
This is The Price of a New House
If you need help to replace damaged pipes, then Roto-Rooter will charge you a lot more. It will depend on the complexity of the job, the length, and depth of the pipes, and the price of the new pipe parts, but the final price can be anywhere from $500 to $22,000, if not more. For a live screening from inside the pipes, Roto-Rooter also offers the possibility of video camera inspection. This is an optional service, that will cost anywhere between $100 to $1,000 or more, depending on the time needed to complete all tasks.
For people with plumbing experience that want to try a DIY project, you should know that you'll usually spend around $25 to $100 on a quality sewer snake rental, but that will be the only expense you'll encounter for a simple drain cleaning job.
What Is Roto-Rooter?
Roto-Rooter is one of the most popular plumbing and water cleanup companies. It is based out of Cincinnati. The Roto-Rooter term was first coined by Samuel Blanc in 1933 when he invented the motorized cable machine with blades at the end.
Although the company is currently specialized in sewer and drain services, water and water damage services, and overall plumbing, it was initially made to take care of cleaning tree roots and other blockages from tree lines.
At the moment, the company has local Roto-Rooter technicians ready to deal with emergencies 24/7 and they service both commercial clients and residential ones. Aside from servicing over 90% of the US population, this company also services Canadian residents. The prices vary so much mostly because of how diverse the services they offer and the locations they serve are, as well as the fact that they help both residential and commercial customers.
What Services Does Roto-Rooter Offer?
Roto-Rooter offers sewer and drain services, water and water damage-related services, as well as plumbing repair and maintenance. The services provided by Roto-Rooter fall into two general categories: water damage restoration and plumbing and drains. Among the most common plumbing and drain services are:
Mold remediation
Toilet repair
Water heater services
Sink and faucet repair
Emergency flood services
Leak repair
Drain cleaning
Sump pump work
Shower repair
Water damage cleanup
Pipes
Garbage disposal repair
Emergency plumbing
Sewer lines and excavation
Under water damage restoration services
Dishwasher installation
Water removal
Basement flooding cleanup
Roto-Rooter also offers other services so if you have a problem that isn't on this list, then get in touch with one of their locations to find out whether or not they can help you.
How to hire Roto-Rooter for drain cleaning or other plumbing problems
After finding out the average costs, some people have a hard time hiring Roto-Rooter, so let's go through the hiring process. As soon as you give them a call, you will get in contact with one of their Support Staff members that will give you all the information you need regarding their services, general prices, and plumbers close to you.
They have a phone number available 24/7: 800-768-6911. You can also find valuable information, schedule a house visit, or submit a customer review on their official website.
Want to Redo Your Bathroom, You Will Spend This Much on Bath Fitter
After you've arranged for a house visit and talked about the price, you won't have anything else to do than wait for the plumber to ring your doorbell and start working. While talking to Roto-Rooter support staff, schedule a clear date and hour for the visit, to be sure you are at home when the plumber comes.
A few questions about the company that has sent them along with an ID to prove they are Roto-Rooter employees should be enough to trust them and let them in.
The best thing about Roto-Rooter is that if you're not satisfied with the end results, you can always submit a complaint and they will usually do everything in their power to get everything fixed.
Factors That Can Affect Roto-Rooter Costs
Location
Flat rate fees will be more expensive in states where there is a higher cost of living and may vary depending on the state. As most homeowner services will be cheaper in rural areas than in cities, this is usually also the case with the Roto-Rooter pricing.
You should also consider the fact that different municipalities will have different regulations when it comes to sewer lines and main access. This will affect the cost of the repairs, as it also affects their complexity.
Type of Service
The total bill is determined by the nature of the project. On the lower end, you will spend less than $500 on faucet repair, sink, shower, or toilet repair, and similar services. If you need pipes replaced or installed, you will likely spend between $500 and $1,200. On the higher end, you will spend over $1,500, with some repairs reaching prices of $22,000 or more, when it comes to emergency work or bigger projects. These include mold remediation, flooding, or a burst pipe.
Although these prices might seem excessive, they are actually comparable to those charged by other national plumbing services, especially considering the high cost charged by companies for labor.
What Areas Does Roto Rooter Service?
You will find Roto-Rooter locations in all 50 states, including Washington D.C. This means that regardless of where you live in the US, you will probably be able to find reliable access to a Roto-Rooter plumber close to you, although the pricing, guarantees, and services that are offered might differ.
Frequently Asked Questions (FAQs)
How much does Roto-Rooter cost to unclog a drain?
Roto-Rooter charges anywhere between $400 and $550 to unclog a sewer main line. If you need a smaller line unclogged, like the drain of a shower, tub, or toilet, this will likely cost less, between $350 and $500. These prices would depend on the extent of the damage caused by the clog and the cause behind it.
How long does it take Roto-Rooter to unclog a drain?
Roto-Rooter is known as a very quick and efficient solution, especially for unclogging a drain and other simple problems. It won't take more than an hour or two for a plumber sent by Roto-Rooter to arrive at your address, after booking a visit. Depending on how far they have to travel, they might get to you in 30 minutes or less. A simple unclogging won't require more than an hour to have fixed. The best part is that Roto Rooter charges at a flat rate and not based on an hourly rate, which is great, especially for jobs that take more than expected.
Does Roto-Rooter remove roots?
Yes, Roto Rooter can easily remove roots from pipes regardless of whether they are made from clay tile, plastic, or iron. To curb root invasion, they would use a machine that has very powerful cutting blades.
Should the average working Joe employ Roto-Rooter for a drain cleaning job?
Roto-Rooter is known to have prices slightly higher than the average plumber, but their work is very professional and is known to last. This makes a few additional bucks in the final price not all that important, considering that a poorly done job might require you to employ someone else to redo it, which would increase the final cost. This being said, if you can't afford the services of Roto-Rooter, then don't postpone the cleaning of your drain, to avoid other associated problems.
DIY vs. Calling a Professional
Whether you should call a pro or try a DIY approach will depend on your project. Of course, it's always better to leave things to a specialist if you don't have the necessary plumbing expertise or if the work seems to be extensive.
https://www.thepricer.org/wp-content/uploads/2017/02/roto-rooter-services-price.jpg
380
610
Alec Pow
https://www.thepricer.org/wp-content/uploads/2023/04/thepricerlogobig.png
Alec Pow
2017-02-23 01:44:02
2023-06-05 01:11:42
How Much Does Roto Rooter Cost?