Albuterol is used to treat asthma, eliminate bronchial spasms, and remove reversible airway obstructions. The drug can be used prophylactically before exertion in people suffering from asthma induced by physical exertion, and before anticipated contacts with allergens, which usually cause dyspnea attacks. Albuterol is mainly used in the treatment of mild, moderate, and severe asthma, provided that its administration does not delay the administration of inhaled glucocorticoids.
The generic name for this medicine is Salbutamol and among the most known brands, we can find ProAir HFA, Accuneb, Proventil HFA, and Ventolin HFA.
How Much Does an Albuterol Inhaler Cost?
The average costs for albuterol and the inhaler are anywhere between $35 and $65, without insurance. Also, the price depends on the brand you choose and on the dosage.
For those who are insured and only have to pay coinsurance rates or copay, the price can start at $7 for a generic type and go up to $55 for a brand name.
The price would be the same for a refill as it includes both the inhaler device and the albuterol.
It is often recommended by physicians, that those who suffer from chronic obstructive pulmonary disease or severe asthma or children under four years old inhale albuterol through a nebulizer machine. The average cost of a nebulizer is anywhere between $220 and $310 without insurance. There are also pharmacies, hospitals, and urgent care clinics that offer nebulizers for rent at a variable cost.
According to an analysis of national average sales prices conducted by the Office of the Inspector General in the U.S. Department of Health and Human Services, the average cost of generic albuterol nebulizer solutions is around $0.50 for 10 doses, while the price for brand name versions is around $14 for 10 doses.
Albuterol Inhaler details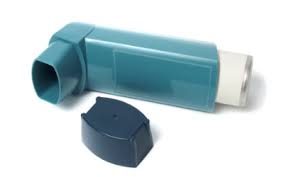 Inhaling medications is a great way for people to get their medication into the lungs. Inhalers will be included in every prescription. The majority of the inhalers come with 200 metered doses.
Also, some prescriptions may require a nebulizer for the albuterol treatment. Nebulizers convert drug solutions into fine vapors that are inhaled using a special mask or mouthpiece. In order for the vapors containing antiasthmatic medicines to be effective, the particles that make up these vapors must be as small as possible.
Nebulizer medication is very effective, regardless of the degree of bronchial obstruction, because it is not necessary to make efforts to synchronize the breath and because you do not have to have a certain inspiratory force.
You might also like our articles about the cost of a nebulizer machine, an insulin pump, or an ARP wave machine.
It is important to know that there are two types of nebulizers.
The first type is pneumatic, i.e. a small compressor that blows air into a special container, turning the solution into steam. This type produces larger particles, some of which do not reach the alveoli.
The second type, more modern, sprays the solution into very fine particles, using ultrasound. It is the ideal device, but it costs more.
The world's pharmaceutical companies were required to switch from chlorofluorocarbon inhalers in 2008. This chemical may have been bad for our environment so the new ones use hydrofluoroalkane as a propellant, which may have a different taste and not such a strong spray of medication. However, the benefits are the same.
What are the extra costs?
A patient can measure the speed with which they can push air out of the lungs with the help of a peak flow meter. It is often recommended by physicians as it is necessary also to determine the right albuterol dose. The average cost for a peak flow meter is anywhere between $25 and $80. If it is required to use a peak flow meter before every dose, then you have to purchase the device prior to taking any medication.
Important things to consider
Medications administered by inhalation are preferred because they administer the drug directly into the airways where it is needed, with strong therapeutic effects, with fewer systemic side effects.
Talk to your physician about the best treatment options for you. Albuterol, a medication often prescribed to treat asthma and chronic obstructive pulmonary disorder (COPD), can be used on its own or in conjunction with other medications that work better for some people than others. Though, it's not usually necessary to talk to a specialist if all we need is albuterol.
Be sure to inform the prescribing physician about any other medications that you are taking or have ever had an allergic reaction to. It is also important for him/her to know if there's any chance of pregnancy, since this may affect his/her decision on the best treatment for you.
How can I save money?
The Asthma and Allergy Foundation of America is available to help you when your monthly insurance doesn't cover the cost of albuterol inhalers, nebulizers, or any other necessary medical supplies. They can provide assistance in both the financial area as well as referrals on where qualified patients may acquire these meds without price tags attached.
If you need assistance with your prescription drugs, there may be a program available for low-income individuals and families. Your local health department can help by providing information about this type of resource in most cases as well.
The Together RX Access Program and Partnership for Prescription Assistance Program will provide free prescription drugs to eligible patients with low incomes.
The National Council on Aging provides a program called Benefits Checkup to help people find the services they need, including prescription drug coverage. This service is offered for those over age 55 and it can be accessed at no cost through your local area agency on aging or online via their website.
https://www.thepricer.org/wp-content/uploads/2021/11/Albuterol-Inhaler-cost.jpg
380
610
Alec Pow
https://www.thepricer.org/wp-content/uploads/2023/04/thepricerlogobig.png
Alec Pow
2021-11-03 08:26:18
2021-11-03 08:26:18
Albuterol Inhaler Cost