Aliso Viejo Country Club Membership Cost
Aliso Viejo Country Club is a new private club in Orange County, California, which shares with its members the passion for golf with friends and family. It is located in the hills of Saddleback Valley and is surrounded by breathtaking views of valleys and mountains.
How Much Does an Aliso Viejo Country Club Membership Cost?
Like with any other country club, the cost of a membership at Aliso Viejo Country Club will depend on the option you choose as there are a few types of memberships. According to some existing members, the price of full golf membership is around $700 per month. Also, the initiation fee will be in the low five figures.
According to the golflifenavigators.com website, the initiation fees for Aliso Viejo Country Club are anywhere between $2,501 and $10,000, and the annual dues are anywhere between $5,001 and $10,000.
You might also like our articles on the cost of membership at the Southern Hill Country Club, Mission Hills Country Club, and Arcola Country Club.
A member of the Reddit online forum said that they had to pay around $2,000 for a limited membership level at this club.
Types of Aliso Viejo Country Club memberships
Clubhouse membership
This option offers members access to social events, the fitness center, clubhouse dining, a discount of 20% at the Pro Shop, and private room usage. Though, practice facility usage, green fees, and weekly golf access will not be available.
Limited Golf Membership
With this membership, you will be able to use the fitness club, take part in the complimentary fitness classes, participate in social events, have access to the fitness center, have discounts of 20% at the Pro Shop, and use the clubhouse dining and the private rooms. Also, you have unlimited golf access on Sunday and Tuesday through Thursday.
Full Golf Membership
Some of the benefits offered by this membership include unlimited green fees, discounts of 20% at the Pro Shop, practice facility usage, participation at social events, tournament entries, access to the fitness center, weekly clinics, private room usage, online tee times, clubhouse dining and complimentary shoe care service.
Also, Golf members can take advantage of the Club Corp network benefits which include discounts at different hotels, entertainment venues, and restaurants, unlimited golf benefits, the opportunity to compete in Club Corp tournaments, and access to more the 300 clubs.
Aliso Viejo Country Club – Short presentation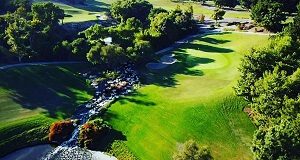 Aliso Viejo Country Club has a par-72 course that was designed by Jack Nicklaus and this is one of the only two in Orange County.
Besides golf, this club offers fitness center amenities and dining options. The fitness center offers personal training options, cardio equipment, and a free weight area. As for the dining options, these include the Taste of Italy, the Saddleback Grille, and the Snack Bar.
Also, Aliso Viejo Country Club offers different programs for children of all ages and their families. They have everything for every member of their family, from fun activities and special dining events to sports leagues and teams.
The club offers its members prospective member play options once-a-month, complimentary clinics, and online tee times. Moreover, you can organize a memorable party for your birthday or other special events from your life in the club.
What are the additional expenses?
The tournaments and clinics are available for an extra charge.
Personal training, which is available at the fitness center, comes at an additional cost.
Other extra costs you need to consider are the golf programs and clinics. For instance, the cost of a junior program is around $30 per player.
Important things to consider
Aliso Viejo Country Clun has a very strict dress code for both the members and the staff. Members can find more about these rules on the official website of the club.
From time to time, the club offers a monthly golf day for Aliso Viejo residents. This is a great opportunity to play golf on their course without having to join the club. Depending on the day you play, you will have to pay a fee of anywhere between $55 and $150.
At this club, you have the possibility to create your network of social and business connections by taking part in their special Member events organized periodically. Members of Aliso Viejo Country Club include community and civic leaders, local professionals, and other people with influence.
https://www.thepricer.org/wp-content/uploads/2022/10/Aliso-Viejo-Country-Club-membership-cost.jpg
380
610
Alec Pow
https://www.thepricer.org/wp-content/uploads/2023/04/thepricerlogobig.png
Alec Pow
2022-10-17 08:28:35
2022-10-17 08:30:04
Aliso Viejo Country Club Membership Cost