How Much do Alligator Tags Cost?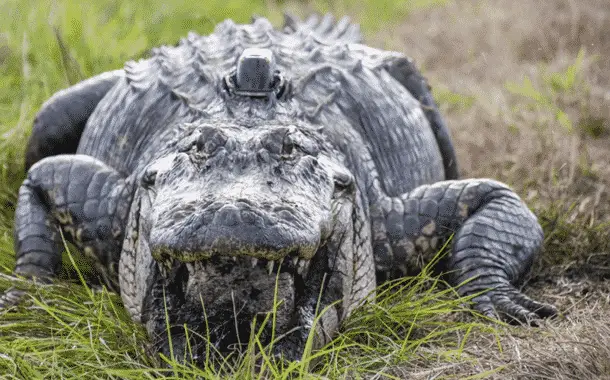 If you're the type of person that likes the Swamp People show, you surely know that the financial factor is very important for alligator hunters. Although they still hunt for the love of the land, they do it to get money as well. In states like Louisiana and Florida, hunting for alligators is not only for entertainment. Rather, the activity is more like a job. Some people even sell alligator meat.
Why? Hunters, for one, are only permitted by the regional government to search for alligators partly to keep under control the reptiles' population. After all, a lot of gators will be a threat to homeowners and the environment. With that in mind, a hunter is only permitted by the state to harvest throughout the open season.
Also, hunters can only hunt after they pay the required costs for licenses and permits. So let's figure out how much alligator tags cost.
How much do alligator tags cost?
The typical expense of alligator tags runs around $25 to $1,000. Keep in mind that these particular costs apply for the whole hunting season, which usually lasts for 4 months.
You might also like our articles about the cost of a fishing license, a hunting license, or an alligator snapping turtle.
Exactly what are alligator tags used for? Essentially, it is proof of sorts that you're lawfully hunting gators. Before you get one, you will have to make an application for authorizations and licenses based on the state's approval. The regulative department will also need you to offer details such as:
Your name
Your application
Your evidence of property ownership (if you'll be searching on private land)
A map
The landowner's signature
Keep in mind that requirements will differ per state. A few of the areas where you can get gator hunting licenses will be Florida, Georgia, Alabama, Arkansas, Mississippi, Louisiana, South Carolina, and Texas.
To offer you a general idea of the rates, we will have a look at guidelines set by a few of the above states.
Alligator Hunting In Texas
Texas will require any hunter, no matter their age, to first get a hunting license from the Department of Wildlife and Fisheries. The following expenses will apply, depending on your situation:
Youth hunting license: $7
Resident license: $25
Senior resident license: $7
Resident trapper's license: $19
Non-resident basic license: $315
Non-resident special license: $132
Non-resident 5-day special hunting license: $48
When it comes to the expense of alligator tags, you need to pay a $21-hide tag cost together with your submission of an Alligator Hide Tag Report.
Alligator Searching In Georgia
You must have a normal hunting license if you wish to harvest alligators in Georgia. In addition, you will have to get a valid Alligator Hunting License. The expenses are:
Resident license: $50
Non-resident license: $200
The state also requires a WMA license if you're hunting on WMA. The requirements apply to all hunters other than to Disability, Honorary, and Lifetime license holders.
Georgia requires hunters to be a minimum of 12 years of age. Keep in mind that 12 to 15-year-olds do not require a normal or alligator hunting license. However, they will have to provide legitimate authorization or be accompanied by a permit holder before they can hunt.
Alligator Hunting In Louisiana
Louisiana charges its homeowners $25 for an Alligator Searching License. The state does not charge any money for alligator tags.
Residents without a license can also hunt as alligator sports hunters. The license for sports hunting will also cost $25.
The case is very much different if you are a non-resident. The state will only permit you to hunt as a sports hunter. That means that you will only get an Alligator Sports Hunter License which will have a price of $150. Additionally, you will need to be accompanied by a guide.
Keep in mind that your guide must be somebody who has alligator tags.
If you are a lottery alligator hunter, the state might need you to pay for a set of alligator tags. You will pay the required fee in place of the payment for the value of harvested gators.
People that need this license are required by Louisiana's state laws to send the following:
Hunter license application
Evidence of property ownership
A map of the property
A landowner's signature which shows authorization for the hunter to collect alligators on their property.
A legal alligator hunting lease (if relevant)
Can You Hunt Alligators In Florida?
Florida requires hunters to get a minimal entry authorization for their Statewide Alligator Harvest Program. A few of the application costs will be:
License and alligator trapping license for Florida homeowners: $272
License and alligator trapping license for non-residents: $1,022
License and alligator trapping license for resident special needs hunt/fish license holders: $22
License for 2 CITES tags (for those who currently have a license): $62
Each license consists of 2 CITES tags and will enable you to harvest 2 alligators. You can also find essential details on your authorization consisting of:
Harvest locations
Hunt dates
Borders or constraints of the harvest
You can place an application for authorization if you're 18 years and above before the start of the open alligator hunting season.
The Cost of Alligator Hunting Tools
It's important to understand the license costs and alligator tags rate. After all, you can't hunt if you will not pay them. Aside from these charges, however, are there any other expenditures?
Well, you'll also need to buy hunting tools. The expenses will depend upon the shop. To offer you a better idea, here are some rates from around the internet:
Alligator bait (lungs): $20
Wood peg with 18″ stainless cable leader and swivel: $4
Wood pegs (4 per pack): $12
Aluminum floating bangstick (5 ft.): $105
Bangstick installed on 5 ft. powder-covered aluminum pole: $145
Floating bangstick on 6 ft. all-aluminum powder-covered pole: $195
12/0 snatch hook: $2.50
10/0 strong snatch hook: $8.50
16/0 Mustad hook: $15
Aluminum billet base and driver: $35
Complete starter bundle: $80
Grade 5 heavy-duty driver: $6.50
Muzzy Gator Getter point: $13.50
Small headlight: $22.50
Snares: $15 to $20
CFTH stainless point (with cable set up): $25
Muzzy point with short cable for bow/crossbow: $17.50
Keep in mind that the above costs are just estimates. They are only meant to offer you a general idea of just how much you'll spend on full hunting equipment.
Wage To Expect From Hunting
Owl Guru mentions that the yearly income of hunters and trappers is $29,970. The per-hour wage, on the other hand, is $14.41 per hour.
If you're a beginner, you should expect the average to go as low as around $18,800. If you're a skilled hunter, the total might run as high as $46,900.
Keep in mind that you'll just get to capture alligators throughout the open alligator season. So, if you're an expert hunter, you will require to use other animals and birds if it's not yet time.
Aside from that, you will not have the ability to hunt as much as you desire. There are limitations to the number of alligators you're permitted to eliminate.
Well, if it can assist society, you might hunt an alligator or 2. Simply do not break any guidelines!
https://www.thepricer.org/wp-content/uploads/2021/03/alligator-tags-cost.png
380
610
Alec Pow
https://www.thepricer.org/wp-content/uploads/2023/04/thepricerlogobig.png
Alec Pow
2021-03-26 09:25:09
2023-03-15 09:22:09
How Much do Alligator Tags Cost?