Amtrak company offers shipping services even when there is no passenger to accompany the packages. They claim that they will deliver anything as long as it fits in the luggage and is not dangerous, explosive, or illegal.
According to previous customers, the prices charged by Amtrak Express for their shipping services are much lower than those you can find at UPS and FedEx. But we are going to talk more about the Amtrak shipping costs in the following lines.
How Much Does Amtrak Shipping Cost?
There are a few factors that will affect the cost of Amtrak shipping services such as the distance of shipment and the size and total weight of the packages. Though, in some cases, you will have to pay half of what other express delivery services charge. You should be prepared to pay anywhere between $55 and $70 for the first 100 pounds, plus another $0.75 to $0.90 per pound for the extra weight. For example, according to an online blog post, the price of the first 100 pounds was almost $65, plus another $0.80 for each extra pound.
One of Amtrak's customers said online that they had to pay around $730 for shipping 27 boxes of 1,300 pounds from Oakland, California to Washington, D.C., including their insurance.
You might also like our articles about the cost of U.S. train travel, UPS Fax services, or Postage meters.
Amtrak Express is often shipping bikes and they charge anywhere between $65 and $85 for this type of item, regardless of the distance. Taking into consideration that a packed bike weighs around 100 pounds, we can say that it is within the price estimate we mentioned above. In case you need a bike box, these are available at Amtrak for the price of $18.
For instance, a client said that he had to pay around $80 to deliver his bike from Washington, D.C. to Sequoia.
What are the additional costs?
Besides shipping, Amtrak Express also offers insurance, which is up to $2,000. They offer $100 worth of coverage for every $1.
You have up to 48 hours at your disposal to claim your package once it arrives at the Amtrak station. In the situation when you fail to do it within that time interval, extra storage fees will be applied. The cost of each additional day would be around $5 per box.
Important things to consider
You are able to deliver your packages to more than one hundred Amtrak locations with the Amtrak Express services. All you have to do is to drop your luggage off at an Amtrak station and the recipient will pick it up from the destination station.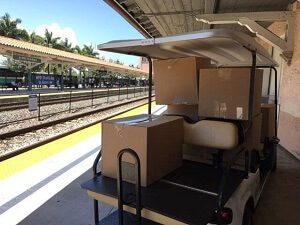 They accept delivering boxed bicycles, suitcases and 36"x36"x36" boxes, which weigh up to 50 pounds. On the other hand, if you need to ship a large pallet that weighs up to 500 pounds, it will be accepted only at certain major Amtrak stations.
According to the official website of the company, Amtrak applies weight and size limits and your whole shipment should not be more than 500 pounds in weight. Plus, your packages must be sealed in cartons and addressed.  It is recommended to label each box with your contact information and address, as well.
Also, Amtrak does not accept delivery of certain items like electronics, perishables, appliances, tools, glass, artwork, furniture, and fragile/breakable items.
You have to check your packages in no less than 30 minutes before the train departs. In case you have more than 500 pounds of shipment, you may need to split it into more shipments over several days.
Be prepared to wait up to one week for your package to be delivered.
The Amtrak shipping service is not available at all of their stations. So, you should contact Amtrak before starting to pack your stuff. They will offer you more information about costs, which stations offer this service, shipping conditions, and others. Also, they will tell you more precisely where to drop off your packages. In general, you will be pointed to a loading dock that is located at the back of the train station.
Amtrak shipping service and hours may vary from one station to another, depending on security considerations and the available equipment.
How can I save money?
If you want to save some money when shipping your packages from one destination to another, make sure you look for and compare the prices charged by other providers like the United States Postal Services, FedEx Ground, UPS Ground Freight, FedEx Freight Economy, and UPS Ground.
https://www.thepricer.org/wp-content/uploads/2022/10/amtrak-shipping-cost.jpg
380
610
Alec Pow
https://www.thepricer.org/wp-content/uploads/2023/04/thepricerlogobig.png
Alec Pow
2022-10-28 06:53:45
2022-10-25 08:17:43
Amtrak Shipping Cost