Last Updated on September 12, 2022 | Written by CPA Alec Pow
First Published on September 12, 2022 | Content Reviewed by

CFA Alexander Popivker
In recent decades, business correspondence by e-mail has gained immense popularity and has become one of the main ways of business communication. Today it is difficult to find a person who does not use electronic mail in the practice of interpersonal communications. Despite this fact, many still use classic mail.
In this article, we are going to discuss the costs of postage meters and the benefits they have.
How Much Does Postage Meter Rental Cost?
The cost of a postage meter will depend on several factors such as the type and scale of the meter, the number of packages mailed per day, and other features like thermal printing, integrated address book, and account codes. Though, you should expect to pay anywhere between $30 and $400 per month to rent it, with an average cost of $165 per month.
Also, the renting costs for high-volume machines will be more than $1,000 per month.
Top companies to rent postal meters from and their costs
Stamps.com
This is not a real postage meter company, but a service that lets you print postage at your own printer at a cost of around $16 per month.
Stamps.com offers some benefits such as customizable graphics and online postal purchases. Though, you must buy your own postal scale. Also, they have a pay-as-you-go policy, with no long-term or large lease commitment.
Data Pac
Data Pac is a company with a history of more than 35 years in the industry of mailing offering mailing machines, folders, and inserters. This company provides customized services to businesses of all sizes. They are specialized in hardware and software solutions for both large and small-volume mailers.
If you want to find out what are the prices charged by Data Pac, you should contact them directly as they do not publicly offer their rates.
Hasler Postage Meters
Hasler company offers postage machines to a wide variety of businesses from America, with prices starting at around $25 per month.
Neopost
The French company Neopost was founded in 1924 and since then offers postal machinery to the largest companies in the world. Only in the United States, they offer their services to over 50,000 small and large businesses.
The prices charged by Neopost would be anywhere between $20 and $45 per month, plus other costs.
FP Mailing Solutions
FP Mailing Solution company is based in Chicago and uses a network of independent distributors for servicing its customers. The smallest postage meter available on the market is their PostBase Mini, which has the ability to process 17 letters per minute.
The rates of the postage meter solutions offered by FP Mailing Solutions are comparable to those charged by their competitors.
Pitney Bowes
Pitney Bowes is the largest company in the mailing industry. They produce and service software, hardware, and full mailing postage meter solutions for all types and sizes of businesses.
The monthly rental rates would be around $20, while the costs with the supplies, taxes, and other fees would be around $80 per month.
Postage meter overview
The postage meter is business equipment designed to streamline mailing processes and lower postage expenses. This tool is made to suit all business mail volume sizes, either small or large.
You might also like our articles on the cost of a brick mailbox, UPS PO box rental, or UPS fax services.
The role of these machines is to print the stamp (frank or indicia) directly on the adhesive tape or on the envelope. The smallest postage meters are designed for up to one hundred pieces of mail per month, while the largest machines are able to print postages for hundreds of letters per minute.
You will have to fill the postage meter with a preset amount of postage once you get it. The tool uses prepaid postage and prints some encoded information into the mark when you print indicia. This information includes tracking information, the postage amount, zip code, and weight.
Now all the postage meters are digital.
Types of postage meters
Low volume postage meters
The low-volume postage meters are designed for businesses that send up to 35 items per week. These tools have customizable postage graphics, an integrated scale of a maximum of 10 lbs., and a speed of around 20 to 40 letters per minute.
Medium volume postage meters
The semi-automatic postage meters are made for larger businesses that send a few hundred pieces of mail per week. These meters are able to handle variously sized and shaped mail. They also have customizable postage graphics, an integrated scale of a maximum of 15 lbs. (some have 100 lbs.), and a speed of 100 to 200 letters per minute.
Largest volume postage meters
These machines are fully automatic and are designed for very large mailroom volumes. Like the other two, these have customizable postage graphics, an integrated scale of a maximum of 15 lbs. (some have 150 lbs.), and a speed of 100 to 350 letters per minute.
What are the extra costs?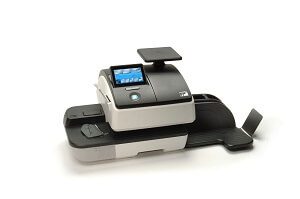 When renting a postage meter, you will sign a contract for a minimum of one or two years and you will have to pay a monthly rental fee. Besides this monthly cost, there are some other expenses you need to consider such as:
taxes;
postage (actual use);
machine extras (sealers, folders, stuffers);
insurance (for the machine itself);
postage reprogramming or reset;
online postage refill;
ink, which would be around $70 for a black cartridge and $280 for a red ink cartridge (some meters need special ink);
postage labels or tape, which will be anywhere between $38 and $48 for 50 tapes.
FAQs
Why get a postage meter?
You will be able to save some money with a postage meter if you send more than 100 letters per month. This equipment weighs and prints postage onto your outgoing letter. You prepay and buy postage online and after that download it directly to the meter.
Besides that, there are some more benefits such as:
branded, customized postage labels;
reduced mail processing time;
optional extras;
up-to-date postage calculation and accurate weighing.
If your small business spends more than $50 per month for correspondence via USPS, then it would be a good idea to invest in a postage meter.
Can I purchase a postage meter?
Unfortunately, you can not purchase your own postage meter. You can only lease or rent it from USPS. In the United States, all postage meters are regulated by USPS under federal law. These are manufactured are distributed only by authorized dealers due to security reasons.
What is the cost difference between metered and stamped mail?
If you choose to use a postage meter, you will have to pay $0.55, plus another $0.15 for each extra ounce. On the other hand, if you want to send a standard-size letter (one ounce), you will have to pay $0.60, plus another $0.15 for every additional ounce.
Due to the digital information encoded in your printed mark, the cost of Metered Mail will be 9% lower. The USPS machinery can automatically process your mail thanks to this information. So, the USPS costs are reduced. Also, the metered mail weight is measured accurately and you will not have to overpay.
Why send letters through USPS?
When it comes to sending written correspondence, there are many options you can choose from. There is DHL, UPS, FedEx, and many more. But the USPS is the most cost-effective solution. For instance, the USPS cost per mile is less than half that charged by FedEx.
Also, they deliver to a large geographical area, larger than any other postal service. Some services do not deliver to certain neighborhoods or rural areas. You will have to pay only $0.55 to send only one letter from any point in the United States to any address in the United States, including Hawaii or Alaska.
https://www.thepricer.org/wp-content/uploads/2022/09/postage-meter-rental-cost.jpg
380
610
Alec Pow
https://www.thepricer.org/wp-content/uploads/2023/04/thepricerlogobig.png
Alec Pow
2022-09-12 08:10:44
2022-09-12 08:10:55
Postage Meter Cost