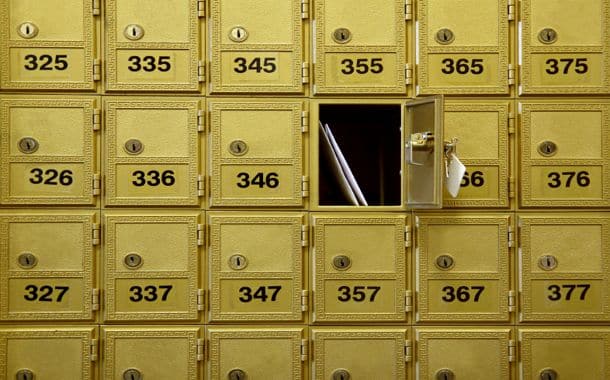 Your local postal office isn't the only place where you can rent a P.O. box. Another common place is the UPS office.
The UPS mailbox will be a great idea for you if you want to get packages in the mail that is away from your home but still has a normal address like a home or office would.
There are quite a few people that prefer to rent a UPS PO mailbox instead of the usual USPS office P.O. box when they start a business from their home. This is to prevent their business partners and clients from finding out their real personal addresses.
The UPS PO box cost will depend on several factors like your geographical location, the amount of time you are renting it for, and the size of the box, just like in the case of renting a PO box from the local post office.
How Much Does a UPS PO Box Cost?
Aside from any discounts and promotions, the price of the UPS mailbox you are going to rent will depend on the size of the PO box and your geographical location. On average, the longer you commit to a mailbox, the more you are going to save.
Renting a small UPS PO box for a year is likely to cost somewhere between $150 and $200, while large mailboxes can cost $300 to $350 for the same time period. If you're thinking of renting it by the month, then you should be prepared to spend somewhere between $15 and $50 for the same mailbox.
The table below will give you some average prices you should guide by, although the final price might vary so checking the closest UPS office is always the best choice.
| | | |
| --- | --- | --- |
| Size of Mailbox | Duration | Price |
| Large | 3 months | $110 – $250 |
| Large | 6 months | $200 – $365 |
| Large | 12 months | $350  -$600 |
| Medium | 3 months | $95 – $230 |
| Medium | 6 months | $160 – $310 |
| Medium | 12 months | $265 – $475 |
| Small | 3 months | $50 – $175 |
| Small | 6 months | $96 – $260 |
| Small | 12 months | $200 – $400 |
Discussions on a thread from the Amazon Seller Central forum, for example, talked about what some members ended up paying for a UPS Store PO box. The original poster, for example, said that they were charged over $240 per year for a small box, while a larger box would have cost $450 per year at the UPS Store in his area. Other members joining the discussion talked about paying $540 and even more per year for a large box.
You might also like our article about the cost of building a brick mailbox.
UPS store P.O. box rental details
As you will notice in the table above, the boxes you can rent from UPS are either large, medium, or small, and the time period for the rental is either 3, 6, or 12 months.
UPS enables its clients to rent either individual or business mailboxes, depending on their needs. The difference is that the ones intended for businesses can receive both personal and business mail, but they are more costly as well. Renting a personal box, on the other hand, will enable you to receive only personal mail, and any business mail will be returned to the sender.
The business address received for the UPS post office box will be genuine and you will have access to it 24 hours per day, both for mail and package shipments.
Getting a real street address and not your usual P.O. box number is one of the best parts about getting a UPS mailbox. This will make you look a lot more professional when you're just starting a company.
You will be able to accept packages from any provider with the services provided by UPS.
If you opt for the text alert service, you will receive an alert whenever you get new mail. Of course, even without the texts, you can always call their system and check whether you have mail in your mailbox or not.
Additional costs to consider
You might have to pay additionally for any premium services you might need, including text alerts when packages or mails arrive or faxing services if you need them.
Another obvious cost to consider is the charge for mailbox renewal at the end of the rental duration.
When you get the mailbox key, you might be charged a non-refundable fee that is somewhere between $15 and $20.
Some clients have also been charged a surcharge when their mail became excessive.
You will also be charged an additional fee if you terminate a contract early, regardless of the amount of time you signed the contract for.
Tips to keep in mind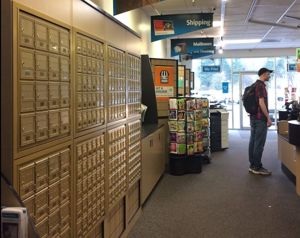 You should make sure that you check out the requirements for getting a UPS mailbox. You will at the very least need 2 pieces of identification, however, there might be others too.
If you are thinking of getting a P.O. box at your regional post office, bear in mind that you are going to get a PO box number, not a genuine address. If you are going to have actually mail provided here, remember that some businesses will not send it to this kind of mailbox. This, nevertheless, is not the only difference.
At the post office, you will have access to your box 24 hr a day. At UPS, you will have access to your mailbox throughout business hours alone. These business hours might differ from one area to the next and it might or might not be open on the weekends.
The UPS will sign for and hold any package that you have shipped. This means that you will not have to set up any mail forwarding to your personal address. The post office will decline packages from their competing companies.
While you are at UPS getting your mail and packages, you can also use services such as faxing, making copies, and so on. The post office does not generally provide these services.
To find out where the closest local UPS store is, input your postal code on TheUPSStoreLocal.com.
How can you save some money?
If you do not care how your mailing address is going to look, think about comparing the rates to your regional post office or another third-party mailbox store, or even a virtual mailbox service to see what they charge. If you do not have a problem with the P.O. box address, it is going to be a less expensive path the majority of the time.
If you have more than one UPS store in your location, make sure to call all of them. You are going to find that every store will differ in general rates.
The longer you rent, the more you are going to save. If you know that you are going to need the box for more than a year, it would most likely be best to spend on a year's worth of service in advance.
https://www.thepricer.org/wp-content/uploads/2021/03/ups-mailbox-rentals-cost.jpg
380
610
Alec Pow
https://www.thepricer.org/wp-content/uploads/2023/04/thepricerlogobig.png
Alec Pow
2021-03-24 07:39:35
2023-03-18 21:29:15
UPS PO Box Cost