How Much Does a Safe Deposit Box Cost?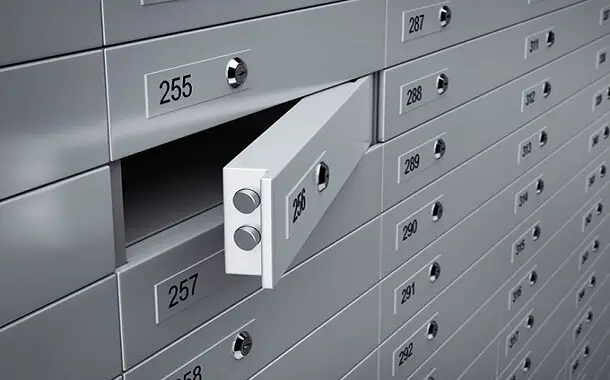 The safe deposit boxes are an English invention. In the year 1835, two English inventors – Charles Chubb and Jeremiah Chubb – invented the first safe box resistant to breaking. Before the modern safe deposit boxes known today, hard boxes were used to protect valuables. They were initially \made of wood, before progressing to metal or other durable materials.
The safe deposit box is the best solution for you when you want to protect your assets. The time when money and valuables had to be kept at home, in various hidden places, has passed. For a monthly or yearly fee, you can rent a safe deposit box, which is a safe and efficient alternative to keep your valuables safe.
How Much Do Safe Deposit Boxes Cost?
A large safe deposit box, costs anywhere between $190 and $520 per year, while a medium size, which measures 4"x10" will cost you anywhere between $45 and $70 per year. The least expensive is the small box, that comes at the price of $20 to $35 per year. As you can see the cost of a safe deposit box depends on its size. Also, the bank you choose will influence the price.
For instance, Bank of America offers safe deposit boxes that measure 15"x17" at the price of $200 per year, 10"x"10 for $110 per year, and 2"x5" for $35 per year.
On the other hand, Chase Bank offers more than sixty different sizes you can choose from. For instance, you will have to pay around $70 per year for a safe deposit box that measures 2"x5".
Also, Citibank provides many sizes you can choose from. Expect to pay almost $3,400 per year for a large safe deposit box that measures 24"x48", and around $25 per year for a 2"x5" box.
At Wells Fargo, you will have to pay around $125 per year for a 10"x10" safe deposit box, and $45 per year for a 2"x5" box. But they have many more different sizes as well.
In the table below you will find the average prices per year for safe deposit boxes in the vaults of different banks in the United States of America.
| Bank | Measurement | Price (per year) |
| --- | --- | --- |
| Bank of America | 3x6x6 | $20.70 |
| Bank of America | 3×5 | $86.25 |
| Chase Bank | 3×5 | $51.75 (some qualifying customers may receive it for free) |
| Citibank | 3×5 | $74.75 |
| Fifth Third Bank | 10×10 | $316.25 |
| PNC Bank | Standard | $115 (qualifying customers can receive a $10 discount) |
| Regions Bank | 5×10 | $143.75 (you get 10% off with auto-debit and 30% discount if you are a qualifying customer) |
| U.S. Bank | Small | $23 to $57.50 (qualifying checking accounts receive a 50% discount) |
| U.S. Bank | Large | $46 to $115 (qualifying account holders receive a 50% discount) |
| Wells Fargo | Varying sizes | $23 to $138 (a qualifying average balance of $5,000 entitles you to a free box) |
Note: More sizes might be available as well depending on the bank. Here are the estimative prices for some sizes we were able to find online.
The costs for average safe boxes are anywhere between $35 and $80 per year, according to CBS Money Watch.
In case you want to have your own safe box at home, you should plan on spending anywhere between $35 and $60 for the Digital Safe Box by Solar Eclipse and anywhere between $45 and $70 for the SentrySafe H2300 box.
Safety deposit box short presentation
Banks offer services for storing goods in safes of different sizes and which are located in certain bank branches. For these services, it is necessary to sign a contract for a certain period of time.
You might also like our articles on the cost of renting a P.O. box, a storage unit, or an UPS P.O. box.
Access to the safe deposit box can be done during working hours with the public, in the presence of an employee of the bank, by using two keys, a key that is in your possession and a master key that is kept by the bank.
As the owner of the rental contract, you can appoint up to three proxies to carry out the operations of storage, consultation, and collection of valuables from your valuables box.
Even if the presence of an employee is needed to open a safe deposit box, its contents are confidential.
The bank or credit union will not know what you deposit in the box and you do not have to declare anything at all regarding the origin of the goods.
There are also banks that can request the estimated value of the goods, but they will not specifically check if the real or estimated amount is declared.
Which are the additional expenses?
You may have to pay a key deposit fee at some banks, in order to get the key in the beginning. Plan on spending anywhere between $15 and $35 for this deposit fee.
Most banks will charge you a key replacement fee in case you lose it. This would cost $12 to more than $45.
Also, if you lose your key or you need to access the box, you may be required to pay drill fees, which can be more than $155.
It is highly recommended to have items outside of cash insured because the items will not be covered by the bank or FDIC. Be prepared to spend $17 to $25 per $1,000 worth of valuables.
Important things to consider

A safety deposit box can host all the goods that fit in it. Practically, the banks also specify that you can deposit goods such as wills, jewelry, family heirlooms, valuable items and important documents like your birth certificate, and various titles, such as shares, certificates of deposit, collections, bonds, or even money.
However, a few objects are excepted. According to the contract, the client undertakes not to keep in the box weapons, ammunition, explosives, narcotics, toxic substances, goods whose possession is prohibited by law, as well as any kind of perishable or smelly products, or stolen values.
The customer has the obligation to pay the rent of the box in advance. If he leaves the values in the box without paying the rent, the bank may deny the customer access until he pays.
Tips for saving money
Take into consideration installing a safety deposit box at home. If you get a home safe, make sure it is bolted into the ground and cannot be taken easily.
You may get a discount if you are already an existing client with a bank.
https://www.thepricer.org/wp-content/uploads/2023/06/safety-deposit-box-cost.jpg
380
610
Alec Pow
https://www.thepricer.org/wp-content/uploads/2023/04/thepricerlogobig.png
Alec Pow
2023-06-26 08:01:40
2023-06-22 05:32:42
How Much Does a Safe Deposit Box Cost?