Last Updated on December 18, 2022 | Written by CPA Alec Pow
First Published on April 22, 2021 | Content Reviewed by

CFA Alexander Popivker
Self Storage Rental Prices
Renting a storage unit is the perfect option for people who need to store their unused but needed items without taking up space in their own homes. Storage units are available with climate and moisture control, electrical hookups, lights, and ventilation which make it easy to find one that suits any needs you may have whether they be ones for business or personal use. When picking a storage unit, among the most important things are its location and its price.
You might also like our articles about the cost to rent a UPS Box, an Office trailer, or a camping tent.
Storage units come in a variety of different shapes and sizes. Some are exterior buildings, while others are housed inside an interior structure; climate-controlled storage is only for the latter option. Controlling temperature and humidity proves to be more expensive than standard facilities, but if you need that extra level of protection then it's worth looking into these options first before trying to find storage space in an exterior building. If you are looking to store items for a long period of time, then storing them in extreme climates may not be the best idea. You will need first to decide whether or not climate control is required and go from there.
Storage Facility Security
Some storage building buildings have gated security and motion-activated floodlights. Newer facilities also have 24-hour camera surveillance to keep your belongings safe. It's always better to stay one step ahead than risk losing everything inside the unit.
Storage Unit Prices
Storage units come in many shapes, sizes and prices. Some companies like to offer climate-controlled storage space with electricity for a few extra bucks per month while others might just be happy if you can lock up your belongings safely without worrying about the state of them when they're stored away from home.
If you plan on using it long-term or want some peace of mind that things will stay dry, consider paying an additional fee for options like ventilation or insulation which could help keep mold at bay and keep your items in perfect condition.
Common storage unit sizes will be:
5ft x 10ft
10ft x 10ft
10ft x 15ft
10ft x 20ft
10ft x 30ft
Average Climate Controlled Storage Costs
Climate-controlled storage units can cost up to $350 per month, but you don't necessarily need a whole 10ft x 30 ft space. You could save money by getting a smaller 5ft x 10 ft climate-controlled unit for about $120-$175/month and still have plenty of room on the inside.
Average climate-controlled storage unit costs go up by about $25 to $30 over non-climate controlled units.
Average Non-Climate Controlled Storage Costs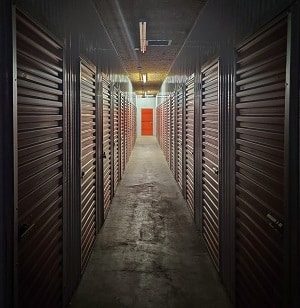 It's important to be aware that the costs of renting a storage unit vary and can range from $35-$175 per month. Lower-priced units typically have lower security, but it is still possible to find high-security options for under $100.
Is it possible to buy a storage unit?
Buying a storage unit is uncommon and tough. It's typically done for long-term reasons such as setting up a shop in the unit or using it as family storage space over multiple generations. A small outdoor facility without any options can be bought for around $3,000 to $4,000; while an indoor one with all of them ranges from about $15,000 – $45,000.
Average Mobile Storage Unit Costs
Recently, there have been companies popping up that provide mobile storage units to simplify the process of moving. These companies show up at your house with a unit and you pack it full before they take them away for safekeeping in their facility. There, your stuff is guaranteed by insurance against theft or damage for a value of up to $100,000. The portable unit services will usually cost between $500 and $700.
Storing extra stuff can be expensive, but it's worth the cost if you need to conserve space. The average price is $5 to 15 per day and transporting your belongings will depend on how far away they are from their storage unit—it typically costs about three dollars for every mile that the company has to travel with them. If you're moving within 10 miles of where your items are stored, then it may only cost around one dollar a mile; whereas anything over 200 miles could end up costing less than ten cents a mile.
https://www.thepricer.org/wp-content/uploads/2021/04/storage-unit-rental-cost.jpg
380
610
Alec Pow
https://www.thepricer.org/wp-content/uploads/2023/04/thepricerlogobig.png
Alec Pow
2021-04-22 11:03:43
2022-12-18 22:28:09
Storage Unit Rental Cost