Last Updated on October 26, 2020 | Written by CPA Alec Pow
First Published on October 26, 2020 | Content Reviewed by

CFA Alexander Popivker
Individuals who typically get an angel wing might do it for a lot of reasons.
For instance, freedom is among the most prevalent concepts that these wings represent. The wings can likewise be a kind of expression to reveal your desire to be on your own and independent.
These angel wing tattoos can differ considerably in style, size, and colors being utilized, much like any other tattoo for that matter.
Many people want to have angel wings tattooed on the backs, arms, wrists, chest, on the shoulder blades, however, a few of these tattoos will be found filling the whole back, typically in black and white tones or even full in color.
You might also like our articles about the cost of a knuckle tattoo, armband tattoo, and word tattoo.
Just how much do angel wing tattoos cost?
Typically, a half-back angel wing tattoo design can cost you anywhere from $200 to $600, while a smaller sized simpler design on the wrist or arm can cost about $150 to $300. A tattoo that is set on the whole back might cost anywhere from $500 to as much as $1,200. As you can see, size can play a rather big role. The expenses, eventually, will depend upon the tattoo artist you work with, where you live, the detail of the tattoo, how complex it is, and the size. Based on these aspects, it can vary from as low as $200 to more than $1,200+.
Depending upon the type, be ready to pay a minimum of $80 to $125 per hour to have the full work done.
Angel wing tattoos summary
Before the artist starts to draw the tattoo, they will aid you to choose designs or even aid to personalize one to your needs. After you agree on a design, the artist will be able to do a stencil or draw it out by hand to show you what it will be like as soon as it's done. This procedure can take more than a few hours to finish depending upon the size. A complete back angel wing tattoo will usually require a number of sessions to complete. For this kind of tattoo, specialists advise on 3 to five-hour sessions done every other day for a total of 3 to 6 days.
What are the additional expenses?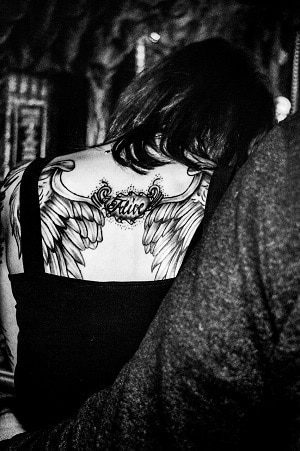 In many cases, be prepared to consider an extra $150 to $250 to shade the tattoo.
If the artist will have to develop a design for you, this can be an extra expense depending upon how complicated the design is. Many artists will have a handful of books with designs you can pick from, and if you were to get a stock design, most of the artists will not charge a tailored design charge.
For a complicated design that is on a part of the body that is hard to reach, the expense can be anywhere from 10% to 30% more. For instance, a tattoo under the arm is going to cost more than getting a tattoo on the arm.
Retouch work might be needed in the future as the tattoo starts to wear off. Be prepared to put aside a minimum of $50 for each additional visit. Keep in mind, the majority of artists are going to have a minimum charge, and this cost is typically around the $50 mark.
While not essential, it is nice to tip your artist on top of the total cost. A tip can vary from 5 to 15 percent of the overall costs.
Tips to keep in mind
Have a look at recent portfolios to see what type of work the artist has actually carried out in the past. This must offer you a rather good idea if you like their work or not.
If you need a piece of inspiration, Pinterest has numerous angel wing tattoo drawing design concepts.
An angel tattoo meaning can embody hope, spirituality, mortality, death, fears, security, innocence, power, strength, defiance, or loss.
How can you save some money?
If you do not have an artist in mind, think about talking with a few of the more known ones from your area. While you will not want to concentrate on the prices alone, you are going to want to take a look at their history and credibility. Given that this tattoo is going to be long-term, it is absolutely something you do not want to get an ugly one for cheap.
https://www.thepricer.org/wp-content/uploads/2020/10/wing-tattoo-cost.jpg
380
610
Alec Pow
https://www.thepricer.org/wp-content/uploads/2023/04/thepricerlogobig.png
Alec Pow
2020-10-26 08:13:26
2020-10-26 08:13:26
Angel Wing Tattoos Cost