How Much Does an ANSYS License Cost?
Founded in 1970 as Swanson Analysis Systems Inc., Ansys Inc. has experienced rapid development, reaching the full range of ANSYS solutions in a very short time, and also providing support for it.
ANSYS is a well-known company in the field of FEA. They have been providing their services to professionals for many years. They have made it one of the most popular software packages available on today's market due to its efficiency with structural physics problems like those associated with bridges or buildings.
It's the most versatile program for fluid dynamics. It can simulate both static and dynamic problems along with heat transfer.
How Much Does ANSYS License Cost?
There are many different versions of this product available, and the ANSYS software cost is anywhere between $4,000 and $65,000 or more, depending on what you want, the number of purchased licenses, and the buyer.
We were able to find some pricing examples that we have presented in the table below, but these prices should only be used as estimates since they were recorded in 2020.
| | |
| --- | --- |
| Ansys Autodyn PrepPost | $4K |
| Ansys Autodyn | $59K |
| Ansys Composite PrepPost | $12K |
| Ansys Autodyn Single Task | $27K |
| Ansys Explicit STR | $13K |
| Ansys Design Space | $5K |
| Ansys Mechanical | $22K |
| Ansys Fatigue Module | $4K |
| Ansys Mechanical Emag | $29K |
| Ansys Mechanical CFD-Flo | $29K |
| Ansys Mechanical Solver | $22K |
| Ansys Mechanical PrepPost | $9K |
| Ansys Professional NLS | $10K |
| Ansys Multiphysics Solver | $43K |
| Ansys Rigid Body Dynamics | $4K |
| Ansys Professional NLT | $8.5K |
| Ansys Structural Solver | $15K |
| Ansys Structural | $18K |
A member of the mcadcentral.com forum said that they paid around $30,000 for a commercial license in 2019.
According to a member of the Eng-Tips.com forum, the cost of a Multiphysics perpetual license is $46,000 plus the fee for the annual tech support.
ANSYS license details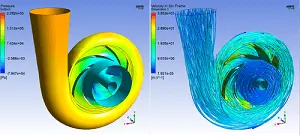 Ansys products provide the flexibility to implement the right engineering solution at the right time in the product design process. Ansys delivers optimal simulation solutions on high-performance software platforms, improves product development time, and minimizes the costs associated with their implementation and warranty.
ANSYS is a popular software used to model dynamics of all types. It can simulate interactions between different fields such as fluid mechanics, structural analysis, and electromagnetic field among others, allowing engineers more freedom when it comes to defining their simulation software settings or meshing parameters depending on what they need for specific projects.
The ANSYS portal has made it easier than ever to see what could go wrong with a product before launching it with its virtual engineering toolset that allows simulating test results in 3D via computer graphics. This includes life cycle testing, which helps predict probable failures ahead of time by running through realistic scenarios.
You might also like our articles about the cost of call center software, Icare tonometer, or Epic EMR.
ANSYS provides a preprocessor that can import CAD data and enable building geometry with its capabilities. Also, it generates finite element models for analysis in the same program. Subsequent to defining loads, ANSYS performs calculations visually represented on graphs or numerically displayed as outputs depending upon preference settings chosen by the user before running the analysis process.
The ANSYS program has a wide range of design analysis applications covering everyday items such as cookware, dishwashers, and running shoes to highly sophisticated systems like aircraft. The most popular application within this category would be Bridge Design & Analysis, which can analyze any type or size of bridge with ease using computer models created by their experts in Analytical Civil Engineering Tools (ACET).
What are the extra costs?
The annual costs of the tech support license are around $420.
ANSYS offers a variety of packages to suit your needs, including the solver and pre/post processor, for the cost of almost $6,000.
FEA analysts who want to keep their skills current can take advantage of the available ANSYS training courses, which cover a variety of subjects. The acquired knowledge will allow them to use ANSYS software tools more quickly and efficiently than if they had not taken these additional classes (although it is optional). Training cost per course ranges anywhere from $270 to $1,500, with some offering free trials for those interested in exploring all that this offers before making up their mind about whether or not it's worth paying the full price.
Important things to consider
ANSYS is a powerful engineering software that can run on multiple processors. It also offers 64-bit versions for free, which means you won't have to wait for too long for your next project to start.
ANSYS can work simultaneously with other engineering software through the integration of CAD and FEA connection modules.
With this license, you are capable of working with the robust and fully functional ANSYS Workbench interface. The capabilities for work on this platform are limited only by your possessed license. It integrates CAD algorithms as well as simulation technologies to give users extraordinary results. With years of experience behind them (and multiple solver algorithms), it's no wonder why this product has been such a success.
How can I save money?
If you are a student or if you buy in bulk you can get some discounts.
Usually, The General Services Administration gets a discount of 30% to 50%.
https://www.thepricer.org/wp-content/uploads/2021/10/ansys-cost.png
380
610
Alec Pow
https://www.thepricer.org/wp-content/uploads/2023/04/thepricerlogobig.png
Alec Pow
2021-10-04 05:21:01
2023-09-14 07:33:41
How Much Does an ANSYS License Cost?