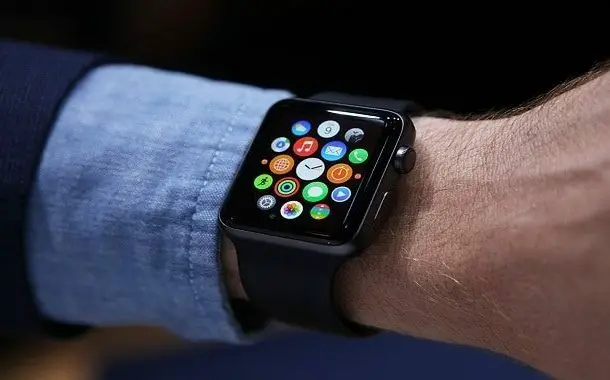 Not long ago Apple launched its first smartwatch, Apple Watch, during the event " Spring Forward". The device is available, with pre-order, beginning with April 10, on nine major markets, and deliveries began on April 24. The first wave of markets, on where the clock will be available are USA, UK, Germany, Australia, Japan, China, France, Canada, and Hong Kong.
The cheapest Apple Watch model (Sport collection) costs $350 and the price for the most expensive collections (Edition) passes $10,000, the most expensive Apple Watch being over $17,000. The new Apple Watch's battery has an 18 hours life, under moderate use, you can do mobile payments and has support from some popular applications. In order for this device to be a success, it must become indispensable for users, according to some analysts and experts.
Apple Watch will be available in three collections: Apple Watch (standard), Apple Watch Sport, and Apple Watch Edition (luxury). The watch is available in two sizes: one with a screen diagonal of 38 mm, which targets women and children, and another a diagonal of 42 mm. In total there are 38 versions of Apple Watch.
Sport Collection case is made of aluminum, and the other two collections' case is made of stainless steel. Apple has never released a product that is available in so many versions. As expected, the clock works only with iPhone: iPhone 6, iPhone 6 Plus, iPhone 5, iPhone 5C, and iPhone 5S.
Here's Another Great Gadget! Instax Mini, Perfect For Instant Pictures!
Siri, the vocal assistant, is integrated into Apple Watch. There are applications available for navigation, stock exchange, weather, and so on. There are two fitness and health applications of Apple: Workout and Fitness.
The prices for Apple Watch are between $350 and more than $17,000. Despite the initial shock, the higher than expected price of the collection Edition will be seen by Wall Street analysts as a positive thing, but Apple Watch will have to become a "fashion phenomenon" to confirm the expectations and to succeed in being the choice on a large scale of users.
The new Watch Apple also has the Digital Touch function: All the notices you received on your phone can also be seen on your Apple Watch.
The clock has a battery life of 18 hours, under normal use. The autonomy is decent, if it proves to be real. We should not forget, that Pebble Time Steel, recently launched, has an autonomy that reaches 10 days.
One Of The Most Wanted Gadgets, Here's The Selfie Stick!
Apple claims that the aluminum used to manufacture Apple Watch Sport is 60% more resistant than the standard one.
Apple Watch Sport Collection – aluminum case; prices start from $350 (for the 38 mm model) and $400 (for the 42 mm model).
Apple Watch Collection – stainless steel case; prices start from $550 (for the 38 mm model ) and $600 (for the 42 mm model) and reach $1,100.
Apple Watch Edition Collection (Limited Edition) – skeleton covered in gold; the price from $10,000 up to $17,000 or more.
Should the average working Joe get an Apple Watch?
As for all the other gadgets available on the market, being among the first people to get one, although satisfying, it will set you back quite a bit in terms of money. Before getting an Apple Watch, be sure you have enough money that can be spared. Getting new gadgets shouldn`t become an issue and should only become a hobby if you have enough funds.
https://www.thepricer.org/wp-content/uploads/2015/05/apple-watch-cost.jpg
380
615
Alec Pow
https://www.thepricer.org/wp-content/uploads/2023/04/thepricerlogobig.png
Alec Pow
2015-05-05 02:22:05
2020-08-15 15:15:51
Apple Watch Cost