Last Updated on September 19, 2021 | Written by CPA Alec Pow
First Published on September 19, 2021 | Content Reviewed by

CFA Alexander Popivker
Thuja is a conifer in the Cupressaceae family, also known as Arborvitae – Tree of Life. Originally from North America and East Asia, thuja is medium in size. It has a straight stem with reddish-brown bark and a pyramidal crown.
It is a type of conifer that can be successfully planted both in rural areas, regardless of the geographical shape of the relief, and in the city – in the yard or in parks and public gardens.
How much does arborvitae cost?
If you're looking to buy an arborvitae, the size of the plant must meet your needs. A three feet tree will most likely cost between $40 and $60, while a five feet one can run anywhere from $45 all the way up to $110. Besides its size, this conifer's cost is also influenced by age, geographical location, and where it is purchased.
An extra-wide five feet tall arborvitae is going to set you back around $50 to $65, while a nine to thirteen feet tall tree can cost anywhere from $110 to $295.
One small to medium-sized arborvitae costs around $65, which makes it affordable for anyone who wants some greenery.
If you're looking to buy an arborvitae, it can cost anywhere between $6.25 and $10.95 for plants smaller than 12 inches tall at Evergreen Nursery.
At Lowe's nursery, you can find a 5.5-gallon green giant arborvitae tree for the cost of $55.
On Amazon, you can find some of the best deals for arborvitae. These green giants can be purchased for less than $35 and come in at 8-12″ height.
Arborvitae details
Arborvitae is a conifer with evergreen leaves, placed on a scale, oriented towards the top of the stem, resistant to high temperatures, but can still be sensitive in the cold season, when it may need protection. It prefers slightly acidic, well-drained soil. The crown is easily maintained by repeated pruning.
You might also like our articles about the cost of an oak tree, a lemon tree, or a pine tree.
The most common species of arborvitae are Occidentalis, Emerald Green, Eastern, Giant, American, Techny, Korean, Giant, Globe, Green Giant, White, Oriental, and Western. Arborvitae is a conifer that can live over 1000 years. This type of shrub is an ideal choice for garden design, especially in the cold season, because the plant remains evergreen.
The Indians were the ones who named it the tree of life, considering it a natural cure for many diseases. The natives prepared various natural medicines from the leaves of the tree, with which they treated, particularly skin diseases and certain types of inflammation.
Also, today, the leaves of this tree are used for medicinal purposes. For this, the leaves are harvested, from which infusion, decoction, and tincture are prepared. Arborvitae products obtained in protected environments are recommended in the treatment of warts, in the fight against intestinal parasitosis, and in menstrual disorders.
What are the extra costs?
If you buy online or have arborvitae trees delivered to your home, an additional shipping charge may be applied.
Professional tree planting can be expensive. The average cost to hire a professional is $40 to $55 per hour, but it could go down if you need to plant more than one tree on a session. For example, the cost of planting ten trees at once would be around $410.
It's essential to cover your trees with a mesh during the winter seasons, especially if you live in a colder climate. If it snows heavily, then this will prevent any branches from being broken off due to excess weight from the snow.
Important things to remember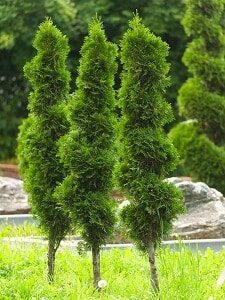 These trees are the perfect addition to your garden. They can withstand zone five through seven, and they will provide you with excellent shade in summer.
Arborvitae is generally delivered in pots with peat and specific fertilizers. The plant can be stored in pots for a few months before the actual planting.
Being a shrub that does not raise high demands for care, arborvitae can be planted in both spring and summer.
After the arborvitae has been planted in the ground, it should be watered twice or three times a week. At maturity, it is a plant that does not need watering, being resistant even to drought, but not for very long periods.
If you want to make an arborvitae hedge, you need specimens 3.9 – 4.9 feet high, which should be placed at a distance of at least 2.6 – 3.2 feet between them.
The arborvitae tree is pruned once every two to three years; the best time to prune it is the end of winter. By cutting the crown of the arborvitae shrub, the foliage is first refreshed. Then, some shape defects can be corrected, or special shapes can be obtained – even spirals.
Diseases can occur due to improper planting, improper planting period, soil problems, plants placed too close to each other, excessive soil moisture, significant variations in temperature, or improper administration of fertilizers. These can be:
Branch necrosis – Berckman'T Blight – browning of young branches and gradual transition to mature ones;
Drying of branches – Cercospora Needle Blight – yellowing of old branches in the first phase and expansion to mature ones. The disease begins from the trunk to the top of the branches, which turn brown and fall;
Kebatina-type drying – Kebatina Blight – the previous year's branches turn yellow and over time become dark brown. The fungus is recognizable by the black dots on the dry branches.
How can I save money?
It's a good idea to buy your trees off-season or even at the end of the season. Many nurseries will discount their prices significantly when they have fresh stock and need to clear out old products before winter sets to make room for new ones.
https://www.thepricer.org/wp-content/uploads/2021/09/Arborvitae-cost.jpg
380
610
Alec Pow
https://www.thepricer.org/wp-content/uploads/2023/04/thepricerlogobig.png
Alec Pow
2021-09-19 22:00:50
2021-09-19 22:00:50
Arborvitae Cost