Army Navy Country Club Membership Cost
The Army Navy Country Club is a private golf club from Virginia, United States, that offers various amenities, from golf and tennis to fining and fitness.
How Much Does an Army Navy Country Club Membership Cost?
In general, the main factor that affects the cost of an Army Country Club membership is the type of membership. Also, the rank of the member if he/she is in the military, affects the costs. For example, the costs of the social membership, which gives members access to everything but golf and tennis, would be around $5,500 to join, plus another $350 per month to stay active.
As we already mentioned, depending on the rank, you will have to pay anywhere between $1,200 and more than $36,000 for the initiation fees, while the monthly dues would be anywhere between $350 and $550. The costs would be much higher if you are a civilian member. For instance, the initiation fees would be anywhere between $56,000 and $71,000, and the monthly fee starts at $300 and go up to more than $550, depending on the member's age.
According to a post on an online forum, the initiation fee for a civilian member is $56,000 and the monthly dues are $300 if you are under 35 and $550 if you are older than 35. This estimate does not include the capital infusion fee which is around $70 per month.
Also, according to an article from Washington Post, the initiation fee for the Army Navy Country Club is around $75,000.
Types of Membership
Junior Member
This type of membership is designed for children under 16 to 23 years old, with a precursor of their grandparents or parents being a Social, Life, Temporary, Resident, or Honorary Member.
You might also like our articles on the cost of membership at the Old Ranch Country Club, Aliso Viejo Country Club, or Southern Hills Country Club.
Resident Member
This membership is offered to residents of the District of Columbia, Maryland counties Virginia counties, or to individuals who declare that they intend to become a resident of these counties. Members who are under 35 years old are offered discounted rates.
Absent Member
This type of membership is designed for individuals who live outside the area limits imposed by the club. Absent members are allowed to use the club facilities for up to 15 days per year with the exception of taking lessons from golf and tennis pros, using the dining facilities, and making purchases from the pro shop.
Inactive Resident Member
This option is made for residents who live within the area mentioned above, but don't have any club privileges or benefits. Inactive resident members are allowed to take golf and tennis lessons from professionals using the club facilities.
Social Member
With this type of membership, you are allowed to take advantage of all the benefits offered by Army Navy Country Club, except golf and tennis. Also, members can participate in club meetings, but they don't have the right to vote.
Army Navy Country Club – short presentation
The Army Navy Country Club has two locations in Virginia, one in Fairfax and one in Arlington. This extends over a surface of more than 500 acres.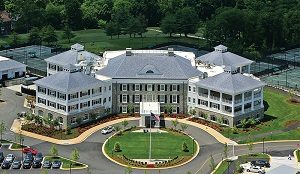 When talking about the gold amenities, this club provides 54 holes, a professional staff two locations, programs, and pro shop services.
This club has one of the largest tennis facilities in the Virginia area offering a year-round indoor tennis center, 14 outdoor Har-Tru Hydro Court lighted tennis courts, eight outdoor USTA-approved courts, two outdoor Deco Turf II hard courts, practice wall/courts, full-service pro shop, and on-site locker rooms.
Members can join the aquatic options at both the Fairfax and Arlington locations. For example, the Fairfax location offers a play area, a beachfront wading pool, and a "Z" shaped pool with a diving well and lap lanes. On the other hand, at the Arlington location, you will find an "L" shaped 50-meter Olympic pool, a heated adult-only pool, a youth pool, and a beachfront wading pool. Moreover, the Aquatics department provides a large variety of instructional and competitive programs.
Their Fitness Center includes 4,000 square feet of strength and cardiovascular training equipment, group fitness classes, a full-service locker room, fitness assessment, massage therapy, free weights, personal training, and more.
The dining options vary from one location to another. For instance, the Fairfax location provides three options: the Pavilion, the Patio, and the Grille, while the Arlington location provides five options: the Dive Inn, the Sun Room, the Stripes Café, the 1924, and the Stars. Both locations organize social events all year round.
Some other benefits and amenities offered by the Army Navy Country Club include complimentary WiFi, locker rooms, shoe shine services, shower facilities, conference room services, saunas, and steam rooms.
What are the additional expenses?
If you want to take private personal training sessions for golf, tennis, or other, you will need to know that these come at an additional cost.
Also, private lessons, clinics, and programs represent another expense you need to budget for.
Important things to consider
The Army Navy Country Club has a very strict cell phone policy and dress code you need to follow.
https://www.thepricer.org/wp-content/uploads/2022/10/Army-Navy-Country-Club-Membership.jpg
380
610
Alec Pow
https://www.thepricer.org/wp-content/uploads/2023/04/thepricerlogobig.png
Alec Pow
2022-10-31 06:11:45
2022-10-26 05:59:12
Army Navy Country Club Membership Cost