Last Updated on December 6, 2021 | Written by CPA Alec Pow
First Published on December 6, 2021 | Content Reviewed by

CFA Alexander Popivker
When you are a parent, especially for the first time, you have to make sure that your little one has the best conditions for harmonious development. Most of the time, the emphasis is on the little one's diet, but his clothing is an extremely important aspect as well. We must make sure to buy only baby bodysuits and clothes made of natural materials, which are comfortable and do not cause allergic reactions in your child.
How Much Do Baby Clothes Cost?
Baby clothes costs are influenced by many factors including the size, brand, store, and the season the clothes are made for. Winter clothes will be more expensive as more material will usually be used. However, the average cost for a complete baby outfit is anywhere between $10 and $30.
For example, for a winter outfit containing a sweatshirt or long-sleeved tee-shirt and pants, you will have to pay around $20 at a local Target, while for a summer outfit with a tee shirt and shorts you will pay around $12.
Onesies have been invented to keep the backs and bellies of the children covered when they are most in need: when they shuffle and shake hands and feet, when they start to walk, or, later, when they start to run straight. In any case, onesies will play an important role in maintaining the baby's body temperature and making him feel comfortable no matter how many things he does. In addition, it provides very good and necessary diaper support. These are usually sold in packs of three to five pieces and the price of a package will be anywhere between $7 and $25, depending on the style and brand.
You might also like our articles about the cost of formula, pacifiers, or food for your baby.
The baby's bodysuit with long sleeves and side staples is very versatile and can be worn at home, during sleep, or under other clothes when you take the little one outside for a walk. It is also suitable for the colder season, being made of soft and delicate cotton, which gives the little one the thermal comfort he needs at all times. These can be bought in packs of two or three pieces and the price per package starts at $10 and goes up to $20.
When purchasing separate articles such as pants or shirts, be prepared to pay anywhere between $7 and $20 per article.
In the table below you will find the price estimates for baby clothes that you can purchase from different brands.
| Brand | Price Average per Article of Clothing |
| --- | --- |
| Circo Baby | $7 to $23 |
| Burlington Coat Factory Baby Depot | $7 to $18 |
| JCPenney Baby | $7 to $35 |
| H&M Baby | $5 to $30 |
| Kohls Baby | $11 to $40 |
| Koala Baby Clothing Line | $5 to $21 |
| Nordstrom Baby | $19 to $62 |
| Marshalls Baby Clothes | $6 to $30 |
| TJ Maxx Baby Clothes | $4 to $32 |
| Ralph Lauren Kids | $20 to $75 |
| Old Navy Baby | $8 to $32 |
Important things to consider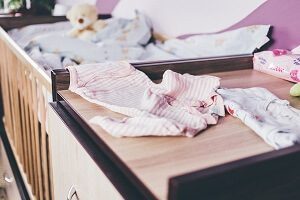 You should look for comfort when buying baby clothes. Go for natural, breathable fabrics to avoid irritation and wash new clothes before their first wear, to make them softer on the skin.
Ironing is generally recommended before the first use of the clothes, but later, as long as they are washed and cleaned optimally, the clothes do not have bacteria that can affect the baby's skin. Therefore, they do not need to be ironed.
In general, cotton is the best choice for children's clothes. It is a natural, soft, elastic material that feels pleasant on the skin and provides a high level of protection due to the fact that cotton fiber is hypoallergenic. Combinations of cotton and other materials are also suitable.
Baby clothes require more attentive care. It is necessary because children's skin is more sensitive and must be protected from external factors. It is recommended to use special detergents for cleaning children's clothes and a higher water temperature.
Look for clothes that are easy to wear, with simple fasteners such as poppers or Velcro.
Children grow up very fast, so you don't have to invest a lot in clothes. Every parent buys or receives a lot of clothes for the little one. In the first years of life, children grow up very quickly and sometimes they don't even get to wear all the clothes.
Given the variety of items available for babies, you might think that buying clothes is an easy task. However, choosing baby clothes becomes difficult when you do not know the right sizes. Children go through several stages of growth, so the size chart is the best help.
What are the extra costs?
In order to keep your little baby's feet warm, you should buy some socks. Expect to pay around $7 for a package of socks.
Sometimes parents want to have their babies wear shoes just for looks as these are not necessary before a baby can walk. Depending on the style and brand, one pair of baby shoes would cost $20 to $60.
How can I save money?
You might think garage sales would only offer used furniture but there are baby clothes available as well. Many parents take great care of their children's clothing and decide to sell them when they are too small to be worn. However, you can still get a lot in return from these items that have been loved and worn by others before you. Also, you can find these kinds of clothes online, on websites like eBay, or at mom-to-mom sales.
Many children's stores, like The Children's Place, have loyalty programs for their customers and offer coupons and discounts.
Take into consideration purchasing heavily discounted gift cards at Raise.com, if you buy online or even in-store.
https://www.thepricer.org/wp-content/uploads/2021/12/baby-clothes-cost.jpg
380
610
Alec Pow
https://www.thepricer.org/wp-content/uploads/2023/04/thepricerlogobig.png
Alec Pow
2021-12-06 20:46:51
2021-12-06 20:47:54
Baby Clothes Cost