Last Updated on September 15, 2023 | Written by CPA Alec Pow
First Published on March 4, 2021 | Content Reviewed by

CFA Alexander Popivker
Medium: $150-$500 per individual room
High: $350-$900 per individual room
Also known as a base trim or base molding, the baseboard is both appealing and practical. It can add a subtle but essential last touch to a room's design while covering the space in between the flooring and wall. It will also protect the wall's surface from vacuum cleaners, furnishing scrapes, and other bumps or kicks.
Common expenses to expect
Baseboards will range from a basic 1-inch-high round "shoe" molding to 6 inches high, with finishes varying from plain to a sloped, grooved, or rounded style. The taller and more complex the baseboard, the higher the expense.
You might also like our articles about the cost of Acoustiblok, ceramic tile removal, or stretch ceiling installation.
At 65-90 cents per linear foot, wood composite (MDF) baseboards 2-4 inches high will have an average price of $55 to $95 uninstalled for 80 feet in a 20×20-foot living-room or $350-$490 for 500 feet in a typical two-story house. Composite baseboards 5-6 inches high will cost $1.50 to $2 per linear foot, making it about $120 to $160 uninstalled for 80 feet and $800 to $1,200 for an average-sized house.
Costs will be around 85 cents to $150 for 3-4 inches high or $1.60 to $2.50 for 5-6 inches high for baseboards of low-cost wood materials like pine or poplar, which comes at about $75 to $190 uninstalled for a living-room, or $450 to $1,200 uninstalled for an average-sized house.
It will be about $2.80 to $7 or more per foot depending upon height and design for baseboards of strong cherry, mahogany, walnut, or other high-end wood, averaging $225 to $560 for a living-room or $1,400 to $3,500 for an average-sized house.
Expenses are $1.80 to $8 per linear foot, depending upon design and height, for polyurethane baseboards that are resistant to moisture, will not rot or crack in time, and can be painted much like wood; it will be around $144 to $640 for a living-room and $900 to $4,000 for an average-sized house.
Expert setup will be priced at around $1.50 to $2 per linear foot when included as part of a bigger floor covering or redesigning task, or $2 to $4 for a stand-alone trim setup – making it reach a price of $120 to $320 for labor for a living-room, or $750 to $2,000 for an average-sized house. If an older home has irregular flooring and corners or uncommon obstacles, contractors might charge materials plus labor at $45 to $65 an hour.
What should be included in the price?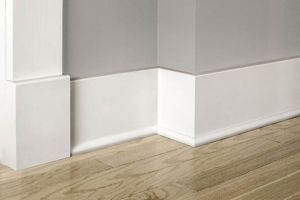 Setting up baseboards is a reasonably easy task, however, it needs careful measurements and exact cutting. HGTV.com offers guidelines and Kelleher.com offers a clear description of the "coping" joints required to make some corners look the best.
The Family Handyman describes how to set up baseboards on uneven or bumpy walls.
The Stanley Complete Trimwork & Carpentry book at $19.95 covers all kinds of trim molding jobs.
Extra expenses to expect
Installers typically charge $45 to $65 per hour to get rid of the old baseboard. If the initial baseboard was not set up correctly, it can be painstaking work to get rid of it without damaging the walls.
For renovating circumstances, moving furnishing out of the way might cost extra.
If doing it yourself, there's always some waste involved, so purchase at least 10 percent more baseboard than required.
Tips to keep in mind when buying the baseboard
Purchase the very best quality baseboard you can pay for; the better the product, the much better it will look when the job is done.
Lowe's offers a variety of base moldings and provides setup services. The baseboard can also be purchased online from Hardwood-Moldings.com and Vintage Woodworks.
Installation referrals are available through a lot of floor covering or hardware shops.
https://www.thepricer.org/wp-content/uploads/2021/03/baseboard-cost.jpg
380
610
Alec Pow
https://www.thepricer.org/wp-content/uploads/2023/04/thepricerlogobig.png
Alec Pow
2021-03-04 07:23:54
2023-09-15 21:12:04
Baseboards Cost