Last Updated on August 15, 2020 | Written by CPA Alec Pow
First Published on August 14, 2020 | Content Reviewed by

CFA Alexander Popivker
The principle of a stretch ceiling is not a brand-new creation at all.
Its origin can be traced back to ancient countries like Egypt, Greece, and Rome where small parts of evidence were discovered. Its modern-day variation was presented in the mid-1960s and rapidly gained popularity in Western Europe. In the United States, nonetheless, the stretch ceiling principle is fairly brand-new.
A stretch ceiling is non-toxic, easy to set up, does not need any surface area preparation, and forms a completely flat surface.
This kind of ceiling system will include 2 fundamental elements: a perimeter track and a fabric membrane that extends and clicks into the track, creating a brand-new ceiling within hours.
Just how much does a stretch ceiling cost?
Typically, it is best to be prepared to spend anywhere from $6 to as much as $10+ per square foot. The expense will depend upon the size of the room, the material being utilized, the complexity of the task, geographical location, and working hand if making use of one. Given that all jobs are fairly unique, think about getting many different quotes from certified and trusted professionals in your location.
The quotes need to include preparation work, fabric, materials, labor, and clean-up.
The Stretch Ceiling Shop has a calculator you can try and work with. Just input the room measurements and the number of sources of lights to see what the cost range could be. A 100 square feet, for example, might be about $500 to $800 overall.
If you were to do the work by yourself, the material can cost about $2 to $4 per square foot. This will consist of the tailored membrane material and the PVC border track to stick it to the walls.
Stretch ceiling summary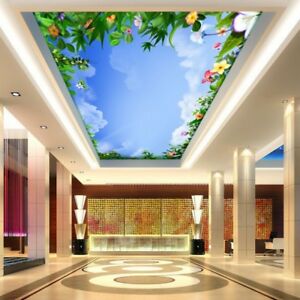 Throughout the process, the material canvas will be firmly extended onto a special frame that's installed across the room's perimeter. However, before it's done, the room will be measured precisely for the best fit. With these measurements, the material will be cut out at a shop and will be connected to a fixed PVC molding along the ceiling edges. According to NY Ceiling, there are 2 frames a property owner can pick from: either an aluminum U-shape profile or a peg, where the material will be fixed to a self-locking device. As soon as the setup is done, the room will have to be heated if a glossy-like fabric has to be used.
The last set up, if done correctly, ought to produce a smooth, mirror-like look. As long as the fabric is of quality, it will not break, or fall apart and it will be resistant to mildew. A great brand is also moisture-proof.
Depending upon the professional's experience, the job must take approximately 3 to 6 hours.
Depending upon the brand of the fabric, the warranty can last anywhere from 10 to 15 years.
What are the additional costs?
The cost estimates pointed out above will be for a basic stretch ceiling. If you desire a fancy material or texture, then the rate might increase. If you desire to include an image to your ceiling, the custom print job might be an addition to the cost.
Light bulbs over 50 watts need to be avoided to prevent a possible fire from overheating. If an electrical expert needs to cap or change the lights to something more "stretch ceiling" friendly, then this can be an extra expense to think about. This ceiling setup works best with fiber optics or LED lights.
Tips to remember:
Aside from being a great decorative ceiling type, a stretch ceiling is also an ideal replacement for a sheetrock ceiling.
Stretch ceilings are best for both domestic and business interiors since they have actually been known to exceed their ten-year guarantee without staining, fragmenting, or flaking.
Also read about the cost of an interior designer, a new roof, and to build a house.
If the structure of your home or building starts to leak, a stretch ceiling can hold water up to a certain quantity before it breaks. This quantity of water depends upon the size of the room and the type of fabric and setup.
Unlike a conventional sheetrock ceiling, a stretch ceiling needs no preparation work.
While a stretch ceiling is perfect for practically any room or situation, it will not work well if it's exposed to weather cooler than 40 degrees Fahrenheit or in a hotter location such as a sauna.
How can I save some money?
Before picking a specialist, remember to try to get at least 3 to 5 quotes before even starting. Do not focus on the cost alone. Pay very close attention to their past jobs and always be sure they are accredited, insured, and offer warranties.
https://www.thepricer.org/wp-content/uploads/2020/08/Stretch-Ceiling-Cost.jpg
380
610
Alec Pow
https://www.thepricer.org/wp-content/uploads/2023/04/thepricerlogobig.png
Alec Pow
2020-08-14 21:49:22
2020-08-15 23:10:39
Stretch Ceiling Cost