Baskin Robbins Menu Prices
Baskin Robbins is a large ice cream fast food restaurant chain which is owned by Dunkin' Donuts. This company is well-known among customers for its 31 flavors of ice cream that were first made so the clients could enjoy a different flavor for every day of the month.
Baskin Robbins offers mainly ice cream, but their menu also includes soft serve, sundaes, shakes, smoothies, and cakes. The menu prices are almost the same as its competitors like Dairy Queen. In the table below you will find the latest Baskin Robbins menu prices.
FOOD
SIZE
PRICE

Ice Cream

Kid's Scoop
 
$2.39
Single Scoop
 
$2.99
Double Scoop
 
$4.29
Regular Waffle Cone
 
$0.99
Chocolate Waffle Cone
 
$1.69
Fancy Waffle Cone
 
$1.69

Ice Cream To Go

Pre-Packed
Quart
$6.39
Hand-Packed
Pint
$5.39
Hand-Packed
Quart
$8.49
Clown Cones
 
$2.99

Sundaes

Banana Royale
 
$5.69
Brownie
 
$5.69
Banana Split
 
$6.89
Reese's Peanut Butter Cup Sundae
 
$6.29
Chocolate Chip Cookie Dough Sundae
 
$6.29
Oreo® Layered Sundae
 
$6.29
Made with Snickers Sundae
 
$6.29
One Scoop Sundae
 
$3.69
Two Scoops Sundae
 
$4.69
Three Scoops Sundae
 
$5.39
Candy Topping
 
$0.89
Waffle Bowl
 
$0.99

Soft Serve

Flavors: Reese's, Heath, Snickers, M&M's, Oreo, Butterfinger, and Chocolate Chip Cookie Dough

Soft Serve Below
Mini
$2.19
Soft Serve Below
Small
$3.78
Soft Serve Below
Medium
$4.38
Soft Serve Below
Large
$5.98
Cups & Cones
Kids
$1.58
Cups & Cones
Regular
$1.98
Cups & Cones
Large
$2.98
Parfaits
Mini
$2.19
Parfaits
Regular
$4.99

Beverages

Cappuccino Blast
Mini
$3.89
Cappuccino Blast
Small
$4.89
Cappuccino Blast
Medium
$5.89
Cappuccino Blast
Large
$6.89
Iced Cappy Blast
Mini
$3.89
Iced Cappy Blast
Small
$4.89
Iced Cappy Blast
Medium
$5.89
Iced Cappy Blast
Large
$6.89
Add a Boost (Cappuccino or Iced Cappy Blast)
 
$0.59
Smoothie
Mini
$3.89
Smoothie
Small
$4.89
Smoothie
Medium
$5.89
Smoothie
Large
$6.89
Shake
Mini
$3.89
Shake
Small
$4.89
Shake
Medium
$5.89
Shake
Large
$6.89
Brand History
Baskin Robbins was created by the two brothers-in-law Irv Robbins and Burt Baskin. These two just loved ice cream and started their careers in this industry in 1945. They were guided by the same food principles and were committed to offering top-quality products and a wide variety of flavors, so in the year 1948, they opened 6 stores.
In 1953 these brothers took the decision to join forces and rebrand all of their stores as the well-known Baskin & Robbins. They used pastel colors to create a fun atmosphere from a fair. Also, they wanted to offer every customer the possibility to try each of their flavors and so the famous pink spoon was created. More than 1,000 different flavors were produced since the opening of the company.
You might also like our articles about menu prices at Smoothie King, Bahama Buck's, or Kneaders Bakery and Cafe.
There were more than 400 Baskin Robbins locations all over the United States of America by the 1960s. Moreover, they were continuously awarded for the best quality products at state and county fairs. During the 1970s Baskin Robbins went international and opened more stores around the world. Nowadays there are stores in more than 50 countries all over the globe.
With time Baskin Robbins had different owners, but now it is owned and operated by Dunkin' Brands Inc. There are more than 7,300 Baskin Robbins stores, and all of these are based on the original franchise agreement, drawn up by Robbin and Baskin.
Baskin Robbins is still a leader in the industry offering creamy, delicious ice cream in many different flavors for everyone's taste.
Our review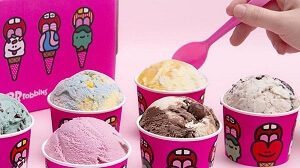 Every Baskin Robbins store is very comfortable and cute, designed in candy colors. They offer a wide variety of seating options to their customers such as outdoor seating, sofas, breakfast bars, or booths. The staff is very friendly and welcoming and tries to make sure that you enjoy your experience at Baskin Robbins.
Initially, they were offering only 31 flavors of ice cream, but now you can choose between a wide range of soft drinks, cones and cups, parfaits, ice cream cakes, or/and sundaes. As for the flavors you can choose between orange sherbet, chocolate cookie dough, strawberry cheesecake, black walnut, rum raisin, old-fashioned butter pecan, pumpkin pie, and many more. In 2008 they introduced Bright Choices into their menu and these represent the healthier option.
If you are going for the first time to Baskin Robbins and you don't know what to order, you should know that a popular choice is the gold medal ribbon flavor. Though you may ask one of the staff members for an infamous pink spoon and try more flavors and choose your favorite. Baskin Robbins permanently updates their menu with seasonal and regular specialty flavors. Moreover, their frozen treats are always tasty, creamy, and thick. You should expect to pay around $5.5 for a sundae and anywhere between $2.25 and $5.5 for a soft serve, cone, or cup.
Baskin Robbins was constantly considered one of the leaders in the ice cream industry. They have always been committed to offering personable service, tasty products, and putting a smile on your face.
Baskin Robbins FAQs
Which are the best Baskin Robbins flavors?
According to the customers, some of the best Baskin Robbins flavors include rainbow sherbet, cookie 'n cream, pralines 'n cream, nutty coconut, pistachio almond, old-fashioned butter pecan, pink bubblegum, and peanut butter 'n chocolate.
What does the Jamoca flavor taste like?
Jamoca flavor is a mix of coffee, chocolate, and almonds.
What does the logo of Baskin Robbins mean?
The company's logo which depicts a large blue and pink "BR" that doubles as number "31" is made to reflect the energy and fun of the Baskin Robbins brand and the iconic 31 flavors.
How long can I keep a Baskin Robbins ice cream?
A Baskin Robbins ice cream cake can stay unrefrigerated for up to one hour.
Does Baskin Robbins have only 31 available flavors?
Baskin Robbins is the only ice cream chain in the entire world that has the unique "31 flavor" concept. However, they offer many more flavors you can choose from.
Are there eggs in the Baskin Robbins ice creams?
The majority of the Baskin Robbins ice creams do not contain any eggs. Though the Chocolate Chip Cookie Dough and the Lemon Meringue flavors will contain eggs.
https://www.thepricer.org/wp-content/uploads/2022/03/baskin-robbins-menu-prices.jpg
380
610
Alec Pow
https://www.thepricer.org/wp-content/uploads/2023/04/thepricerlogobig.png
Alec Pow
2022-03-29 10:41:59
2022-03-28 07:00:24
Baskin Robbins Menu Prices