The binding term describes the physical process of assembling a book of multiple tabs. It usually includes attaching a cover.
The binding most probably first appeared in India, where religious texts were copied on palm leaves with metal tools. The leaf was dried and then rubbed with ink that leaves marks in the place where the text was written with metal tools. The resulting sheets received numbers and were sewn to wooden boards, thus forming a book with wooden covers. Romanian writers wrote long texts on scrolls of parchment or papyrus, which were then stored in boxes and placed on shelves. The book itself was not necessary in those days because most of the writings were made on rolls that were very long, from 30 pages to several hundred.
How much does bookbinding cost?
Our research found that prices to bind books usually range from around $5 to more than $190. A leather-bound book with more than 100 pages could cost $160+, while a spiral bind at a local office supply chain might cost only $5. Bookbinding is an art that can be as simple or complex as the individual wants it to be. Depending on what you want to be bound, where you find a professional, and how many pages your book has will determine the price for binding services.
For those who are looking for a cheaper binding project and don't want to spend more than $10 per book on the process, they can have this job done at Kinkos or Staples. For example, in one ProTeacher forum thread, some teachers claimed they had paid only $2.59 per spiral-bound book with less than 100 pages. One member said that her experience with Staples was different as she ended up paying about 14$ when buying 200 pages of thick plastic-covered journals.
For example, Deasasso.com is a website that sells books with their prices listed on the site, and depending on what type of binding you want it can be anywhere from $75 to over $280 dollars. New bindings done in cloth can cost $75 to $130 and up, depending on the size.
| Binding Type | Description | Average Price (per book) |
| --- | --- | --- |
| Thesis and Dissertation | These works usually require letters to be stamped on the cover by a professional. They will be sewn together with a cloth-based fabric. The color is customizable. | $50 to $85 |
| Leather Binding | When binding leather, the actual cost will depend on factors like how thick the book is, the necessary extras if any, and the actual leather that is being used. | $115 to $295 |
| Periodical | The length of the spine will be the most important factor in figuring out the price for this job. This is how magazines and papers are usually done. | $45 to $95. |
| Plastic spiral | This job is usually done using a plastic cover and a cheap spiral. You will be able to have this type of binding done at your local print shop. | $5 to $15 |
| Hardcover | Anything with a hard cover will have the pages bound to resemble a hardcover book that you usually find in libraries. | $25 to $45 |
| Softcover | These projects will usually be similar to spiral binding, making the covers flimsier. They are the opposite of hardcovers. | $10 to $35 |
Factors that affect the price
The materials being used
Professionals offer a wide variety of binding options for your book, ranging from leather-bound books that are foil stamped or hand-tooled in 23-carat gold leaf. These premium offerings start at $125 and can cost over $230 depending on the volume and materials used.
You might also like our articles about the cost of comic books, Superbook, or the price to self-publish a book.
The number of pages/thickness
It is no surprise that the higher number of pages in a book, the more expensive it will be. It may not seem like much at first glance, but all those paper sheets cost money and time to cut up into rectangles then bind together for permanent preservation.
The cover being used
Leather covers are a luxury for those with extra cash. They can be made from many different types of materials, but cow leather is the most common. Goat leathers and other kinds may cost more than your average cover because they're rarer to find in stores or online shops, which drives up their price.
The Store
Some stores are more expensive than others, but no matter where you go the prices will vary depending on what's available in that area.
Bookbinding details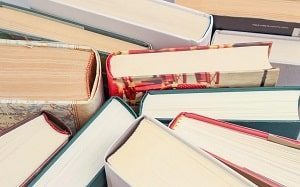 There are many different ways to bind a book and each one has its own process. Some examples of binding methods are the saddle stitch, softcover, hardcover, or plastic coil bindings which can be used for various types of books ranging from thesis papers to legal documents like an attorney's dissertation.
Bookbinding can be tedious and time consuming, but there are online websites that offer a variety of styles to choose from. For example, economy-bound books are sewn with high-quality book cloth that will last for years.
For those who need a quick fix, an office supply store is the place to go. They can offer fast and affordable binding services in minutes by simply folding your documents on their "bindery" machines. But for larger custom jobs that take more time or require unique materials like leather, make sure you get quotes from local professional binders before committing.
If you're looking for an affordable way to bind your work, a quick stop at FedEx Office can get the job done. If that's not convenient or affordable enough, check out your local library. With luck, some schools may even have their own binding machine.
What are the extra costs?
Professionals can create a custom cover and/or spine for an additional fee, but some may include it in the quote. Normally, each stamped letter should cost $1.00 to $1.75 with materials included at no extra charge.
If you choose an online binder then you may have to pay an additional fee in shipping charges.
How can I save money?
Despite what you might think, it's not as difficult to bind your own book. With a few simple materials and some binding equipment, such as glue or staples in the right size for your project, anyone can do this at home.
If you're looking for a quick deal on an office staple at your local supply store, see if they have any coupons available beforehand. If not, it may be worth the effort to find out whether or not their copy center offers discounted rates before going in person.
At most print shops, you can get bulk discounts if you bind more than 10-20 books at once. If ordering a lot of copies, the higher quantity means even better savings on printing and binding costs.
https://www.thepricer.org/wp-content/uploads/2021/08/book-binding.jpg
380
610
Alec Pow
https://www.thepricer.org/wp-content/uploads/2023/04/thepricerlogobig.png
Alec Pow
2021-08-14 10:26:21
2023-09-19 20:06:19
Book Binding Cost