How Much Does It Cost To Print At Staples?
Last Updated on September 19, 2023 | Written by CPA Alec Pow
First Published on June 2, 2022 | Content Reviewed by

CFA Alexander Popivker
We live in a digital age and people tend to forget about traditional methods of transmitting information: standard applications, printed documents, photocopies, diploma papers – all are certainly a thing of the past, aren't they?
You probably don't agree with us and you're right! If you think about the documents you have been using since you were a student, you will realize that there will always be a need for documents in physical format. That's why a copy and print center is always sought after.
Staples offers a wide range of professional printing services, black and white and color copying, A0 copying, color scanning, and many more at an affordable cost.
How Much Does It Cost To Print At Staples?
It is really affordable to print at Staples. Expect to pay around $0.15 for Staples printing services in black and white, per page. 
The prices charged by Staples stores depend on the size of your document, the type of paper, and the quantity. For example, there are many types of paper you can choose from, such as loose paper, single paper, stapled, and double-sided paper. In the table below you will find the average costs of different in-store printing services.
| | | | |
| --- | --- | --- | --- |
| Sizes in Inches | Colored Paper Printing Costs | Price for Posters | Price for Posters Delivered on Same-Day Pickup |
| Custom Sizes | $1.99/sqft | – | – |
| Up to 60×100 | – | $6/sqft | – |
| 36×48 | $23.99 | – | – |
| 24×36 | $11.99 | $29.99 | $40.5 |
| 20×30 | – | $21.99 | $29.7 |
| 18×24 | $5.99 | $14.99 | $20.3 |
| 12×18 | – | $9.99 | $13.5 |
How Much Does It Cost To Scan At Staples?
The professional document scanning service involves transforming a copy of the physical document into an electronic format, using professional scanners, thus obtaining an image identical to the original. All scanned documents are organized in folders, recreating the original archive or will be arranged according to your requirements.
You might also like our articles on the cost of Meijer custom photo services, book binding services, or Kodak kiosks.
The document scanning service represents the retrieval of images from the original documents and the conversion of these images in electronic format into files of commonly used formats: PDF, JPEG, or TIFF.
The scanning service at Staples costs around $0.50 per page.
Your scanned documents can be saved directly to your USB device or sent to your e-mail.
Cost to print posters at Staples
If you want to print a poster at Staples, expect to pay around $10 or even more, depending on the turnaround time and the size of the poster. For instance, you will have to pay anywhere between $4 and more than $10 for same-day delivery posters. At Staples, you can print posters in sizes up to 36"x24" and in wide format.
If you want your posters to be printed on the same day, you must place your order before 2 p.m. Otherwise, your poster can be delivered in five to seven business days.
How much does it cost to print at Staples in color?
You are also able to print in color at Staples. When going for this type of job, your paper is printed in other colors than white and black.
If you need color printing, it means that the image matters to you. Color prints are very expressive and give you the opportunity to express yourself freely and add extra color and professionalism to promotional materials and presentations.
The Staples printing prices for color projects are between $.55 and $.80 per page.
The color printing services offered by Staples are based on both quality and volume, thus managing to offer excellent quality at advantageous prices.
With the color printing service, you can do:
various color documents;
professional presentations;
brochures for the launch of products and services;
catalogs;
flyers;
diplomas;
warranty certificates;
suggestive graphics;
statements of compliance.
What are some alternatives to Staples printing?
There are some other companies where you can get your documents printed or scanned. Some of the alternative brands include Fellowes, Paper Sources, Nutcache, Papermat, Precision, Avery, Roller, AppSumo, Poppin, Quill, Shoplet, 3M, The Papermill Store, Amazon, Office Depot, Target, Moleskine, and Walmart.
Cost to bind a book at Staples
Expect to pay around $9 in order to bind a book at Staples.
Staples specializes in the printing and binding of works and books that delight the eye. They can offer you a wide range of options, according to your tastes and budget. They can help with printing anywhere from a single book to several hundred books.
How much does it cost to 3D print at Staples?
The cost of a 3D print job at Staples starts at around $4 and can go up to thousands of dollars, depending on the labor, model complexity, and material.
Staples Advantages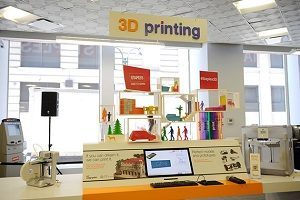 The services provided by Staples come with a lot of advantages for its customers. First of all, you can win a lot of time thanks to the online services and the flexible printing capabilities. You can simply send your documents through e-mail and get them printed.
Also, your can get your printed documents or posters the same day if you place your order before 2 p.m.
Staples offers customized services for businesses as well. For example, if you have more than ten employees, they can place a printing order through a business account. Moreover, you can use their marketing templates and avoid any design mistakes.
Loyal customers are offered a $25 discount every year for Print & Marketing Services. Also, they may get free next-day delivery for orders worth more than $50. Another benefit is represented by the $2 back in reward for every recycled ink cartridge, which can be up to twenty per month. This means that you can save more than $40 every month. Occasionally, Staples also offers printing coupons with considerable discounts.
Staples disadvantages
The main downside when you use Staples is that this chain does not offer professional design services. You will have to do your designs by yourself or you will have to hire a professional.
Also, only a few shape and cardstock print options are available.
Staples FAQs
Can I print at Staples from my mobile device?
Yes, at Staples you can print your documents from your mobile device. There are computers where you can connect your phone or USB device to download and print the documents.
Also, you can send your documents to their e-mail address. As there is no wireless or Bluetooth connection, e-mailing is the only option.
Can Staples print a PDF from my phone?
Yes, you can print a PDF from your phone at Staples. Moreover, you will have to save your Apple page documents as PDFs to print them.
Can I print at Staples from my e-mail?
Yes, we already mentioned above that you can send the documents you need to print from your e-mail.
What other services does Staples offer?
Staples offers many more services besides paper printing and scanning documents. You can have manuals, calendars, banners, name tags, brochures, labels, and postcards printed as well.
Also, they offer services for non-paper custom-printed products like phone accessories, apparel, headphone, drinkware, and USB drives.
Clients have the possibility to choose between a large variety of back and front covers, and between a wide range of paper options such as carbonless paper, card stock, or transparency sheets. All of these have different properties like smoothness, weight, brightness, thickness, opacity, and size.
Staples will help you cut and fold your printed documents.
What type of printers does Staples use? Inkjet or Laser?
Staples uses both laser and inkjet printers.
How long does Staples printing take?
The standard printing time is five to seven business days for normal items such as business cards and wedding invitations, but for canvas prints and photo gifts, it can take seven to ten business days.
However, you can get your printed documents on the same day if you place your order before 2 p.m.
https://www.thepricer.org/wp-content/uploads/2022/06/staples-copy-cost.jpg
380
610
Alec Pow
https://www.thepricer.org/wp-content/uploads/2023/04/thepricerlogobig.png
Alec Pow
2022-06-02 08:11:49
2023-09-19 20:06:19
How Much Does It Cost To Print At Staples?