The Bordetella vaccine will prevent Kennel cough, one of the most common viral canine infections that typically leads to pneumonia. The bordetella vaccine is a routine vaccination for dogs when they come into your local veterinarian's office and it helps release antibodies in order to counteract viruses within the dog's body.
Just how much does the Bordetella vaccine cost?
On average, a bundle of vaccinations (including Bordetella) that is commonly administered ranges anywhere from $20 to close to $150 within the first year of the dog's life – and anywhere between $10 and $20 thereafter. The price will fluctuate based on your dog's weight because bigger dogs will require higher dosages than smaller ones. Getting the vaccine individually and not part of a bigger vaccine bundle will mean a higher price per vaccine, but a smaller price overall, of course.
You might also like our articles about the cost of dog vaccinations in general, DHLPP vaccines, and Cytopoint injections.
You should know that the Bordetella vaccination is pretty cheap. The average cost of this vaccination by itself is $19 to $45. You will also spend around  $29 to $60 for two vaccinations against Bordetella. 
Vets also charge an additional examination fee for each time you go in for a vaccine or a vaccine bundle, so it does make sense to get as many vaccines as possible in one go if you want to spend less.
PetCareRX says the average cost for this non-core vaccine can range between $10 to $17, but it's best to double that if administered professionally.
Canine College did a study and talked with several local vets, who found vaccination prices could be anywhere from as low as $10-$40, depending on what office examination fee is charged. At Doctors Foster and Smith, 10 doses of injection retail at about 40 dollars each. This means that if you chose to administer the vaccine yourself, then the final price could be as low as $4-$6.
We managed to get in touch with a few private clinics that gave us the prices that you will find in the list below:
| Who We Contacted | Price Quoted |
| --- | --- |
| Vet Clinic #1 | $58 office visit + $25 for vaccination |
| Vet Clinic #2 | $55 office visit + $38 for vaccination |
| Vet Clinic #3 | $38 office visit + $39 for vaccination |
| Vet Clinic #4 | $60 office visit + $32 for vaccination |
| Vet Clinic #5 | $35 for vaccination + NO office visit |
| Rescue Group #1 | $17 for ANY vaccination |
| Rescue Group #2 | $22 for ANY vaccination |
| Tractor Supply | $5 for the vaccine only (you would have to administer it yourself) |
The main factors that will influence the final price
The vet clinic and geographical location
The cost of the bordetella vaccine can vary from one clinic to another, and according to geographical location. If the vet clinics are in different areas, then that means that prices will be higher for some locations than others depending on how much it costs them to provide the service.
The vaccination package
There is also a difference in price between different vaccination bundles, depending on what vaccines will be offered in the package. Although some packages might seem more expensive, they might have some very important vaccines, so be sure not to look at the price alone.
Bordetella vaccine information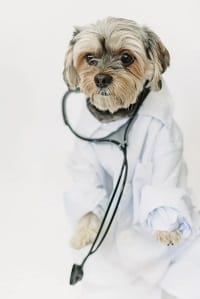 The Bordetella shot is a vaccine, which can be administered as early as three weeks depending on the product label. The Bordetella vaccines are given at six to eight weeks and again after 10-weeks in the form of a booster shot. For dogs that are 16 weeks or older, the intranasal vaccine will be given once, while the injectable will be given twice, but spread over two to four weeks apart.
Veterinarians will usually recommend the Bordetella vaccine for puppies, but it is up to you if your dog should receive this optional vaccination.
The bordetella vaccine is made of a bacterial culture known as Bordetella Bronchiseptica. Once administered, the dog's body will become immune to this particular bacterium; however, it does not fully protect against contracting kennel cough in dogs due to other factors and conditions.
Any extra costs to know about?
The price of a Bordetella vaccination may vary depending on the vet's office where you choose to take your dog if you don't want to administer the vaccine yourself.
The vet fees are typically around $45-$65 but can also be lower or higher, depending on where you live and the clinic you go to. Depending on the dog's exposure risk, you might have to administer the vaccine every six to twelve months.
Here are some tips you should know about
Bordetella vaccine has a variety of side effects. Some experts say that these can include soreness at the injection site, hives, nausea, and diarrhea, or in extreme circumstances even death. Being vaccinated is only a preventive measure for your dog and not a cure; however, it will greatly improve their immune system if administered correctly. But beware as your dog may need separate medication should their immunity have been weakened beforehand.
Is there any way to save some money?
One way to reduce the cost of veterinary bills is by going through your area's humane society or rescue group. There are some that offer low-cost vet clinics, which can be much cheaper than what you would pay at a local vet's office. Most veterinarian offices will provide an estimate over the phone for regular services, so it'll save time and money.
If you're looking to adopt a new puppy, it's important that the breeder will include their vaccines with adoption. If they are not included in the price, then think about administering the vaccine yourself. Tractor Supply sells vaccinations for $6 and administering them on your own is easy.
https://www.thepricer.org/wp-content/uploads/2021/04/bordetella-vaccine-cost.jpg
380
610
Alec Pow
https://www.thepricer.org/wp-content/uploads/2022/01/thePricer.png
Alec Pow
2021-04-25 10:25:18
2022-01-23 22:22:46
Bordetella Vaccine Cost