The patio can be a wonderful space where you can spend your time with your loved ones. However, when the summer days become too hot and the winters find you outside, the saving solution could be the construction of a patio cover.
Mounting a cover for the patio, although an optional solution, is highly recommended by specialists. In principle, this construction element can transform a relatively seasonal space into a useful space, regardless of the time of year.
How much do Bright Covers cost?
The price of installing a Bright cover varies depending on several factors. Among other things, the material used and the complexity of the project directly dictate the costs.
To get a personalized offer, it is always preferable to contact a team of professionals. They will be able to identify the particularities of your project and will be able to generate a solution adapted to your own needs.
You might also like our articles on the cost of accordion-style folding patio doors, Graceland portable buildings, and pool house construction.
However, you should know that the cost of Bright covers starts at around $2,200 and can go up to more than $50,000. Bright Covers offers a wide variety of products you can choose from. But the average cost of most patio covers would be anywhere between $16,500 and $18,000.
The overall cost of a patio cover is highly influenced by the size of the cover. If you want to install a patio cover outside of your home, you should plan on spending anywhere between $25 and $84 per square foot.
When installing a patio cover in the outside area of your home you have two options: set it as a free stand or through adjoining with the home. In general, it is cheaper to build the cover by attaching it to the home.
In the table below you will find the average costs for both of these options.
| | |
| --- | --- |
| Types of patio cover | Average |
| Free stand | $2,500 to $50,000 |
| Adjoining | $700 to $36,000 |
The cost of different types of patios covers
There are a lot of materials from which you can build a patio cover, and for this reason, choosing the right solution for your project can be relatively difficult. In general, the core raw materials used are Vinyl, aluminum, and wood.
The durability and benefits offered by each of these materials are different and so are the costs. In the following lines were are going to discuss the costs and advantages offered by these materials to help you make a decision.
The cost of a wood patio cover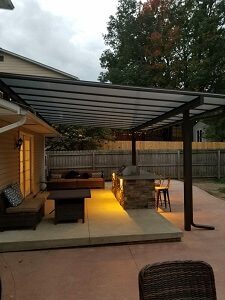 The main advantage of a wood patio cover is its natural appearance and good standing. However, this roofing material requires regular and demanding care in terms of time and financial resources: ideally, you should treat it every year with a pest control product (molds, fungi) and with natural oils to prolong its life. Your concern for a wooden roof will be directly reflected in its lifetime. The disadvantage is the high flammability.
If you would like to build a wood patio cover, expect to spend anywhere between $16,500 and $19,000. Though, this cost may increase substantially if the wood is super high-quality and the covered area is larger.
The cost will be affected also by the labor expense, design, materials, and other necessary jobs. For instance, you will have to spend anywhere between $12,500 and $16,000 on materials, the labor costs are $1,000 to $3,2000, the design will require a budget of anywhere between $1,000 and $2,100, while the expenses with re-painting will be anywhere between $2,100 and $2,600.
Cost of aluminum patio cover
It would be cheaper to build a patio cover made of aluminum than one made of wood. The average cost per square foot is anywhere between $25 and $75. For example, you will have to spend anywhere between $7,500 and $12,000 to build a 400-square-foot cover.
The aluminum patio cover is an extremely modern, versatile, and efficient solution at the same time. The main advantage of this solution is that it allows the beneficiaries access to sun and light, and when the weather does not allow it, the roof can be put into operation very easily.
In addition, aluminum is a very light metal, which does not complicate the structure of resistance and also allows very good insulation of the terrace.
Cost of vinyl patio cover
It is recommended to use a vinyl patio cover in the areas with rot, wrap, and bugs. The average cost of a vinyl patio cover is anywhere between $2,600 and $5,500.
In terms of costs, as well as installation time, vinyl roofing is the most efficient. It can be purchased relatively cheaply, and installation and use also reduce labor costs.
In addition, vinyl is a very lightweight material. Thus, the roof structure can be made of wood, which is also very affordable.
Like glass, vinyl can heat up in the summer, so if the patio is completely closed, it may require ventilation solutions.
What are the extra costs?
You will also need to consider whether your project involves the installation of the rainwater system, gutters, downspouts, etc., or other accessories. For example, people like to have some extra features in the cover area such as a heater, fan, or television set. In the table below you will find the average costs of some of these items
| | |
| --- | --- |
| Segments | Cost |
| Material cost | $12,000 to $15,000 |
| Re-painting cost | $2,000 to $2,500 |
| Design cost | $1,000 to $2,000 |
| Labor cost | $1,000 to $3,000 |
Awning cost
People prefer to spend their spare time outside instead of staying indoors and the awning will bring them more protection while staying on the terrace. For an awning, you will have to spend anywhere between $250 and $3,700, depending on the material and size.
Conclusion
As you can see, there are many options you can choose from when talking about Bright patio covers. You should plan on spending anywhere between $2,200 and $50,000 on a Bright patio cover.
https://www.thepricer.org/wp-content/uploads/2022/05/bright-covers-cost.jpg
380
610
Alec Pow
https://www.thepricer.org/wp-content/uploads/2023/04/thepricerlogobig.png
Alec Pow
2022-05-07 08:30:36
2022-05-05 23:03:13
Bright Covers Cost