Graceland Portable Buildings Cost
It may be tempting to save time and money by building your own shed, but with so many options available already finished or pre-built at lower costs then what you would spend on materials alone is not worth the effort.
Pre-built buildings are not placed on permanent foundations. Pre-built buildings, sometimes called mobile homes, can be moved from one location to another. There are specific laws and regulations regarding these moves.
How much does a Graceland Portable Building cost?
The price of a Graceland Portable building depends on the size of the building and on its finishes. The cost for the smallest one, which will fall within the sizes of 10'x12' and will only come with standard features is around $4,500, while the price for a medium-sized building with standard characteristics is more than $9,200. The most expensive is the large building with standard finishes and sizes up to 14'x40', with a cost of around $21,000.
Graceland Portable Buildings details
When it comes to providing quality buildings, Graceland knows that its customers come first. The company has set out a mission for itself to ensure that the needs of each individual customer are met with high-quality products and services in order to make them feel more at home no matter where they live or what kind of space limitations they might have.
Graceland Portable Buildings is the industry leader in portable buildings. Their diverse range of products includes garden sheds, cabins, and barns. For each of these, there are diverse features available, such as lofts, porches, or other accessories.
There are a number of convenient sizes to choose from when it comes to Graceland garden sheds. You can find the perfect storage for your push mower, chain saws, or even utility vehicles. The main characteristics of these sheds are the swing-open double doors and the peaked metal roof. The sizes are anywhere between 8'x12' and 16'x40'.
The cabin-style buildings are the perfect option for those who want something simple and basic. They come in different sizes, starting with the smallest at an 8' x 12′, going up to as large at 16'x40′. These shelters can be used on your property whether it's tiny homes or workshops.
You might also like our articles about the cost of a barn, precast concrete, or mobile home insurance.
If you're looking for the ultimate in cabin living, Graceland offers a variety of options. You can choose from traditional cabins with front porches or enjoy an optional upgrade and add additional windows, shutters, and flower boxes as well custom paint colors to make your corner porch experience even more enjoyable.
Graceland barns are an essential part of any farm, as they provide shelter and storage space for all your tools. These structures come in different sizes from 8 x 12 feet up to 16 x 40 feet with options in between. Not only does it house equipment but also works as a shelter for animals such as goats or chickens.
The Graceland portable garage is a great option for any home, big or small. They come with the same quality construction as their sheds and barns making them durable enough to last in all types of weather conditions while still being affordable. With an overhead roll-up door, you'll have easy access when it's time to park your vehicle. Graceland offers many different portable garage models which range from 10' x 12'  all the way up to 16′ x 40′.
What are the extra costs?
If you need your Graceland portable building delivered further than that 50 miles or if you purchase it through a dealer, additional fees will apply.
Your building can come with a number of customizable options for you to choose from. These include windows, doors, and handrails in different shapes or styles, G-board barriers, or flower boxes. There are also finishes available on paint jobs which range from neutral colors all through whites, blacks, greys, brown shades, and even pink. All of these options come at an additional price.
Important things to consider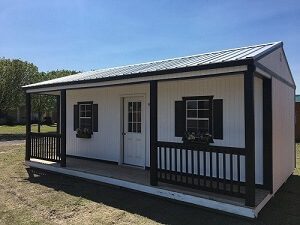 When you choose Graceland, the number of customizable features is almost unlimited. They offer standard options but also allow buyers to be creative with their own designs beyond what's typical in pre-built sheds or cabins because they're willing to work on anything custom-made for most buyers.
Graceland has a seven-year warranty on all craftsmanship and construction materials. Other prebuilt sheds offer limited warranties that often only cover specific items such as doors, windows, or roofs for three years at most. Gracelands' entire structure will be covered including metal roofs with a 25-year guarantee.
The Graceland Company has been building sheds for over 50 years. They construct their buildings with hurricane anchors, reinforced doors, and galvanized ring shank nails. The aluminum vents in these structures make them more durable than other companies' designs while still being aesthetically pleasing. The patented soffit-vent design will keep you dry during bad weather by funneling rainwater away from any exposed parts on an outside wall.
You will need to clear trees and shrubbery from a level pad, then pour concrete blocks on it for the foundation, before your building is delivered. The building site must be higher than the surrounding ground so that proper drainage can occur.
In order to build a shed, cabin, or garage you will have certain zoning regulations that vary from municipality to municipality. Permits are likely required for all sizes and types of structures in your area so it's important to research what these requirements entail before placing a building on site.
How can I save money?
Graceland is a home builder that offers quality and affordability. With flexible payment options for every homeowner, they are the perfect matchmaker for your next project. nd if you're lucky enough, you might even find a discount offer on their website.
https://www.thepricer.org/wp-content/uploads/2021/10/graceland-portable-buildings.jpg
380
610
Alec Pow
https://www.thepricer.org/wp-content/uploads/2023/04/thepricerlogobig.png
Alec Pow
2021-10-27 07:08:19
2023-09-17 09:17:53
Graceland Portable Buildings Cost