How Much Does it cost to Move a Shed? – Average Shed Moving Rates
Last Updated on October 22, 2023 | Written by CPA Alec Pow
First Published on August 6, 2020 | Content Reviewed by

CFA Alexander Popivker
Regardless of your reasoning, at one point or another in your life, you might need to hire a professional to help you move a shed a certain distance.
The process is done by jacking up the shed completely, moving it to the new location, and installing it there, using a tow truck.
If you're not a pro when it comes to these types of jobs, trying to do all of this alone might cause you to damage the structure of the shed, which will lead to a faster deterioration or even the whole building fall down.
You also risk injuring yourself if you don't have professional help. This is why you should leave the job to professionals. But how much does it cost to move a shed?
How much does it cost to move a shed?
The average cost to move a shed is anywhere between $250 and $1,000 for sheds of medium dimensions within 50 miles of you, using the help of a professional. The larger the shed will be, the bigger these costs can get. Shed moving prices depend on distance, and especially longer distances will warrant costs that can be anywhere between $1 and $5 per mile.

Consider asking multiple professionals and getting several quotes, as all jobs will be different and be priced differently. Some companies will have no issues giving you a quote for free.
Some threads on the GarageJournal forum talked about people being able to move 10-by-16 sheds in different parts of their towns for $150 or less. Other members on this same thread were able to pay less than $400 to move their shed.
Also, read about the cost of moving furniture, building a house, and getting mobile home insurance.
A discussion between professionals on thektog.org revealed that they would charge around $200 to move a smaller shed if the distance is no more than 25 miles.
According to the official pricing list provided by WeMoveSheds.com, although it does seem to be rather old and outdated, its prices range from $335 to $545, depending on the size of the shed.
For example, the cost to move a 10×12 shed inside a radius of 20 miles, would be around $545. These costs will ultimately depend on the condition of the shed, its type, size, site conditions, and overall accessibility. They also charge around $3 per loaded mile for any additional mile.
Prices of moving a shed
| Average Shed Size | Shed Moving Costs Range |
| --- | --- |
| 6′ x 8′ or smaller | $200 – $400 |
| 8′ x 10′ | $400 – $700 |
| 10′ x 12′ | $250 – $600 |
| 12′ x 16′ | $350 – $1,000 |
| 16′ x 20′ or larger | Varies based on size and distance |
Moving a shed details
The costs will be minimal for jobs that involve a shed with a solid base that can be placed directly on a flatbed tow truck with ease. The process will be more complex for sheds that are anchored onto a concrete foundation and don't have a sturdy base. For these, the price will go up, as you will need a lot more precautionary measures and care to move them.
It involves the shed being raised up with the help of jacks so that you can load it on the flatbed trailer. If you have the shed built in a tricky spot, then most moving companies will recommend the use of a special crane with a winch. It will be moved to a new location to be dropped off as soon as it is properly secured on the trailer bed. It will then be leveled in the new area.
How Big of a Shed Can You Move?
Although you can technically move a shed of any size, as long as you take into account all of the other criteria, there are some things you should have in mind before starting to work on this.
The first thing that might be in your way when trying to ship an average shed to another location, is moving companies having maximum widths and lengths when it comes to objects they will agree to list. This will usually vary based on the shed moving company or contractor you choose to work with.
For larger sheds, you will also need proper permits. Based on common city laws, you will only be allowed to move objects of a certain width and height on public roads and when shipping anything larger, you will have to get a permit. Moving large sheds will not only cost more but a permit to move them might also cost more than a permit for smaller ones.
How Much Does it Cost to Move a 10×12 Shed?
This will usually be the size of a small shed. Moving a 10×12 shed within a small distance or even inside the same yard shouldn't usually cost more than $600. There are even some companies that won't charge more than $250 to move a 10×12 shed, while others will charge more, depending on how far you need to have it moved.
How Much Does it Cost to Move a 12×16 Shed?
The price to move a 12×16 shed, which is usually considered a medium-sized one, shouldn't go over the $1,000 mark most of the time. Even so, you shouldn't expect to spend less than $300 either for such a project. Most of the time, the average cost of moving a 12×16 shed will fall somewhere between $350 and $600.
How Much Does it Cost to Move a 12×20 Shed?
If you have a 12×20 shed, then you should know that you have one that is usually on the larger side. This means that if you plan to move it, you will most likely require a permit. It will also mean that the cost to move this type of shed will be higher than for ones of smaller sizes.
If you only need to move it locally, you should expect a base price of anywhere between $550 and $750, although it shouldn't come as a surprise if a company will charge even more than $1,500. It is always a good idea to compare price quotes, especially if you know you have a shed that is on the larger side.
What are the added costs of moving a shed?
You will usually be charged a mileage surcharge when you have to move the shed for more than 30 miles. This fee will likely be between $2 and $5 per mile.
Oversized sheds will cost more to be moved, as you will have to get a wide load permit to have them pulled and they have to be escorted by a flag escort vehicle.
You will spend an additional $35 to $75 for removing ramps.
If you require skids to be added when you have to move the shed, then expect additional fees between $75 and $100.
When getting quotes from professionals, most of them will give an estimate based on how much time they believe they will work on the job to complete it. Depending on the contractor's policy, you might be faced with an additional charge if the job takes more than this hourly estimate.
For bigger sheds, more people or additional machinery might be needed to ensure a successful move, which might increase the hourly rate for the labor, ultimately increasing the final bill.
If you want to remove or replace the shed and you are hit with permit requirements, then expect additional fees to have them pulled.
Shed moving tips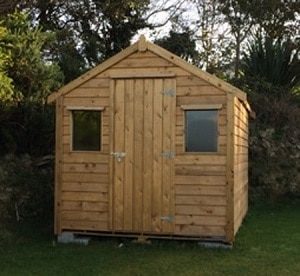 The easiest way to find a professional for the job, if you really have no idea who you should call to move a shed, is to look for a local tow trucking company. A lot of these types of companies provide additional services to move sheds in the area of your town.
Local retailers that sell sheds might also offer these services, or at least point you in the right direction.
The height of the shed is very important, so you should make sure you pay close attention to it. This height can easily become an issue if the driver needs to drive under power lines or bridges. If you need to move a shed taller than 10′ 6" tall, it might be pretty hard to find a company willing to do the job.
Never choose a contractor before confirming that they are not only licensed but also insured. This is to make sure that you will be able to replace the shed for free if something happens to it while they are working on moving it.
To save time, make sure you do everything you can to prepare the shed before the movers arrive at your address.
It is also a good idea to show the movers the new site where you want to place the shed. To do this, just accompany them to the location.
How to Find a Shed Moving Service Near Me?
If you don't have someone close who can recommend a professional shed moving company or independent shed movers, then your best bet would be to search on the Internet. If you live in a bigger city, then you should also include either the name of the city or even better, the name of your neighborhood, for more filtered results.
Keep in mind that anyone can make a professional website, so before you hire someone, make sure you ask for certifications, whether they are insured, and any past job pictures, to get an idea of who you're hiring.
How can I save money?
As with any other professional service, getting at the very least two to five quotes is a great way of finding a company with competitive prices and great reviews. If you have no idea where to find shed moving companies then a good place to start is by searching on Google or directories like Yelp.
Also make sure that moving the shed is actually worth it, as it will be a lot of work and it might not make a lot of sense financially either. If you need to move it on a longer distance or if the shed is really big, it might cost more to move it than building a new shed and just scraping the old one.
Moving a shed could also be taken as a DIY project as long as you have a few people willing to help you and you are a handy person. Keep in mind, that before going on this route, you will have to find the needed manpower and equipment to do this. You should only consider a move on your own if it's going to be on a short distance, but this will also help you to get the lowest cost to move a shed.
https://www.thepricer.org/wp-content/uploads/2020/08/cost-to-move-a-shed.jpg
380
610
Alec Pow
https://www.thepricer.org/wp-content/uploads/2023/04/thepricerlogobig.png
Alec Pow
2020-08-06 09:40:24
2023-10-22 14:03:15
How Much Does it cost to Move a Shed? – Average Shed Moving Rates