No matter what the circumstances are, you are more than likely to need to hire a professional to aid you to move a shed from one point to another.
During this process, they will be able to lift your shed, place it on a tow vehicle and then transport it to a brand-new place. Trying to do this work on your own will most likely lead to causing damage to the structure of the shed, causing it to weaken faster and even fall down. Moving a shed without specialist assistance could also result in injury. For that reason, this task is ideally left to those with experience.
How much does it cost to relocate a shed?
With the majority of companies, moving a storage shed is going to depend on the dimension, accessibility, condition, the service provider carrying out the task, geographical area as well as if there are any unexpected issues. On average, expect to spend anywhere from $225 to $500 to move a mobile shed within 50 miles. This is an optimal price array for sheds that are 10-by-14 or smaller.
Since all processes are going to be different, take into consideration obtaining several quotes free from reputable licensed contractors online.
According to an online forum, a member stated that he had the possibility to relocate a 10-by-16 shed across town for less than $125. Many other participants on this same forum were able to pay less than $400 to relocate their shed.
Also read about the cost to move furniture, build a house, and mobile home insurance.
A specialist on another online forum thread mentioned that in the past, he would charge $200 to move a smaller shed within 25 miles.
WeMoveSheds.com gave a general price listing, with prices ranging from $335 to $545, depending on the dimension. The cost to move a 10×12 shed, as an example, would be around $545 if within 20 miles, however the prices, in the long run, would certainly depend on the access, site problems, the dimension, type, and also possible problems of the shed. Each additional mile will be charged around $3 per loaded mile.
Details on Relocating a shed
As long as the shed has a solid base and can be conveniently positioned onto a flatbed tow vehicle, the prices are going to be minimal. However, if the shed is secured onto a concrete foundation and the base is not tough, the costs can rise since a lot more work and preventative measures will be required.
During this process, the shed will be raised up using jacks to make sure that it can be placed onto a flatbed trailer. If the shed stays in a hard area, some relocating companies will be able to raise the shed with a special crane with the help of a winch. Once it is secured on the trailer bed, it will be taken to the new location, lowered and leveled in the new location.
What are the added costs to move a shed?
If you have to relocate the shed farther than 30 miles, there will most likely be a mileage added charge that is generally around $1 to $3 per mile.
Oversized sheds will certainly require to be escorted by a flag vehicle and even so, a wide load authorization will be required, which, will certainly boost the expenses.
Removing ramps can be an extra $25 to $50.
If any kinds of skids have to be placed in order to relocate the shed, this can cost another $50 to $75.
Most specialists will usually base their price quote on the amount of time they think they require in order to finish the work. If the job exceeds this per hour quote, after that a surcharge may apply, depending on the service provider's policy.
If licenses have to be obtained to replace or get rid of the shed, extra costs might appear.
Tips to keep in mind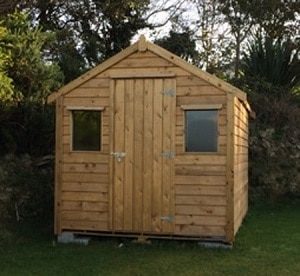 If you do not know who to call when you need to move a shed, think about contacting a neighborhood tow firm. Several of these businesses in the area are able to relocate sheds around town. Additional places to call are local retailers that have sheds for sale. They might be able to point you in the appropriate directions as well.
Pay very close attention to the height of the shed. If the vehicle driver has to drive under bridges or power lines, the hight might become an issue. Many firms will refuse to move a shed that is higher than 10′ 6″ tall.
When picking a specialist, always ensure that they are certified and offer warranties. This way, if something were to happen to the shed while it remains in their possession, you may have the possibility to get it fixed free of cost.
Make sure that you prepare the shed before the movers get here to save some time.
You ought to come with the moving companies to the new site of the shed to make sure that you can explain in detail where you need them to put it.
But how can I save money?
Like with most types of specialists, always see to it that you get at the very least two to five quotes before deciding on a firm. Checking online as pointed out earlier can get you in touch with local contractors, but checking Yelp for reviews is a must.
Make sure you ask yourself if relocating the shed is worth it. If you need to pay more to relocate, it might be much better to buy a brand-new shed and get rid of the old one.
If you are great with your hands and have a few friends to aid you, moving a shed could be done on your own. However, if you are going to go on this path, see to it that you have the essential tools as well as manpower to do so. A DIY should only be done if it is going to be on a short distance.
https://www.thepricer.org/wp-content/uploads/2020/08/cost-to-move-a-shed.jpg
380
610
qSign
http://www.thepricer.org/wp-content/uploads/2021/05/coststudylogo.png
qSign
2020-08-06 09:40:24
2020-08-15 23:07:25
Cost to Move a Shed