How Much Does It Cost to Build a 20×20 Shed?
A great home improvement trick to optimize the space in your backyard and add more space to both the home and the year without putting a big strain on your wallet is building a 20×20 shed. 20×20 sheds are great whether you need extra outdoor space for entertainment or hobbies, whether you're looking for extra storage space, or something completely different.
But before you get started, you need to know how much it will cost to build the shed of your dreams. This article should give you a better idea of the cost of building a 20×20 shed, as well as factors influencing the costs and ways to spend less on construction.
How much does it cost to build a 20×20 shed?
The total cost to build a 20×20 shed is, on average, between $1,500 and $5,000, depending on important factors like the complexity of the construction, the materials you use, and whether you DIY or need to factor in labor expenses as well. The cost per square foot would be somewhere between $50 and $200.
Although you will obviously save money if you go for a DIY project, the cost of labor being a big part of the whole bill, working with a professional builder will ensure that you're building a strong shed, in the correct way, while also minimizing the waste of materials in the process.
Depending on your location, you might also have to pay different fees related to regulations and permits.
Factors Affecting the Cost of a 20×20 Shed
As said above, there are a number of factors that will influence the cost of building a 20×20 shed. Among the most important ones are whether you're working alone or hiring a professional, the materials you'll use, the complexity of the design, as well as the overall size of the storage shed.
Materials
One of the biggest expenses you will face when building a shed is the cost of the materials used. These can range from just several hundred dollars to several thousand dollars.
You might also like our articles about the cost to build a yurt, a detached garage, or to move a shed.
The materials you go for should be considered based on the budget you have. You can use anything from metal to wood and plastic. You will usually spend more on wooden sheds than you would on metal ones, although they will last more if you know how to maintain them properly.
Although metal sheds are considered less expensive material-wise, they offer little to no protection against harsh weather compared to wooden ones.
High-quality wood is usually the most expensive material used for shed building. Some examples are redwood and cedar. At the lower side of the price spectrum are plastic and treated lumber, which although the cheapest materials you can find, are usually considerably less durable and not as good as their metal and wooden counterparts.
Labor Costs
The second very important factor to consider when budgeting for a 20×20 shed is the expense related to labor. You will spend a lot less if you do everything yourself than you would if you hire a professional builder or contractor to take this off your hands and build the shed for you completely.
When you go on the DIY road and you take on the project yourself you will be spending hundreds or even thousands of dollars in labor costs, while still creating a great shed, as long as you put the necessary work into it and have the necessary knowledge. Professional builders, on the other hand, are experienced enough in constructing sheds that they will do everything according to your desires and will ensure everything goes according to plan from start to finish.
Size and complexity of the project
As with anything else you'd build, the bigger it is, the more expensive building it will be, and sheds are not an exception. As two of the three dimensions are set, because you are building a 20×20 shed, the only size that can vary is its height. You will spend a lot less on a shed with a smaller height than you would on a shed with a very high roof.
The final cost will also be influenced by the complexity of the shed's design. A shed with more intricate designs will cost considerably more than one made as simple as possible, with basic shapes and lines.
Permits and Regulations
There are several jurisdictions that have different regulations and require permits when you start the construction of structures on your property, including 20×20 sheds. So before you even start building, you should make sure that you have all the necessary permits and authorizations so a lack of the needed paperwork won't slow down or block the process completely.
Permit prices tend to vary quite a bit depending on the location of your property, but as a general rule, you will spend somewhere between $0 and $500 on permit fees with most projects having fees of $50 to $100 for the needed permits.
DIY vs. Hiring a Professional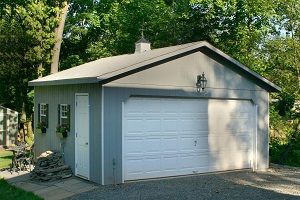 It might be a fun and rewarding project to just start building a shed yourself, but this will also be a lot of work and will require some previous knowledge and experience. If you have no knowledge of carpentry, then you should probably ask for a professional's help. With the help of a professional, you will benefit from the experience and knowledge of someone that has built a lot of sheds in the past, ensuring a quick and safe construction.
The complexity and size of the shed will dictate the cost of hiring a professional. Expect to pay, on average, between $1,000 and $2,000 on the labor when hiring a professional.
Keep in mind that building the shed yourself won't mean that you get to keep the money you would spend on labor. You still have to purchase the necessary tools and materials for the job. This might be more expensive than you think. To cut down on costs, try to borrow the tools from a friend and buy used materials that are in good condition.
When building the shed from scratch, its cost will again depend on its complexity and size, although on average, a very basic shed kit will cost around $600.
Final words
It will be a very rewarding experience to build the 20×20 shed, as long as you do it properly. The final price of building one will depend on several factors, out of which labor and materials will be the most important ones. Expect a cost for a 20×20 shed construction somewhere between $1,500 and $5,000.
https://www.thepricer.org/wp-content/uploads/2023/07/20x20-shed-cost.jpg
380
610
Alec Pow
https://www.thepricer.org/wp-content/uploads/2023/04/thepricerlogobig.png
Alec Pow
2023-07-26 08:24:58
2023-07-23 00:09:14
How Much Does It Cost to Build a 20×20 Shed?