Brooklyn Botanical Garden Wedding Cost
The Brooklyn Botanical Garden, known locally as simply the BBG, is not only a breathtaking place to visit but also a famous venue for weddings and a loved site of Manhattan society brides. This place has a rustic feel and features rolling hills and landscaped grounds.
How Much Does a Brooklyn Botanical Garden Wedding Cost?
If you want to celebrate your wedding at Brooklyn Botanical Garden, you should be prepared to pay anywhere between $650 and $5,500 for the location fee, while the cost per guest, for food and beverage, would start at around $185 and go up to more than $240, depending on what options and menu you choose.
A garden ceremony-only wedding is also available at the cost of around $60 for up to 50 guests. According to the official website of Brooklyn Botanical Garden, if you want to invite ten more guests (60 guests maximum), you will have to pay another $18 for each. On the other hand, The Palm House has a venue fee of $3,600 to $5,600, depending on the day of the week and the time of year.
According to the NYMag website, the costs per guest would start at around $190 for the average 300-people reception. An open bar, a four-course plate, cake, one cocktail station, and eight hors-d'oeuvres would be included at this cost.
Brooklyn Botanical Garden Wedding Overview
The average price presented above would include five hours of event time, but not the cleanup and setup time. Also, a guest minimum will be applied to all events.
Besides the outdoor garden ceremony, the Brooklyn Botanical Garden offers the following spaces for a wedding ceremony as well: the Atrium and the Palm House. The Atrium offers floor-to-ceiling walls and can seat up to 130 people, while the Palm House can accommodate 275 people. Both of these spaces will allow access to the garden and offer views of the landscaped grounds, woods, patios, garden, and fountains.
You might also like our articles on the cost of having your wedding at St. Patrick's Cathedral, Pelican Hill, or Biltmore Estate.
What are the additional expenses?
If you want to host events at the Brooklyn Botanical Garden, you will have to pay a membership fee that is around $750.
You will also have to pay a setup fee for a wedding ceremony, which is around $12 per person.
Important things to consider
In order to make sure that their clients get special treatment during their wedding day, the Palm House at Brooklyn Botanic Garden holds only one wedding event at a time.
Only two ceremonies are allowed per day. The start time will be at 09:00 a.m. and the finish time will be at 10:00 a.m. for all, with no exceptions. The gardens are open to the public starting at 10:00 a.m.
Make sure to plan early is you want to have a garden ceremony at the Brooklyn Botanical Garden. The venue is very busy during spring and summer and bookings are accepted on a first-come, first-serve basis.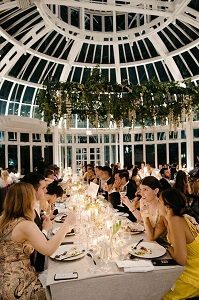 If you want to book a date, you will have to purchase a membership and pay a minimum of 30 percent of the catering total. The second 30% catering deposit must be paid six months before the wedding ceremony and the last 30%, thirty days before the event.
There is no backup indoor facility available at BBG, so garden ceremonies are held regardless of the weather, rain, or shine.
There are certain hours and times available for wedding photography. Make sure you verify their schedule.
The time limit for wedding photography sessions is 45 minutes. In order to make sure that you get the most out of your time, a security guard will escort you.
All garden ceremonies are stand-up events and are based on availability. Food is not allowed inside and there are no chairs but you will be allowed to bring in birdseed or rice, tables, decoration, and balloons.
Only low-volume music is accepted and only small, portable chuppahs are allowed.
How can I save money?
In general, Saturday evening weddings are more expensive and are very popular. But if you really want to celebrate your wedding on the weekend and at the same time not spend so much money, consider booking Friday or Sunday dates or Saturday afternoon slots.
Try to talk with the staff and ask for seasonal pricing because they are willing to work with your budget. Like with any other venue, you will have to pay more for Saturday nights than for Thursday nights.
https://www.thepricer.org/wp-content/uploads/2022/12/Brooklyn-Botanical-Garden-wedding-cost.jpg
380
610
Alec Pow
https://www.thepricer.org/wp-content/uploads/2023/04/thepricerlogobig.png
Alec Pow
2022-12-05 06:55:58
2022-12-01 13:09:10
Brooklyn Botanical Garden Wedding Cost