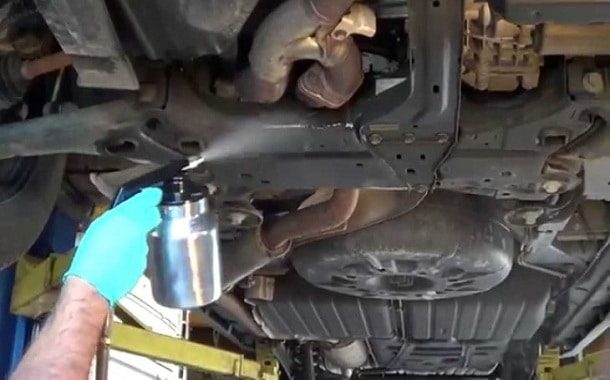 One of the best ways to prevent rust and corrosion even before it starts to pop up is undercoating, which is known to extend the life of your vehicle. This is also something that is known to reduce road noise, as debris won't be able to make contact with the metal directly.
You should undercoat your cart as soon as you buy it even if it's new, as it hasn't had a chance to be driven just yet. This is why most dealers will offer this service as an add-on. This job can be performed on used vehicles as well.
How Much Does Undercoating Cost?
You will usually spend somewhere between $150 and $500 or more to undercoat your car. The price of the undercoating service will depend on the type of car you have, your location, as well as the company that you'll work with to have this job done.
One of the most popular franchise shops to offer car undercoating services is Ziebard, which charges between $300 and $400 for this service from what we could gather. They offer a 10-year service warranty for the job, which is quite nice. The bad news is that you will only be able to keep this service warranty active as long as you come for an additional visit each year. These yearly visits will cost $50.
According to TheAutoProtectors, a website known to talk about car restoration and maintenance, you should expect a price for a car undercoating service of $249 or more. This amount will usually include all the necessary materials as well as all labor hours needed to complete the job, according to the same website. These costs will also go up as the size of the vehicle getting undercoated increases.
On F150Forums.com some members got into a discussion about the expenses they had to face when undercoating their trucks, and one member stated that they were charged $320.
Stangnet.com, which is another vehicle-related forum, had discussions that placed the cost of a car undercoating somewhere between $179 and $300 when getting the job done at a local dealership.
The cost will depend on several factors, including:
Your location
The final cost of the car undercoating service will depend not only on the region but at the city level as well. Considering that metropolitan areas will have more shops competing for the same services, the prices are also most likely to be cheaper.
The size of your car
The bigger your car is, the more undercoating you will likely need, which obviously translates into a higher cost than for a smaller car at the same shop.
Undercoating details
Undercoating is a great way to stop salt, ice, and water from the roads from getting on the underside of your car and corroding important parts, which is why this is a very important service for vehicles in general. All you have to do when you need your car to be professionally undercoated is to take it to your closest dealership or mechanic, who will be able to do this whole job in one go.
For the charged fee, you should get not only the needed materials but also the labor required to perform the whole undercoating job. There are quite a few car dealerships that sell undercoating packages to customers.
If you're considering doing this yourself, then the process should start with professional cleaning of the car and especially the underside part that will receive the protective layer, according to DoItYourSelf.com. Metal sandpaper, a grinder, and a degreaser should be used for the cleaning, to ensure that you get rid of any rust spots on the car.
After you're sure that everything is clean, you will start the priming and painting process. All of the spots will have to be not only cleaned but also primed using a primer.  You should then wait for the area to dry off completely, and then paint it with black automotive paint.
The actual job of undercoating the car will start only after the paint has dried. The undercoat will have to be applied with a spray all around the undercarriage of your car with the help of a paintbrush. This means that you will have to cover all of the parts that are exposed to the road.
You will have to let the first coat dry for an hour or more, after which you can add a second coat, usually thicker than the first. Don't drive your car around for the first 24 hours so you're sure that the undercoating substance has properly dried off.
What are the additional expenses?
Rust proofing is another expense to think about. Although rustproofing is normally confused with undercoating, it is a very different task. If you wish to totally protect your car from early rusting, you should have it rust-proofed, which is typically made with an underproofing job. The cost of rustproofing is very similar to undercoating rates.
The paint protection film is another method to protect your vehicle. When the paint protection film, which is a versatile and clear layer of urethane film is placed on your car, it will serve as a barrier safeguarding the paint from rocks, stones, sand, and bugs.
The undercoating could last for just a year. No matter how well you look after it, the undercoating will wear away eventually. Undercoating that is overworn and patchy will not do almost any good for your vehicle given that water, road salt, and other components can be caught under the coat which will result in wearing down the metal. That being said, you will have to try having this kind of task done every couple of years.
Pros and Cons of Undercoating
Let's start with the pros of getting an undercoating service
It can be self-applied
Of course, taking your car to a professional to get it undercoated will be a lot better than doing this yourself. But if you don't have the money to do so and you know yourself to have at least basic car maintenance skills and tools, then this job can be done as a DIY project.
You can use the public workshops and how-to videos provided by the NHOU to ensure a properly done job.
So instead of paying around $1,000 for this service done at a dealership, you will likely spend around $100 to do it yourself if you have a car or $150 for a truck or SUV.
Keep in mind that this way of cutting costs will come with a bit of mess around your garage.
It will Extend both the Life and the Value of your Vehicle
As long as it is properly done, undercoating can extend the life of your vehicle. Corrosion is one of the main factors to affect the overall integrity of the materials found inside your vehicle. It will also damage cables and metal wires, as well as any parts and components made of aluminum or steel. The damage can even reach your car's main panel, engine, or transmission if enough rust builds up on your vehicle when undercoating isn't applied.
Undercoating Cons
Oil-based undercoating and Rustproofing are likely to need retouch services every year to stay in good shape.
Vehicle undercoating is only going to properly protect your vehicle as long as it is repeated periodically. It will be great if you are able to apply a new protective layer on your car every year. This shouldn't cause any issues with your car's underbelly. And if you're living in a destructive or salty environment, then this becomes a must. This service should be done as soon as possible, to avoid any failures of safety inspections or structural damage to your car.
Tips to remember: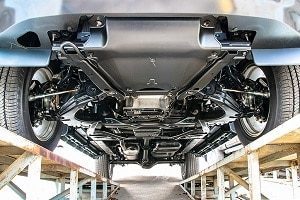 Contrary to what most individuals think, undercoating and rustproofing is not all that the same. Usually, rust-proofing items can typically be more pricey when compared to undercoating. Rust-proofing consists of treating metals with a thin clear coat.
It is extremely crucial that the undercoating is done by an expert because it is a very delicate task. If it is not done in the best way possible, the water drain holes in the car may clog which will produce water build-up within, leading to the metal parts rusting. To find an expert, it is recommended that you first look locally for services, and then search on Google Business.
If you are preparing to do the task yourself, cleaning up the underside of your automobile is the crucial part. If it is not totally free of grease and other elements, these compounds will get caught below the undercoating and lead to a lot more damage than you are trying to avoid in the first place.
How can I save some money?
If you have the knowledge to do it by yourself, you can do the undercoating of your vehicle all on your own. As pointed out above, some kits we found online can be bough for just $10 to $20.
Get as many quotes as possible prior to choosing an expert. Think about talking with a popular franchise such as Ziebart, the regional dealership, and/or a local mechanic.
https://www.thepricer.org/wp-content/uploads/2020/09/Undercoating-your-Car.jpg
380
610
Alec Pow
https://www.thepricer.org/wp-content/uploads/2023/04/thepricerlogobig.png
Alec Pow
2020-09-06 20:59:36
2023-03-13 11:46:22
Car Undercoating Cost