Cinnabon is an American fast-food chain which is specialized in preparing and selling baked goods like cinnamon rolls. These rolls are prepared only with the finest Makara cinnamon and then are topped with their rich cream frosting. All of them are prepared fresh every day in the store.
This chain prides itself on its products made by hand and continues to enlarge its menu in order to meet all of its clients' needs. Their menu does not include just the famous rolls, but also a large variety of baked goods and a selection of beverages.
In the table below you will find the latest Cinnabon menu prices so you can get an idea about how much you should budget if you want a sweet treat from them.
Food
Size
Price

Baked Treats

Cinnabon Bites
4 Pc.
$4.69
CinnaSweeties
10 Pc.
$5.49
CinnaSweeties
5 Pc.
$3.69
Cinnabon Stix
10 Pc.
$7.89
Cinnabon Stix
5 Pc.
$4.69
Center of the Roll
$4.69
MiniBon
$4.09
Caramel Pecanbon Roll
$6.89
Cinnabon Classic Roll
$5.29
Churro
$3.49
Extra Frosting
$1.39

Baked Treats

CinnaPack – Pre-Packed & Ready To Heat

MiniBon
15 Rolls
$29.49
MiniBon
9 Rolls
$20.79
Combo (Classic or Caramel Pecanbon)
6 Rolls
$28.29
Combo (Classic or Caramel Pecanbon)
4 Rolls
$20.79
Caramel Pecanbon
6 Rolls
$30.79
Caramel Pecanbon
4 Rolls
$23.29
Cinnabon Classic
6 Rolls
$23.89
Cinnabon Classic
4 Rolls
$18.29

Sweet Sips

Chillattas (Oreo, Cinnamon Roll Coffee, Chocolate Mocha, Strawberry, Strawberry Banana or Tropical Blast
Large
$8.09
Chillattas (Oreo, Cinnamon Roll Coffee, Chocolate Mocha, Strawberry, Strawberry Banana or Tropical Blast
Regular
$6.69
MochaLatta Chill
Large
$8.09
MochaLatta Chill
Regular
$6.69
Cinnamon Roll Iced Coffee
Large
$4.99
Cinnamon Roll Iced Coffee
Regular
$4.29
Vanilla Iced Coffee
Large
$4.99
Vanilla Iced Coffee
Regular
$4.29
Cinnabon Signature Coffee
Large
$2.89
Cinnabon Signature Coffee
Regular
$2.59
Soft Drink
Large
$2.79
Lemonade
Large
$4.09
Lemonade
Regular
$3.49
Raspberry Lemonade
Large
$5.29
Raspberry Lemonade
Regular
$4.69
Mik
Large
$2.89
Milk
Regular
$2.49
Chocolate Milk
Large
$2.89
Hot Chocolate
Large
$3.49
Hot Tea
Large
$2.69
Juice
Bottle
$3.49
Water
Bottle
$2.79
Brand History
The Cinnabon business was founded by the trio Jerilyn Brusseau, Ray Lindstrom, and Rich Komen. They opened their first location in 1985 on Federal Way in Washington.
You might also like our articles about the menu prices of Dunkin Donuts, Crumbl Cookies, or Baskin Robbins.
Even though at the beginning they were only serving their signature cinnamon roll, this food item was very successful and appreciated by the customers. So, the brand became very popular in a short period of time. In just less than one year since the opening of the first location, in 1986 Cinnabon opened its first franchise in Philadelphia.
Over time many other locations were opened and these were built inside malls, meeting the needs of the daily shoppers. The first location outside a mall was opened in 1991, in Detroit Metropolitan Wayne County Airport. Nowadays, there are more than 750 Cinnabon locations all over the United States and other countries, based in casinos, malls, standalone locations, airports, and universities.
Since its creation, the brand went through some changes of ownership. It was bought by AFC Enterprise Inc. in 1998 and in 2004 the chain was sold to Focus Brand for the sum of $30.3 million. However, the new owners continued to stay true to the original vision of the founders. They offered the classic roll while expanding the variety of products to satisfy every customer's needs.
Our review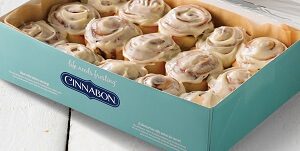 The design of every Cinnabon location transmits a modern feel, featuring tiles in pastel colors and paneled wood. Also, every location is very lit. In general, the stores are located in malls and sometimes the seating can be limited. However, it is well organized in an easy way to eat.
The Cinnabon menu includes a large variety of sweet treats with a cinnamon touch. Besides the classic cinnamon roll, their menu also includes CinnaSweeties, Churros, MiniBons, Cinnabon Stix, and Caramel Pecanbons. Their most highly rated menu item is their Center of the Roll, served in a cup so you can eat it with a fork.
Among the drinks you can order here there are creamy, fruits laced, iced blended drinks, Arabica coffee, chillatta, fruity lemonade, and iced coffee. Regardless of whether you choose to eat or drink something at Cinnabon, your taste will surely be satisfied.
The prices charged by Cinnabon are affordable and reasonable. You should expect to pay around $5 for any of their baked food items. Also, they offer a Cinnapack of 4 or 6 rolls at a price ranging from $17 to $22. The smell of the delightful products from Cinnabon has been filling the mall halls for many years and their cinnamon rolls will not disappoint you.
Cinnabon FAQs
At what time does Cinnabon open?
In general, Cinnabon opens at 08:00 a.m. every day, but it depends on the day of the week and location. It is recommended to verify the schedule of the location you are interested in on their official website.
At what time does Cinnabon close?
Most of the Cinnabon locations close at 10:00 p.m. from Monday until Sunday. However, it may vary from one location to another. So, you should check the operating hours of your nearest location on their official website.
What are Cinnabons made of?
The classic cinnamon rolls from Cinnabon are made of the legendary Makara cinnamon, warm dough, and their signature cream cheese.
Does Cinnabon use butter or margarine?
Actually, Cinnabon uses both butter and margarine to prepare their tasty cinnamon rolls. The dough is made with margarine and butter.
Does Cinnabon use bread flour or all-purpose flour?
Cinnabon uses bread flour in its recipes.
https://www.thepricer.org/wp-content/uploads/2022/07/Cinnabon-menu-prices.jpg
380
610
Alec Pow
https://www.thepricer.org/wp-content/uploads/2023/04/thepricerlogobig.png
Alec Pow
2022-07-20 10:33:58
2022-12-22 17:49:25
Cinnabon Menu Prices