How Much Does a Congressional Country Club Membership Cost?
Last Updated on October 26, 2023 | Written by CPA Alec Pow
First Published on October 14, 2021 | Content Reviewed by

CFA Alexander Popivker
Located in Maryland, almost 30 minutes away from the U.S. Capitol Building, the Congressional Country Club is a private country club and golf course.
The club was founded in 1921 by U.S. presidents with the purpose of being an informal meeting place for businessmen and politicians, but it was opened in 1924.
These days, the USGA par 70 course is one of the most known golf courses in the whole world. Having more than 7,000 yards in length, it is an annual stop for every PGA tour participant.
How much does a Congressional Country Club membership cost?
The cost of a membership at the Congressional Country Club starts from $65,000 up to $150,000 for the one-time entry fee, while the monthly membership fees are between $450 and $900. The membership fees at one of the most exclusive country clubs in the United States can vary depending on the type of membership and level of amenities desired.
According to the Golf365.com website, you have to pay around $122,000 for the initiation fee at the Congressional CC, but you must be patient because there is a waiting list of almost 10 years and there is a different two-year waiting list for playing golf.
The Great Book of Washington DC Sports Lists states that the initiation fee at this club is almost $100,000, but the costs per month are around $500.
You might also like our articles about the cost of membership at the Oak Hill Country Club, Scioto Country Club, or Canoe Brook Country Club.
Jim H, who is a golf player, said on his blog that the cost to join the Congressional CC is $120,000. On the other hand, according to a Yahoo! Sports column, you need at least $152,000 to become a member of this club.
Congressional Golf Club Amenities
The Congressional Country Club located in Bethesda has a substantial array of amenities, along with its prestigious reputation, making it a desirable and comprehensive facility for its members.
The beautiful golf courses at this club are a large part of what makes it so popular. Two 18-hole golf courses named the Blue Course and the Gold Course, both designed by the famed golf course architect Robert Trent Jones, Sr. The Blue Course, often included on lists for best 100 or top 10 courses in the country by various publications and websites alike, has hosted countless important tournaments over its history including one major championship.
The Congressional Golf Club offers not only two golf courses but also a pro shop, a putting green, a driving range, and a chipping area. They have fitness centers for members who want to work out while they play and a bowling alley with lessons available if you're new or just looking to get back into it. There are also tennis courts where enthusiasts can challenge their skills against other tennis players. There is even steam room access.
The Congressional Country Club has also a rich history of hosting various prestigious golf tournaments and championships. The private club has hosted several major championships, including three U.S. Opens and a PGA Championship, PGA Tournaments, and U.S. Senior Open.
The Congressional Country Club offers something for everyone. With its grand foyer, ballroom, and dining room as well as two bars with large plasma TVs to keep you entertained any time of day or night it's no wonder that this is one landmark not worth missing out on. If fine food isn't quite what your taste buds desire there are plenty more options available including BBQ in the summertime. There is even a Christian chapel.
For tennis enthusiasts, the club also offers twelve well-maintained courts, including eight outdoor and four indoor courts. The full-service tennis pro shop ensures members have access to quality equipment and expert guidance, while year-round tennis programs and events offer opportunities for players of all levels to refine their skills and enjoy friendly competition.
The club provides two outdoor swimming pools, including a kiddie pool designed for family fun. When the weather turns cooler, the heated indoor pool provides a perfect solution for year-round swimming.
The modern fitness center at Congressional CC is a haven for those committed to their physical well-being.
Beyond sports and fitness, the club offers a wide range of amenities. Bowling alleys offer a dose of recreational fun, and private meeting rooms are available for those seeking a quiet, productive space. For longer stays, the club provides comfortable overnight sleeping accommodations.
The country club offers several dining options for its members. They also offer banquet and catering services for special events and private functions
What are the extra costs?
You have to budget around $130 per round for the green fees. According to a golf website, $170 is how much you need for the weekday green fee, including the golf cart.
Dress Code and Other Details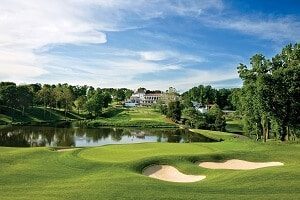 The Congressional Golf Club is a place of seclusion for the rich and famous.  Non-members are only admitted when they have been invited by a member, or if their company has sent an invitation on behalf of them specifically to have access to the golf courses that day.
The dress code is strict on this course. No denim clothing is allowed, and golfers must wear shirts with collars or Bermuda shorts when they are not wearing pants. Fitness attire should only be worn inside the fitness area so as not to distract anyone else around you while playing.
The club's vast and extensive clubhouse is the largest one in all of the United States.
Some of our US Presidents have been a part of this prestigious club. Famous members include John D. Rockefeller, Woodrow Wilson, Calvin Coolidge, Warren Harding, Dwight Eisenhower, Herbert Hoover, and others.
The Congressional Country Club is a place for those who have high standards and want an excellent job opportunity. Their website offers one small piece of information regarding job opportunities within their ranks.
https://www.thepricer.org/wp-content/uploads/2021/10/Congressional-Country-Club-membership.jpg
380
610
Alec Pow
https://www.thepricer.org/wp-content/uploads/2023/04/thepricerlogobig.png
Alec Pow
2021-10-14 06:15:20
2023-10-26 13:24:41
How Much Does a Congressional Country Club Membership Cost?