Convertible Top Replacement Cost
The convertible top is probably the most popular car top on the market. Rarely will it become a rational purchase – most likely it will be a heartfelt decision. Because, after all, it has some limitations that do not appear in other types of vehicles and some obvious disadvantages. It also has some positive elements that will be highly appreciated by its followers.
Also known as a convertible, roadster, or spyder, these car models are the ones that can travel without a roof. The current demand is not very high, and the number of available options has been reduced over time. However, there are still manufacturers willing to bet on convertibles.
How much does it cost to replace the convertible top?
Convertible top replacement is influenced by many factors including the make and model of the car, its age, the geographical location of the mechanic performing this job.
However, be prepared to pay anywhere between $520 and more than $1,000 to replace a convertible top, including the labor costs and the parts.
The average cost to replace a standard soft cloth convertible top is almost $510. The cost of this job performed on lower-end vehicles such as Miata is almost $220, while for a higher-end model like Benz you will have to pay more than $1,100.
In the table below you will find the average convertible top replacement costs for some of the most common types of cars. It must be said that these estimates are only for the parts and do not include the cost of labor and other fees or taxes.
| Make and Model | Price |
| --- | --- |
| Mini Cooper Convertible | $700 |
| Volkswagen Beetle | $600 |
| Chevy Corvette | $1,300 |
| BMW4 | $900 |
| Mazda MX-5 Miata | $320 |
| Infiniti Q60 | $980 |
| Audi A3 Cabriolet | $1,300 |
| Fiat Spider | $550 |
| Ford Mustang | $450 |
| Chevy Camaro | $330 |
You can easily observe that the prices are anywhere between $330 and $1,300 for most models. As the other costs such as labor or taxes are similar, it would be much more expensive to replace the top of a newer model compared to an older one.
You might also like our articles about the cost of sunroof installation, carpet replacement, or hood replacement in a car.
For instance, you will have to pay around $510 to replace the convertible top of a 2005 car model, while for the same job on a 2016 Chevy Camaro you will pay almost $860.
Soft Top vs Hard Top Costs
There are two main groups of convertibles, classified by the roofing material. Those with a canvas roof (soft tops) have advantages such as simplicity or lower weight, but also a more affordable price. Their disadvantages would be less insulation or the possibility that the car could be easily vandalized.
On the other hand, the retractable hardtop stands out due to the good insulation and because it does not destroy the aesthetics of the vehicle so much, but they are more expensive, heavier, and more prone to damage.
Be prepared to pay anywhere between $1,550 and $2,200 for a convertible hardtop replacement. For instance, the average price of a Mazda MX-5 convertible hardtop is almost $1,900, while for a Nissan 370Z convertible hard top you will pay almost $2,100.
It is important to mention that the insurance premiums are higher for the vehicles with soft tops than for the ones with hardtops.
Factors that influence the convertible top replacement
Materials
As we already mentioned, there are two types of convertible tops you can choose from, soft tops made of fabrics and hard tops. Expect to pay a higher price for the last ones.
Make and model of the car
Be prepared to pay a higher price to replace the convertible top of a luxury car and a little less for a lower-end consumer car.
Age of the car
It would be hard to find parts needed to replace the convertible top of an older car model.
Replacement versus repair
As the labor costs are similar for both, it would be less expensive to repair the convertible top instead of replacing it.
The additional repairs
In most cases, when replacing the convertible top, you will have to replace the roof motor as well.
Important things to consider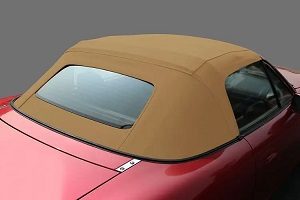 At a first glance, convertibles may seem less secure than conventional roof versions. However, statistics released by the US Insurance Institute for Highway Safety (IIHS) reveal that fans of retractable roof models have no cause for concern when it comes to safety.
According to data provided by IIHS, both the number of accidents involving cars with retractable roofs and the number of deaths caused by a road accident involving convertible models are lower than those reported for vehicles with standard roofs.
In general, a convertible top needs to be replaced every ten years, but it all depends on how well you take care of your car and where you store it when driving. Keeping it in a garage will increase its lifespan.
Also, if you want to extend the lifespan of your convertible top, clean and inspect it regularly. Repair it as soon as possible if there are any tears.
The two most common materials for modern convertible tops are rubbers and canvas. These are water-resistant and lightweight.
Is it cost-effective to replace a convertible top?
One of the main reasons to replace a convertible top is that it would prolong the life of your car by some years.
Another advantage would be the increase in the value of the car in case you want to resell it.
You will pay the most for labor when replacing the convertible top and if you can get this job done for less than $1,000 then it is worth it.
If the value of the car is only $4,000 it can be increased by almost $1,000 if you repair the convertible top.
Is the convertible top replacement covered by the insurance?
The type of insurance you have will determine whether or not your convertible top replacement is covered.
In most cases, these costs are covered only if you are in a car accident and it was not caused by you or if you have full coverage. In most cases, the insurance companies will not cover the damages of an accident caused by you.
The insurance company will cover the costs of those who have full coverage if the top has been destroyed due to weather factors like a severe storm or a tornado.
What are the extra costs?
In most cases, you will have to replace the convertible roof motor as well when you replace the convertible top. You should budget $160 to $320 for a typical convertible roof motor itself and $110 to $210 for the labor costs.
Here is a shortlist with the average price for some of the most popular convertible roof motors.
Audi S4 Convertible Top Motor – $360;
WayJun BMW Z4 Convertible Top Motor – $170;
Corvette Convertible Top Hydraulic Motor – $820;
Cheriezeng Convertible Top Hydraulic Roof Pump – $150;
ACP 94-04 for Ford Mustang – $220.
Usually, the most expensive part of replacing a convertible top is the motor, but there are some models that don't need a motor in order to retract the roof.
How can I save money?
You may be able to save some money on the convertible top replacement if purchasing aftermarket parts that are produced by a third-party company. These are much cheaper compared to the OEM parts, but not as qualitative.
Also, you can save money by replacing the convertible top yourself as it would cost you only a few hundred dollars. The easiest to install and the less expensive are the soft convertible tops.
However, when you intend to replace the convertible top yourself you will have to buy a windshield sealer, silicone spray, new hardware, new curtain window, and backlight.
Look for promotions and discounts online at stores such as Auto Tops Direct and Tops Online.
A great way to save some money is by purchasing used car parts, but make sure that you buy them from a well-known retailer which can offer a warranty.
https://www.thepricer.org/wp-content/uploads/2021/12/convertible-top-replacement-cost.jpg
380
610
Alec Pow
https://www.thepricer.org/wp-content/uploads/2023/04/thepricerlogobig.png
Alec Pow
2021-12-14 08:25:14
2021-12-14 08:25:14
Convertible Top Replacement Cost