Cost to Replace Carpet in a Car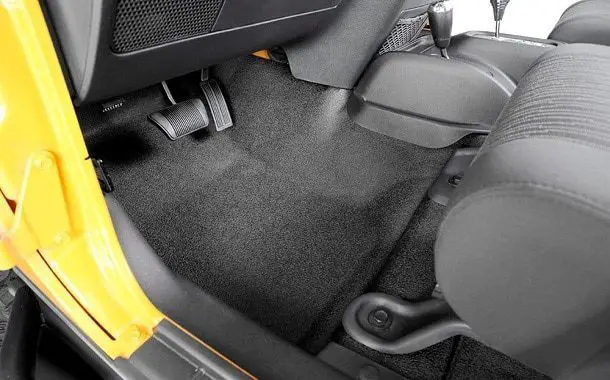 Rips, discolorations, and fading can typically make a vehicle's interior seem rather unclean. Before you take into consideration getting a brand-new vehicle, an expert auto upholsterer can repair any of these issues and even change the vehicle's whole interior to make it look new once again.
The price of changing the carpet in your vehicle will depend on the size and type of carpet you will need, the complexity of the task, and the professional you go for if you do choose to hire an expert.
Just how much does it cost to change the carpet in a vehicle?
If you wish to get the job done by yourself, many vehicle carpet replacement packages, which would change all of the carpets inside the car, will cost about $200 to $500, depending upon the carpet and the vehicle you drive. Original carpets will typically be two times the cost of third-party carpets.
For instance, the top-ranked vehicle carpet packages on eBay retail for approximately $15 per yard.
On a well-known custom-made molded automobile carpet marketplace you can find plenty of their packages, made to fit all sorts of makes and models, for as low as $110 to $350+.
If you have to use the help of an upholsterer, the materials, as already said, will be around $500 to $900+, plus another $600 to $900 in labor, bringing the overall expenses to about $1,100 to $2,100+. The expenses, if you were to opt for a personalized style, might be as much as $2,500.
One blog notes that vehicle owners can purchase car reupholstering packages for about $800, plus another $800 for the setup. A custom-made job for a whole vehicle can be around $2,800.
Want to reupholster a boat instead? This is how much you will spend.
On one Reddit talk, a member stated they had actually gotten in touch with an expert to change all of the carpets in their Toyota Highlander due to the fact that his mother disliked the mold/mildew and was quoted around $2,200.
Details on changing the carpet in your car
Carpet sets that are available for sale, are created to specifically fit your vehicle's interior. On many automobile sites, you will only have to look for your car's year, make and design to see which packages will fit your vehicle. When you purchase a set that fits, it will make the setup job a lot simpler. You can also look for the color of your interior so that you can get a specific match. Otherwise, the seats and trim might not match as well as you'd want to. With these sets, you just take out the old carpet and drop in the freshly, pre-formed carpet.
Whether you do this job by yourself or you have an expert do it, the process is going to be very much the same. The first step will be to take out the damaged carpet by taking out the sill plates. These plates will be below the seats, doors, and seat tracks to hold the carpet fixed in place. As soon as the old carpet is removed, any insulation that is left will be taken out as well. When the area is prepped, the aftermarket carpet will be trimmed and cut to match the holes and shapes in the automobile. After the carpet is trimmed, it will be propped back into its location in the same way as the older carpet was placed.
Did you read our articles about the price of car headliner repair, car rust repair, and keyed vehicle fix?
If you don't want to change all of the carpet in your vehicle, then an upholsterer can change the seat covers, headliner, doors panels, roofing system covers, or affected location rather than the whole interior.
What are the additional expenses?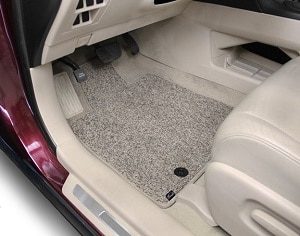 When purchasing an automobile carpet package, it is a great idea to get mats that match the set. Many businesses are going to be able to cut mats that match your specific carpet color. These floor mats will guarantee that the brand-new carpet will stay tidy for as long as possible. OEM floor mats can cost about $50 to $100 per set, depending upon your automobile's make and model. For example, if you look on Amazon, you can find many packages within this price range.
Extra shipping expenses might apply when buying online.
Tips to keep in mind
When a carpet package gets to you by mail, it will need up to two days for the carpet to loosen up. Seeing that it is sent inside a box, the rolled carpet will need some time to regain its initial shape. When you open the package, unroll the carpet and place it on a flat surface area. Give it time to sit there for a while till it gets flat by itself.
If buying online, ask for a sample before paying for the full package. You should be sure that the brand-new carpet matches your car interior because oftentimes, the color that you see on your computer system screen will not be the real color of the carpet when you see it in your home.
How can I save some money?
Changing the carpet can in fact be more affordable than cleaning up stain spots and spills; nevertheless, this is not always the case. Try to compare both options to see which path is going to work best for your set budget.
Unless you have the available budget, avoid the OEM carpet sets. While this carpet can be superior to aftermarket packages in terms of quality, it is going to cost a lot more.
Changing vehicle carpet is a lot simpler than you are made to believe. Think about looking into some Do It Yourself guides before going to an expert. If you were to work with a dealership or mechanic, it might cost 5 times more than doing it by yourself. FamilyHandyman, for instance, provides some great how-to guides.
https://www.thepricer.org/wp-content/uploads/2020/09/car-carpet-replacement-cost.jpg
380
610
Alec Pow
https://www.thepricer.org/wp-content/uploads/2023/04/thepricerlogobig.png
Alec Pow
2020-09-23 11:03:02
2021-05-07 10:26:34
Cost to Replace Carpet in a Car