Sunroof Installation Cost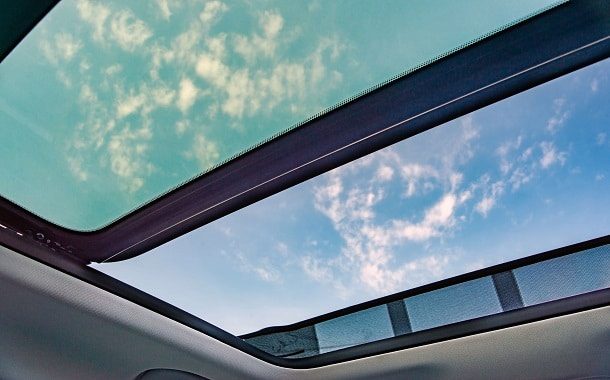 A sunroof is installed on car roofs and is a sliding window panel that offers you an amazing view of the sky when you are driving. A sunroof installation cost will depend on a few factors, which we will talk about within this article. One of the best types of sunroof available in the present day is the moonroof. It is made almost entirely of glass and will give you an amazing view even if you close it.
Initially, sunroofs were made from one nontransparent pane of glass that could only be opened or closed by hand. It was initially presented as a basic option by Nash Motor Company in a few of its 1937 models. However, in 1973, a marketing supervisor of Ford Company developed the moonroof, which was made from a clear pane of glass that could be opened to enable travelers to take pleasure in the outside view through the glass, even when the sunroof was closed.
Just how much does it cost to set up a sunroof in a vehicle?
Depending upon the make and model of vehicle you drive, the sunroof bought, and the expert you work with to have it set up, sunroof setup projects shouldn't cost more than $800 to as much as $1,800 for the sunroof and labor combined.
An aftermarket sunroof or moonroof will only cost you around $300 to $800 to install yourself if it's a simple unit that will pop open for ventilation. The cost will gradually increase as you need more features for the sunroof and will be considerably higher if you plan to hire a professional to do it for you.
Check out our list below to see what the different kinds of sunroofs might cost you:
Type of sunroof with Average Price (parts + set up)
Factory Installed – While it might be a basic function on your recently acquired vehicle, it can be seen as a premium add-on for other makes and models. – $1,000 to $2,000, depending upon the kind of sunroof and the vehicle you go for.
Pop-up Sunroof – This manually-operated, detachable sunroof is typically the most affordable alternative. – $400 to $900.
Spoiler Sunroof – A top-mounted glass panel that has the capability to tilt and move along the exterior of the vehicle's roof system. – $700 to $1,100, depending upon the size and model of the vehicle you drive.
Moonroof – A power-operated sunroof, with an internal moving glass panel that moves into the vehicle, in between the metal roofing and headliner. This is the most typical kind of moonroof seen in vehicles. – $1,200 to $2,500.
Panoramic – Either transparent or nontransparent and generally factory installed, a panoramic sunroof is a multi-panel sunroof that broadens farther than the conventional sunroof. – $1,500 to $3,000.
We also checked out the internet to see what other vehicle owners have spent for their aftermarket sunroofs and added the costs they paid in the list below:
Also read our articles about the cost to install a car alarm, fog light, and a muffler delete.
Automobile Make/Model and Price Quote (set up + parts):
| Car Type | Average (parts + labor) |
| --- | --- |
| Toyota Rav4 | $1,500 |
| Toyota Corolla | $1,270 |
| Jeep Grand Cherokee | $1,450 |
| Honda Civic | $1,200 |
| Ford Mustang | $1,900 |
| Ford Escape | $1,380 |
A very known sunroof website, for instance, notes the rates they would charge for many types of sunroofs. A 20-inch by 32-inch pop-up sunroof with a detachable glass panel can cost $500 to have installed, while a big power moonroof, created for a full-sized truck or SUV, can cost $1,250.
Setting up a sunroof
To set up an aftermarket sunroof, the headliner will be eliminated, and the sheet of metal, cut to the requirements of the sunroof to be set up. The power wires, if you pick a powered design, will then be connected from the circuit box to the area of the brand-new sunroof. From there, the sunroof, which typically comes as a full set, will be set up by dropping the full set into the freshly made hole, followed by bolting it in and plugging in the circuitry. An online how-to guide shows us in great detail how an aftermarket sunroof is set up.
It should be obvious that any type of sunroof should only be installed by a professional who is knowledgeable about the roof of the particular vehicle involved. A simple installation of an OEM or aftermarket sunroof will require a lot of practice and experience.
What are the additional expenses?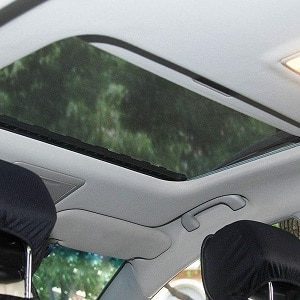 Aftermarket sunroofs are susceptible to leakages, even if set up right. As already pointed out, even if they were set up right, a lot of professionals advise against setting up a sunroof due to the materials and general design that does not fit the initial vehicle's requirements. While it would not be an additional expense now, repair work in the future might cost $100 to $250 to change its motor to as much as $300 to $500 to change the sunroof glass.
Aside from this, there are some other expenses you should know about, that will influence the cost of a sunroof installation. When opting for an electric type of sunroof, it will end up costing more than a manual alternative, but in the end, it will probably be more practical for you as a car owner.

You should also consider getting a warranty on both the sunroof itself and its installation, to avoid having to spend any additional money, if either the sunroof or the work involved in installing it were to be poorly made. As soon as you figure out how much the warranty will cost, also figure out if this modification will have any effect on your car's insurance.
If you want to make sure that you are still adhering to the insurance requirements, you might have to modify it and include the sunroof. This addition won't necessarily come with a higher cost for your policy.
You should take into account any reparations that the sunroof will need in the future, considering that you're adding a multi-piece system to your car. These repairs shouldn't come for a few years, because even the cheapest of the sunroofs don't start to leak for quite some time.
If you're going for an electrical system, you should be prepared to have to repair it sooner, as these are more easily broken than manual ones. The track that holds the side of the panel will also need to be repaired at some point. Usually, you will spend around $250 or more to have the sunroof repaired and some of the easier repairs can be taken on as DIY projects, but they would still cost you around $100.
More complex issues that will require a mechanic's help can cost $1,200 or even more, depending on the parts that are malfunctioning and the number of labor hours required.
How Long Should a Sunroof Installation Take?
It shouldn't take more than two hours for a professional to install a sunroof on your car, but it will, of course, depend on your vehicle's make and model. For most cars, this process will take even less, sometimes right under an hour.
If you choose to undertake this task yourself, be prepared to spend a little longer figuring out where everything goes, but there are plenty of tutorials on the internet to help you get through this.
Who Can Help You Install a Sunroof?
As with any other car repair or improvement, if you don't feel confident enough to go through it alone, go to either a car dealership, an auto glass store, or even a car shop or independent mechanic that has a history in installing sunroofs. If you don't know how to find either of those, just look online and read some reviews about the professionals in your area.
always remember to get at least 3-5 quotes before deciding who you're going with, but never work with someone based solely on the cost of their services.
How Long Does a Sunroof Last?
Your sunroof should last longer if it is made from silicone or polycarbonate, which are considered quality materials. A higher-quality system will usually last 15-20 with ease, even if you overuse it.
You will notice that your sunroof breaks considerably faster if you get a cheaper model because it will usually be made from lower-quality materials like plastic or neoprene. Although you will spend a little less when buying a lower quality sunroof it will also leak sooner and will have considerably more issues than the premium models.
Benefits That Come With a Sunroof

One of the most obvious advantages of installing a sunroof on your car, especially if it is properly installed, is an increase in the price of the vehicle. But this isn't the only advantage offered by this add-on. Another great plus will be the boost in aesthetic appeal, making your car look more luxurious.
The sunroof will also allow fresh air into the car, along with a lot of sunlight. It will also offer a great view of the outside regardless of the weather, creating an almost 360-degree view around the vehicle that all passengers can enjoy.
Is The Sunroof Worth It?
Tips to keep in mind
A factory addon sunroof has actually been crafted to accommodate all of the modifications to the design, consisting of the roofing, seals, wires, insulation, controls, etc. However, an aftermarket part, on the other hand, will not be developed to satisfy the requirements of a factory setup. Aside from this, they might not match the vehicle's general design, have very restricted functions, and might rattle and/or leak quite a bit, even when appropriately set up.
If going for an aftermarket sunroof, be sure the specialist, at least, provides a service warranty for as much as 3 years to protect your financial investment. In this manner, you will know the product and service are of quality.
Talk to your vehicle's manufacturer before setting up an aftermarket sunroof to see if it can affect your vehicle's factory warranty.
Conclusion
You will spend between $800 and $3,000 to have a professional install a sunroof on your car. The number of hours that will be put into labor will affect the final price. This price will also be influenced by the type of sunroof and your vehicle's make and model. Keep in mind that this won't be the only expense you will face when installing a sunroof. You should also prepare to spend on any needed repairs and possible insurance surcharges.
https://www.thepricer.org/wp-content/uploads/2020/10/sunroof-installation-cost.jpg
380
610
Alec Pow
https://www.thepricer.org/wp-content/uploads/2022/01/thePricer.png
Alec Pow
2020-10-05 07:53:56
2022-01-24 01:21:10
Sunroof Installation Cost