Last Updated on December 23, 2022 | Written by CPA Alec Pow
First Published on May 28, 2022 | Content Reviewed by

CFA Alexander Popivker
CoolSculpting is a unique non-invasive and non-surgical body-reshaping concept that addresses all areas of the body that have excess fat. The beneficial effects of cryolipolysis for weight loss have been well known for several years, but CoolSculpting is the newest method of body remodeling and is superior to classical cryolipolysis.
How much does CoolSculpting cost?
According to the CoolSculpting site's FAQ page, the average cost per session is anywhere between $2,100 and $4,100. Also, according to the American Society of Plastic Surgeons website, the average cost of CoolSculpting procedures and other non-invasive fat loss treatments was around $1,485 in 2019, $1,420 in 2020, and $1,400 in 2021. In general, the cost of a cycle is anywhere between $760 and $1,050. However, you can reduce your costs by purchasing more sessions at once.
Factors that influence the CoolSculpting Cost
The cost of CoolSculpting varies from one person to another as this is a very individualized process. A person may need only one treatment session, while another may require more treatments of several cycles in order to achieve the desired result. Fat cells are distributed differently in everyone's body and there are no two individuals with the same amount of fat in the same area.
You might also like our articles about the cost of Cellulaze, Sono Bello, or Arm Liposuction.
So, the cost of CoolSculpting will be influenced by the number of treatments and cycles you need, the place where are you living, the expected results, and the treatment area. There are areas that require only one cycle or two, while others, like the abdomen, need around six sessions.
Average cost of CoolSculpting by body part
There are different treatment needs for each body part. For instance, the areas which are larger will need more than one cycle. Though, a CoolSculpting practitioner will be able to offer you a price estimate for the treatment you need as they have a good idea about how many sessions are necessary for each body part.
CoolSculpting Cost for Face
CoolSculpting is not approved for any areas of the face itself, but it can be used for the jawline and chin. This is great for those who want to remove their double chin. The cost of such a treatment is around $1,450.
CoolSculpting Cost for Arms
You can reduce the fat in your arms through fat freezing with CoolSculpting. This procedure is great for those who want to get rid of the fat cells that remained after weight loss. The cost of CoolSculpting for arms is calculated separately for each arm. Expect to pay around $660 for one arm, resulting in a cost of $1,320 for both arms. Though, you may need only one CoolSculpting session to remove the fat from your arms.
CoolSculpting Cost by State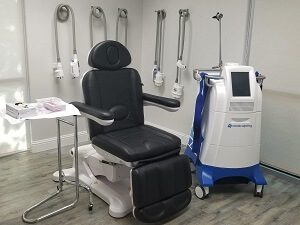 The CoolSculpting cost also depends on the place where you are living. This is not necessarily about the state, but about the cost of living in a certain city. For example, the costs in Manhattan would be much higher than in Red House even though they are both located in New York. To get an idea, here are some examples of the CoolSculpting costs in different cities:
Los Angeles: $2,100;
Houston: $1,980;
Chicago: $2,200;
Atlanta: $2,150;
Miami: $1,800.
Is CoolSculpting Covered by Insurance?
The CoolSculpting procedure is not designed for weight loss, but this is a fat reduction treatment addressed to those who get rid of the fat which is resistant to exercise and diet. At each session, around 20% to 25% of the fat is reduced from the stubborn areas. This treatment is recommended only for those who are within 30 pounds of their desired weight.
So, CoolSculpting only refines the results of weight loss by eliminating the stubborn fat cells that can not be removed through diet or exercise. As a result, this is considered a purely elective cosmetic procedure, not a medical treatment needed for weight loss and it is not covered by insurance.
FAQs
How does the patient feel during and after the procedure?
Due to the drop in temperature to -51° F in the first minutes, the discomfort for patients is reduced to a minimum, because the blood circulation in the treatment areas is interrupted. A moderate degree of discomfort is felt after disconnecting the applicators from the treatment area and performing the blood return massage. After the procedure, for a week, the tissue will feel slightly numb and, in some cases, bruising may occur.
What areas can be treated with CoolSculpting?
CoolSculpting successfully reduces fat in all areas of the body:
Goiter;
Internal and external thighs;
Arms;
Armpits;
Upper and lower abdomen;
Knee;
The middle area of the back;
Pubis area;
Lumbar;
How much does a CoolSculpting treatment session take?
To maximize results and achieve a circumferential reduction of up to -8cm/each treated area, the duration of a CoolSculpting treatment session is 70 minutes.
How many sessions will be needed?
The CoolSculpting system is clearly different from the traditional cryo lipolysis, ensuring a reduction of the adipose tissue of up to 8 cm in a single session, which usually could have been obtained with 2 sessions of cryolipolysis on the same area. Depending on the thickness of the fat layer, up to 3 sessions can be recommended, at an interval of 8 weeks.
When do you notice the results of CoolSculpting and how long do they last?
The results become visible 3-4 weeks after the procedure. Fat cells are destroyed irreparably during the procedure, and a healthy lifestyle based on exercise and a balanced diet will maintain the results for a long time and will prevent the accumulation of new adipose tissue.
Are there any restrictions following the CoolSculpting procedure?
There are no restrictions after this procedure and the patient can resume their usual activities. However, other procedures performed on the treatment area immediately after, such as massage or laser therapies, may exacerbate the discomfort.
https://www.thepricer.org/wp-content/uploads/2022/05/cool-sculpting-procedure.jpg
380
610
Alec Pow
https://www.thepricer.org/wp-content/uploads/2023/04/thepricerlogobig.png
Alec Pow
2022-05-28 10:18:31
2022-12-23 13:35:19
Cost of CoolSculpting