Crepes have been popular in Europe for centuries. France is the home of crepe making, and Paris it's most famous location. Crepes are a thin pancake made from wheat flour mixed with milk or water then cooked on an iron plate. They originated in Brittany, the Western region of France where their tools and techniques were designed into perfected art form now called 'creperie'.
Originally, these treats were made with buckwheat flour which was readily available to farmers at that time. White flour was more expensive back then so it wasn't used for cooking – only royalty could enjoy its fine taste. But this all changed when people got richer and started enjoying "luxuries". It meant that they would be able to enjoy white flour pancakes on Sundays or as after-dinner foods.
How much do crepes cost?
From $4 to as much as $9, prices for crepes vary depending on the filling and where you purchase it. Some restaurants may offer a small side dish with your order or just include the crepe itself, but most places will have different costs based on where you live and what type of filling you prefer.
You might also like our articles about the cost of a donut, baklava, or cake.
The average price for a crepe is $4 to $6 in Paris. Daviswiki stated that the cost of breakfast crepes at Crepeville was around $7 or slightly more depending on the filing. On the other hand, at IHOP and other restaurants like Cheesecake Factory, the price will be somehow higher, at around $9.
In California, prices are somewhat similar. At Crepesdeparisinc, for example, the prices on the menu are as seen below: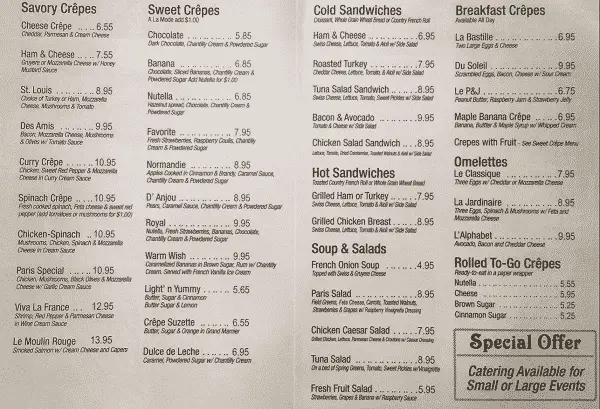 Details on crepes
Crepes can be prepared with your choice of fillings ranging from sweet to savory, and are also perfect for anyone who prefers a plain pancake. Similar in appearance to thinner pancakes, crepe making starts by mixing eggs into flour, then adding milk or water before frying them up on the pan until cooked through.
Crepes come in a variety of shapes and consistencies, depending on what you prefer. Whether they are crispy or soft is up to your discretion. A crepe can be paired with hash browns, toast, eggs – anything really.
When you make a crepe, the batter is poured onto a hot frying pan. The thin wheat layer is then filled with whatever filling you want and wrapped around it to create this delicious dessert or meal. Common ingredients include eggs, milk, butter, and flour; but your imagination can really run wild when thinking about what other toppings could go on these tasty treats. You can have a crepe for either breakfast, lunch, or dinner.
A typical crepe will have about 112 calories, 45% fat, 39% carbs, and 16% protein. The numbers vary depending on what you put in it – so there is no exact number to guide your diet by. You will have to count by ingredient added to get a more exact estimate.
Any extra costs to consider?
Depending on who's selling and how their billing policy goes about things; your pricing can vary depending on what type of filling is desired. As you might expect, sweet fillings will usually be less expensive than fillings using ham or cheese. Typically speaking though, those with more premium ingredients tend to have an increased price by anywhere from $1 and up to $2.
Important tips to remember
Crepes are a type of pancake that has been around since the 1600s and originated in France. It is traditionally served as dessert, but these days can be eaten anytime with basically any toping. In fact, there's even an international day dedicated to crepe-eating and it is every second day of February.
Crepes are a tasty treat for many countries and cultures, from the Hispanics' tortillas to Indian dosa. Other notable versions include Italian crespelle and Russian blinchki, which is similar to pancakes except it has more flour in them than typical crepe batter does.
Is there a way to spend less?
Crepes are surprisingly easy to make and there are a plethora of recipes available online. If you're looking for an affordable dish, try making them at home with ingredients that don't cost much. With cheap ingredients, the cost per crepe can be lowered to about $2.
If making them at home isn't an option for whatever reason, then try looking for a coupon or a discounted offer before heading out to a restaurant.
https://www.thepricer.org/wp-content/uploads/2021/06/crepe-cost.jpg
380
610
Alec Pow
https://www.thepricer.org/wp-content/uploads/2023/04/thepricerlogobig.png
Alec Pow
2021-06-02 07:47:02
2021-06-03 12:01:48
Cost of Crepes