Cost of Reboring an Engine
Last Updated on June 2, 2021 | Written by CPA Alec Pow
First Published on June 2, 2021 | Content Reviewed by

CFA Alexander Popivker
Re-boring an engine is a common repair technique that will be used when the piston, rings, and cylinder become damaged. This can happen due to wear or excessive usage. When the cylinder becomes too worn down its wall needs to be rebored with larger pistons installed in its place for even more power! The next step after re-boring would typically involve sleeving which involves installing sleeves inside of cylinders so they stay as tight as possible.
According to some Quora users, the reboring process is only done when cylinders are barrel-shaped or if you want your engine's power increased. This can be achieved by increasing cylinder capacity- which in turn leads to an increase in the power of the engine.
How much does reboring an engine cost?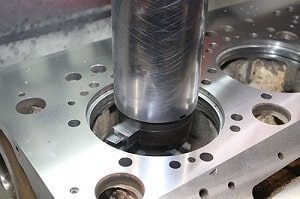 The cost of reboring is dependent on the size and type of engine. Smaller engines like those in boats or ATVs can range between $40 to $65 per cylinder, while larger cars, depending on the make and model, may have prices anywhere from $75-$175 per individual cylinder.
You might also like our articles about the cost of valve cover gasket replacement, engine camshaft repair, or full engine swap.
The IBoats.com website estimates that reboring boat engines will cost anywhere from $45 to as much as $50 per cylinder. An average cost of around $500 should be expected for a bare block job and up to about double the price when talking about an already assembled engine ($1,000).
When a member of The Mini Forum had this procedure done, his mechanic sent him an itemized bill. This included reboring to the next size up, new pistons, and decking the block top surface for them as well as other parts such as bearings and some gaskets. He said it cost close to $550 including tax.
A mechanic writing on HotRodders stated that they charged around $125 to bore, and around the same sum to plate hone.
Details on reboring an engine
A mechanic will perform a visual inspection and measure the bore with his or her fingernails to see if boring is necessary. If honing can't resolve an issue, then reboring may be required. For example, when you are able to grip scratches using your fingernail it's too deep for honing- in this case, reboring would be needed.
The mechanic will consider the condition of your cylinder when deciding if a reboring procedure is needed. For example, an un-round or oval shape could mean that you're due for new rings and cylinders. Flat spots might also need the attention of your mechanic.
Any additional costs to consider?
Reboring is a complicated process, but it's not always the answer. Some mechanics might recommend replacing your pistons and cylinder kit with new ones instead to keep you from having problems in the future.
Is there any way to spend less?
Before you choose to commit to someone to do the work, talk with at least three different mechanics and see what they charge. Every shop has its own recommendation for your engine work so it's always a good idea to get as many opinions as possible before making any decisions. Although price is very important, don't make it the most important aspect to influence your decision. Go for a professional mechanic, to make sure that the car won't need additional work once it is fixed.
https://www.thepricer.org/wp-content/uploads/2021/06/engine-reboring-cost.jpg
380
610
Alec Pow
https://www.thepricer.org/wp-content/uploads/2023/04/thepricerlogobig.png
Alec Pow
2021-06-02 05:50:33
2021-06-02 05:50:33
Cost of Reboring an Engine