Cost to Fill a Propane Tank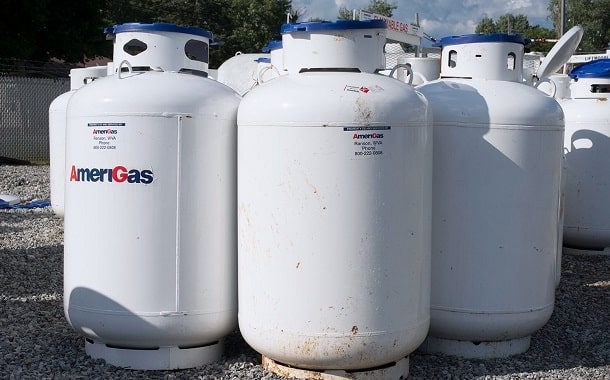 Many people use propane for cooking, heating their homes, and even as a fuel source. There are two ways to get more of it – refill the tank or exchange it with another one. While there are pros and cons in both methods, many people opt to refill because they want to save on costs while still having enough gas left over when needed most.
The cost per gallon will depend on what size of tank you have but that is not all – your retailer can also affect how much each fill-up would cost.
How much does it cost to fill a propane tank?
Usually, refilling a 10-pound tank will have a price anywhere between $10 and $25 per tank.  On the other hand, a 20-pound tank will cost about $16 to $35 for each refill. Our research has given us an insight into the prices retailers charge all around the US, and you can find this in the table below.
The cost of a 100-pound tank is not cheap. It can start around $65 and go up to as much as $80 depending on the market conditions. A 500-gallon propane tank will also depend on many factors, but most of the time it'll be around 2 dollars per gallon plus the delivery fee.
You might also like our article about the cost of acetylene tank refilling.
The price of a tank of propane varies from store to store and brand.
Amerigas, for example, usually charges between $22-$23 plus tax fees at their station while Tractor Supply Plus only charges around $17 plus tax on average.
| Retailer | Average Propane Tank Refill/Exchange (20 pound) |
| --- | --- |
| Costco | $10 |
| Circle K Gas Station | $21 |
| Home Depot | $25 |
| Gas Station (Shell, Mobil) | $28 |
| Lowe's | $23 |
| Kroger | $20 |
| Sam's Club | $14 |
| Menards | $2~ per gallon |
| Tractor Supply Plus | $2.35 per gallon |
| True Value | $25 |
| U-Haul | $17 |
| Walgreen's | $23 |
| Walmart | $24 |
Keep in mind that prices may vary depending on your geographical location, but these are general guidelines.
Details on refilling a propane tank
At most retailers, tanks are displayed in a cage near the front of the store. Some will have self-serve kiosks for exchanging or purchasing new tanks while others require an associate to help you exchange or purchase one. At Tractor Supply Plus, they allow customers to keep their tank and just charge them for what propane was purchased on site – no need to swap it out.
If you purchase a propane tank from one of the big, well-known retailers, they will often offer a 30-day guarantee. If any problems persist during this time such as leaks, then you can bring the tank back and either get it replaced or get your money refunded.
Important things to keep in mind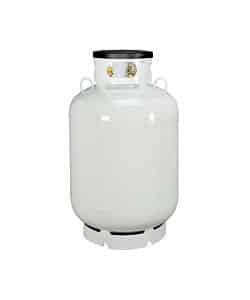 There are some things that you should never try to do on your own, like refilling a propane tank. As with most things, there are tutorials online showing you how to refill a propane tank, but this is extremely dangerous and can easily lead to you getting hurt if done incorrectly. So please just avoid the $15 savings by letting professionals handle it for you.
If you're looking into exchanging a propane tank, remember that most of the time they don't come full-filled with 20 pounds of gas like what would be expecting. According to Blue Rhino's website even their tanks only contain 15 pounds of gas, which equals to around 3 gallons. Home Depot on the other hand claims that theirs have an 80% capacity.
Any way to spend less?
Refilling your propane tank is always the cheapest option, and gas stations will often have this service. However, if you can find a retailer that offers on-the-spot refills for the amount of gas you truly need, it'll be more economical than exchanging tanks at full capacity. The elivermore website tells us that reusing propane instead of buying new every time saves you quite a bit of money because instead of getting the maximum amount of 15 pounds when you get a new tank, you can fill up your old one at full capacity.
A propane tank gauge is a tool you can use to determine how much propane is left in the tank. You could also bring it with you when buying gas so you know exactly how much propane you actually got with your refill.
Being organized and strategic before you go shopping can help with your budget. You may need to purchase something as soon as possible, but don't forget: Coupons are a lifesaver. Lowe's or Home Depot have coupons in their weekly ads that will save you some cash. Blue Rhino is also known for having great deals on its website (there might even be one available now).
https://www.thepricer.org/wp-content/uploads/2021/06/propane-tank-cost.jpg
380
610
Alec Pow
https://www.thepricer.org/wp-content/uploads/2022/01/thePricer.png
Alec Pow
2021-06-27 21:37:18
2021-06-27 21:37:18
Cost to Fill a Propane Tank